Darlyne Franklin film filled with murder, mayhem and burnt toast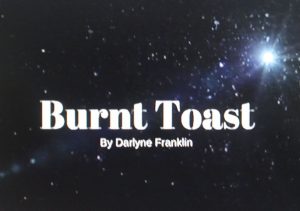 Darlyne Franklin was one of four writers who participated in Lab Theater's 24-Hour project which for a second consecutive year challenged screenwriters rather than playwrights to pen a script overnight in just eleven short hours between 8:00 p.m. on Friday night and 7:00 a.m. the following morning. Titled Burnt Toast, the film depicts a woman who's given one last chance on her way to a date with Old Sparky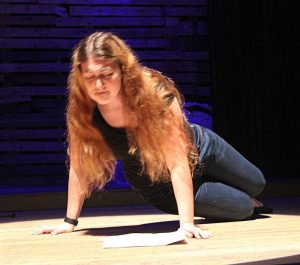 who visits herself in a parallel universe to warn her about the fate that awaits her. Just one small, itsy bitsy problem: she doesn't arrive in time to stop herself from committing the murder that lands her on death row. "I'm so stupid," other self wails, "and it appears I get even dumber. I should just turn myself in."
Burnt Toast is just an 8-minute film, but Franklin has filled it was smart, snappy repartee and pithy comments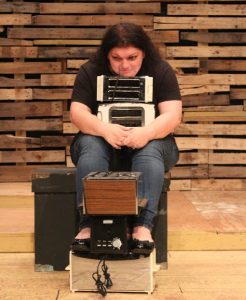 made by both characters about the situation in which they find themselves separated by seven years and separate universes. The characters (actually, it's just the one) are fully developed, the plot is clever to the nth degree and the acting is as crisp as a fall morning any place other than Southwest Florida.
Krs Glover directed and shot the film, which stars Lauren Miller and Madelaine Weymouth, who worked seamlessly with Glover as they were learning the script to develop much of blocking and physical interactions that make this single-shot sci-fi hum with the precision of a Blue Origin spaceship.
Lab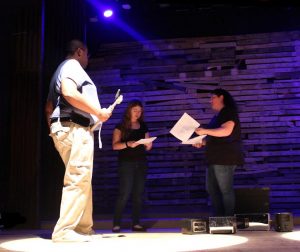 Theater audiences will remember Lauren as Ann Putnam in The Crucible and Kit Kat Girl Texas in Brenda Kensler's blockbuster production of Cabaret in 2015. She is a seasoned stage performer, with appearances as Mazeppa in Gypsy, Sister Mary Hubert in Nunsense, and Henrietta in All Shook Up. She also performed with The Naples Players in Chicago (Matron Mama Morton), Les Miserables, Little Shop of Horrors,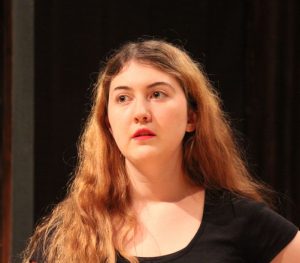 Smokey Joe's Café and Disney's Beauty and the Beast. A Lehigh University grad, Lauren was also a member of the University Choir and the a capella group, The Overtones, with whom she toured Russia, Germany, Thailand and China. [Go here for Lauren's full profile.]
Weymouth has established herself as one of Southwest Florida's most impressive actors. Her acting credits include 2019 New Play Contest winner Phillip Christian's The Chechens, Betty Schaefer in Lab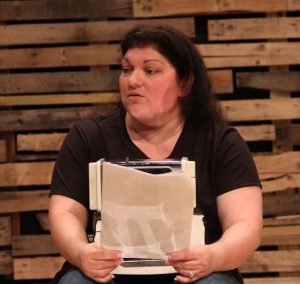 Theater's summer spoof Sunset Schmoulevard, Clarice Orsini in the regional premiere of Jordan Tannahill's Botticelli in the Fire, Lab's production of Kayleigh O'Connell's Projekt Grotesquerie, Dr. Watson in Ken Ludwig's Baskerville: A Sherlock Holmes Mystery, Robyn in Sex Tips for Straight Women from a Gay Man (for Lab Theater) and Vandy Jordan in Venus in Fur (for The Studio Players). [Go here to view Maddy's full profile.]
Franklin is an actor,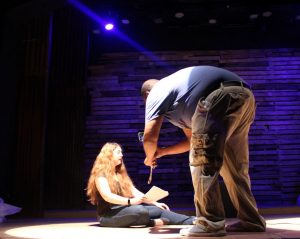 playwright and producer. Her writing and production credits include Joey & Maria's Comedy Italian Wedding (1992), The Wake of Matty O'Malley, Wicked Real Housewives of the Mob and The Soprano's Last Supper. Darlyne's recent work includes The Biscotti Sisters (a campy, corny show in which two Italian sisters battle it out in a cookie bake-off) and Wicked Real Housewives of Boston, which opened in the Boston area in 2010.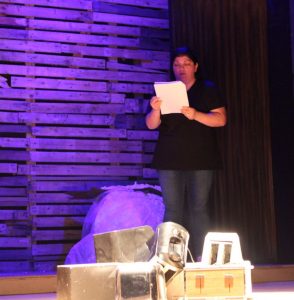 [Go here for more on Darlyne.]
There's still time to view and vote for Multiverse Anomaly:  https://bit.ly/Vote24HRSWP.
But whatever you do, don't burn the toast.
October 16, 2021