Many reasons to see 'Mountaintop
One of history's greatest ironies is that Martin Luther King, Jr. delivered his soaring "I've have been to the mountaintop" speech on the very night before his assassination. Playwright Katori Hall utilizes this bit of historical trivia to create a spellbinding 90-minute biodrama that lays bare the human side of this nation's greatest civil rights activist and leader. It's called Mountaintop and its on stage through January 26 at Theatre Conspiracy at the Alliance for the Arts.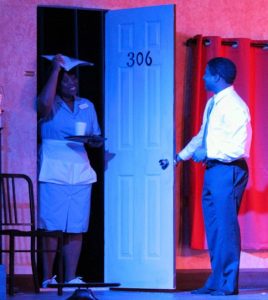 When it first came out, a number of reviewers excoriated the playwright as sacrilegious for trivializing the reputation and legacy of such a great man. But it's clearly Hall's intent to remind the audiences who see this production that Martin Luther King, Jr. was first and foremost just a man.
"I Am a Man" was, in fact, the slogan of the 1300 striking sanitation workers who King had come to Memphis in 1968 to support. The slogan represented a demand for recognition of their humanity, dignity and worth, and it came at a time of backlash in Memphis against racial moderation and the first, halting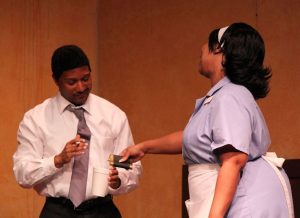 steps that city had taken toward integration. The mayor had capitalized on the fears and resentment of whites to win office, and he took his election as a mandate to restore the racial status quo, which he couched in terms of the tired but time-tested racial trope of "law and order." He even referred to black Memphians  as "his Negroes" when he spoke to the press, displaying a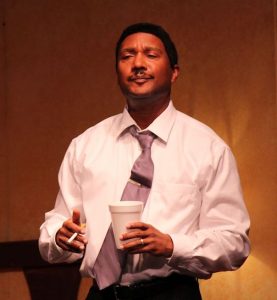 "plantation mentality" and paternalism that disgusted the black community and the strike's organizers.
It is more than a little unsettling that elements of this backstory can still be seen today in our political climate, rampant racial inequality in our criminal justice system and the Black Lives Matter movement. And it against this backdrop that Mountaintop can and should be viewed. We still need effective civil rights activists and leaders not just to complete the mission for which Dr. King gave his life, but to guide American society from the shade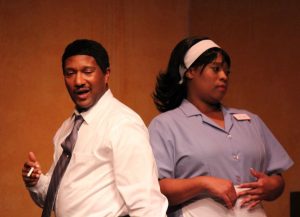 it is presently experiencing in the aftermath of the election of the country's first black president. And for that, Katori Hall and Mountaintop offer solace. It was not that Martin Luther King, Jr. was the kind of iconic or saintly leader who only appears once a millennium, but that he was a man who overcame a multitude of flaws, foibles and fears to work for the greater good of his countrymen – black and white alike.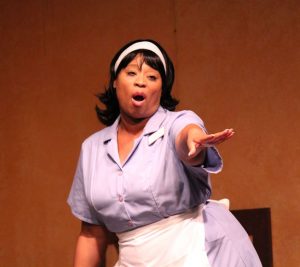 In Mountaintop we find a man who's sick and tired. Sick and tired of missing birthdays and anniversaries to pursue the cause. Sick and tired of the endless death threats that had made fear his "best friend." Sick and tired of having to watch his every movement and utterance lest the press, his detractors or the FBI use his missteps to undermine his message. But King overcame this and so much more because his people and the nation at large needed him just as much as people of color and the nation at large need such a leader today.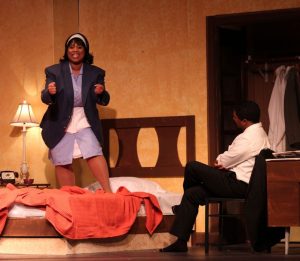 Hall resorts to a handful of highly imaginative and clever contrivances to give voice to this perspective. She did not purport to write a docudrama. What plays across the Foulds Theatre boards is fiction, pure and simple. Some of it may be grounded in fact, but the playwright's intent is not to delve into the mental make-up and psychological motivations of Dr. King, but to invite us to see the sacrifices he made … or that any leader so conceived and dedicated has to make in order to advance and give life to any worthwhile cause.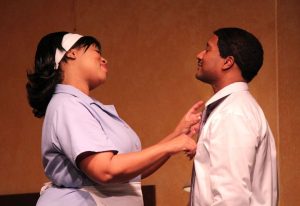 In this endeavor, Hall is aided locally by the formidable talents of Theatre Conspiracy at the Alliance's Producing Artistic Director Bill Taylor, Director Rick Sebastian and the immensely talented Derek Lively and Sonya McCarter. The latter play Dr. King and his catalyst, a brassy, sassy housekeeper by the name of Camae (pronounced "Kam-may" like the facial cream).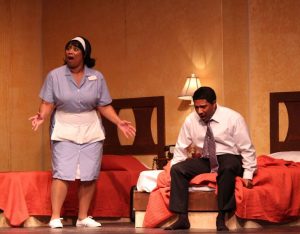 Over the past couple of years, Lively has turned in one memorable performance after another. After enjoying considerable success in Manhattan (appearing in more than 40 regional and Off-Broadway productions before stepping away from acting to focus on play and screenwriting), he burst upon the Southwest Florida theater scene with the force of a Cat 5 hurricane as Canewell in August Wilson's Seven Guitars, followed by even better performances as Walter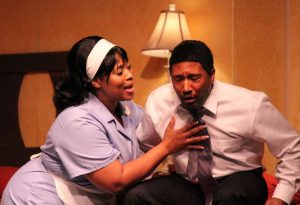 Lee Younger in Lorraine Hansberry's A Raisin in the Sun and Frederick Douglass in The Agitators. But he's saved his best yet for Mountaintop, in which he navigates a range of emotions that take him and the audience from the depths of the Challenger Deep to the heights of Everest. Like the man he plays, Lively has the audience eating out of the palm of his hand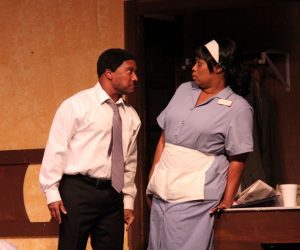 from the moment he yells from his motel door for Ralph Abernathy to get him a pack of Pall Malls.
As Camae, Sonya McCarter is Lively's equal. Her character is refreshingly unfazed by King's celebrity,  and she's deliciously defiant in the face of his unabashed and unbridled male ego. By her own admission, Camae "curses worse that a sailor with the clap" and can probably smoke and drink any stevedore under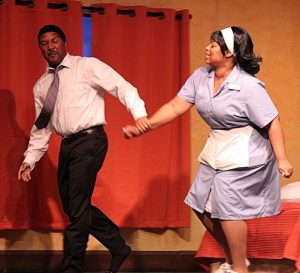 the table. On top of that, she has a flirty, raw sexuality in an earthy, take-no-prisoners Cardi B-Nicki Minaj-Halsey sort of way, and she's certainly not afraid to "break a rule every now and then." Somehow, some way, McCarter is able to draw out all of these complex attitudes out of her character as she blithely challenges Dr. King, particularly when it comes to his adamant adherence to nonviolent protest.
Lively and McCarter have an abundance of talent in their own right.
But on stage together, they cajole, prod and demand of each other a whole new level of acting – in much the same way that Taylor and Burton, Bacall and Bogart, Hepburn and Tracey and Gosling and Stone drew unprecedented performances out of each other in the films in which they starred.
Perhaps that's to be expected. Lively and McCarter teach acting to students who enroll in the Alliance's CHANGE program, and so they've developed a chemistry that transcends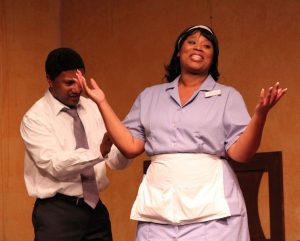 this singular production. But whatever the reason, they feed off each other in a way that's as a rare as a fine bottle of Virginia Black … or whatever it is that's in the flask that Camae and Dr. King share during their time together.
There are many reasons to see Theatre Conspiracy at the Alliance's production of Mountaintop. It's as timely today as when it premiered in 2009, and regrettably,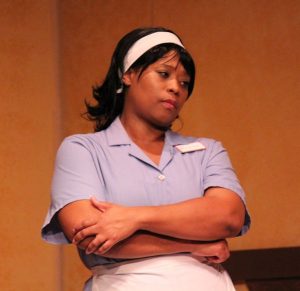 the issues that faced the black community and the country in March of 1968 still plague us in 2020, albeit in different guises and forms. Katori Hall builds some real stunning reveals and plot twists into her script that will leave you godsmacked. And with Martin Luther King, Jr. Day on Monday, it is more than appropriate to look with new eyes at the man and his legacy. But the acting you'll see unfold on the stage alone warrants your patronage.
Mountaintop concludes with four performance next weekend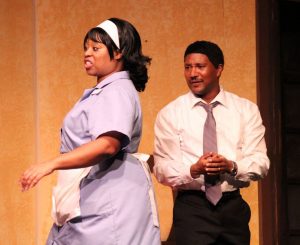 that culminates in a 2:00 p.m. closing matinee followed by a community talk-back.
January 18, 2020.
RELATED POSTS.