Taika Waititi's dramedy 'JoJo Rabbit' wins BIFF Tom Falciglia People's Choice Award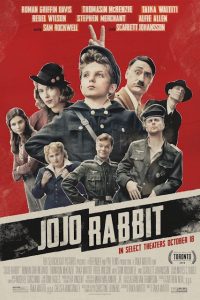 The Tom Falciglia People's Choice Award at this year's Bonita Beach International Film Festival went to JoJo Rabbit.
JoJo Rabbit is a World War II satire that follows a lonely German boy (Roman Griffin Davis) whose world view is turned upside down when he discovers his single mother (Scarlett Johansson) is hiding a young Jewish girl (Thomasin McKenzie) in their attic. Aided only by his idiotic imaginary friend, Adolf Hitler (Taika Waititi), Jojo must confront his blind nationalism.
Writer/director Taika Waititi (Thor: Ragnarok, Hunt For The Wilderpeople) is known for quirky, irreverent humor and JoJo Rabbit oozes his special style of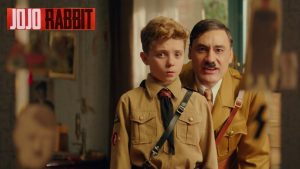 satire from every frame. Reminiscent of the Fuhrer pictured by Brooks in The Producers or Chaplin's The Great Dictator, JoJo Rabbit's Hitler is nice, solicitous and downright chummy. But the film's focus is not on accurately portraying the horrors and atrocities perpetrated by Hitler and his Third Reich. Rather, the film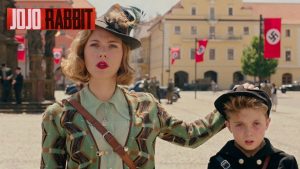 explores the psychological mechanism involved in indoctrinating young minds.
It might seem strange that a film which postulates a kinder, gentler Adolf Hitler would find such favor that a film festival's audience would make it their People's Choice, but through his screenplay and direction,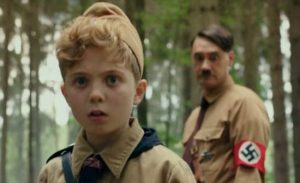 Waititi's Fuhrer comes across as a sad and pathetic individual, which is what you invariably discover when you look beyond the callous decisions and heinous acts and drill to the core of any narcissistic autocrat.
The film had its world premiere at the 44th Toronto International Film Festival on September 8, 2019, where it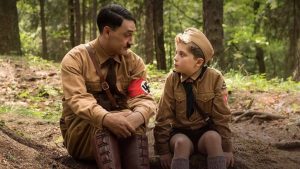 won the top prize, the Grolsch People's Choice Award. It was then released theatrically in the United States on October 18, 2019 (and in New Zealand on October 24, 2019). It drew mostly praise – especially for the performances, direction, heart, visual style, musical score, and production values – but also some criticism for its comedic portrayal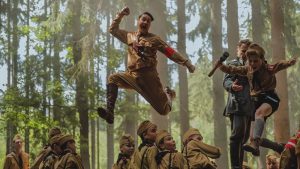 of Nazis and the departures that Waititi made from the book on which the film is based.
JoJo Rabbit was chosen by the National Board of Review and the American Film Institute as one of the ten best films of the year. At the 92nd Academy Awards, the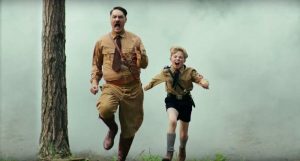 film received six nominations, including Best Picture and Best Supporting Actress for Johansson, winning Best Adapted Screenplay. At the 77th Golden Globe Awards the film was nominated for Best Motion Picture – Musical or Comedy and Best Actor – Musical or Comedy for Davis.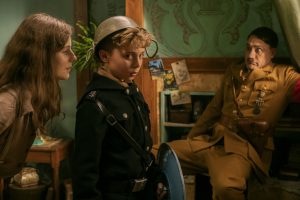 The People's Choice Award is given each year in memory of Tom Falciglia, who passed away on January 15, 2018 from complications associated with ALS. Tom served on the board of advisors at the Centers for the Arts of Bonita Springs and was instrumental in founding, organizing and promoting the Bonita Springs International Film Festival.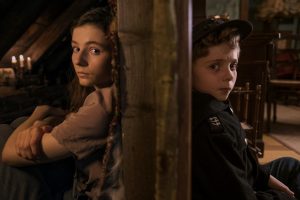 March 4, 2020.
RELATED POSTS.