A gift, synchronicity, the designer and 'The Dress'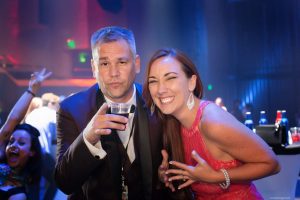 Months ago, "the dress" was a stray thought in designer Mariapia Malerba's jam-packed creative mind. Knowing how busy and stressed her friend was, Melissa DeHaven did not even dare bring up the subject on those occasions where the two got together or chatted on their cells. But then the Universe intervened, setting synchronicity in motion.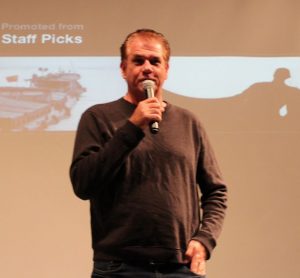 Filmmaker John Biffar gave Mariapia a present.
If you're not familiar with the name (he was a T.G.I.M. celebrity judge in February of 2017), John Biffar is the force behind Dreamtime Entertainment, Inc. which, today, is a leader in film and television production. Over the past three decades, John has served as a director, producer, writer, cinematographer, and on-air talent. He has directed such notables as Don Shula (former coach of the Miami Dolphins), Helio Castroneves (Indy Car Champion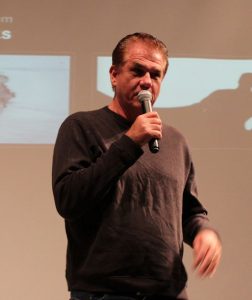 and Dancing with the Stars Mirror Ball winner), Ernest Borgine (McHales Navy), Arte Johnson and Norma Miller (Sanford & Son), Bill Cobbs (Night At The Museum, Northern Exposure) Ali MacGraw (Love Story), news legend Walter Cronkite, Olympic skater Dorothy Hamill and Jacques Cousteau. In the mid-90's, John worked on a TV series shown nationally on The Travel Channel. Another documentary, The Nazi Plan to Bomb New York, was commissioned by the History Channel in early 2002. John's other accomplishments include the 90 minute History Channel documentary Fire Boats of 9-11, which has received acclaim for its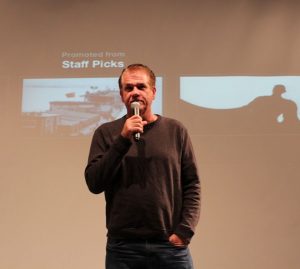 portrayal of the heroic efforts of the New York Fire Department post 9-11. In 2009, John directed the national PBS documentary Under the Sea on legendary underwater cinematographer Al Giddings.
Biffar also directed and produced an eponymous film shot on location on Captiva Island in 1994. His company's first feature film, Captiva Island follows the story of a 16-year-old boy on vacation with his parents on Captiva. Bummed about the prospect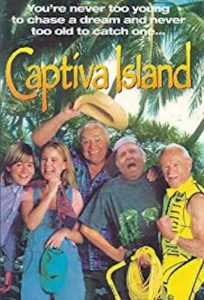 of starting prep school when the family returns home, he ditches his folks and finds love, friendship and adventure when he sets off with a cute underage female cabbie and encounters three kooky pensioners with a passion for life and crazy schemes. In addition to Ernest Borgnine, Arte Johnson and Bill Cobbs, the film starred Jesse Zeigler as the boy, Amy Bush as the girl and George Blair.
Captiva Island aired on HBO, Showtime, Cinemax, Encore and Starz networks. And what Biffar gave Mariapia was a can containing the actual 35 mm film on which Captiva Island had been shot. Knowing Mariapia's reputation for incorporating vintage articles into artwork and fashion designs, Biffar figured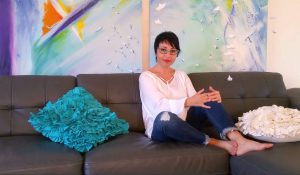 (correctly) that she might find a use for the reel of old sprocketed negative-like footage. But, at first, Malerba didn't know what she'd do with the film, although she knew in her heart she would put the film to good use somehow someday.
"As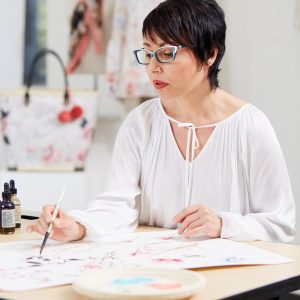 I held the film up to the light, I saw people playing in the ocean and riding along in a boat," Mariapia recounts. "Then – and I could hardly believe my eyes – I saw two guys in an ultralight," referring to a lightweight one or two-seat fixed-wing aircraft inspired by hang gliders and popular in the 1970s and '80s.
"My brother and I flew ultralights when we were kids," Mariapia enthuses. "I was 16 and it was a beautiful time." And when she saw the images of the ultralight in the film that Biffar had given her, not only did it transport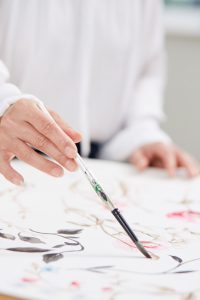 Malerba back in time to the joy and freedom she experienced as a teen growing up in Italy, it sparked an idea about what to do with the film.
Synchronicity.
With eyes narrowed and her head tilted gently to the right, the designer envisioned how she might incorporate Captiva Island into "the dress." After all, what could be more synchronous than using vintage 35 mm film shot on Captiva Island by a local filmmaker for a dress to be worn by the Co-Producer and Co-Host of the Fort Myers Film Festival at its opening night gala?
And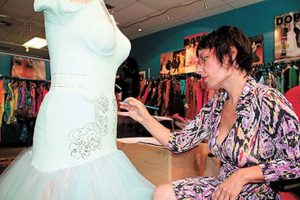 who better to pull off the feat than the beautiful and alluring Melissa DeHaven?
"Right time, right place, right path," says Mariapia, the awe and respect reflected in her voice conveying her appreciation to Biffar and the Universe for the gift of the film.
But the synchronicity does not end there.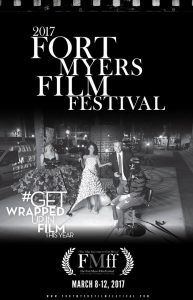 Last year, the logo, banner and trailer for the 7th Annual Fort Myers Film Festival proclaimed "#Get wrapped up in film this year," and featured Dakota Peoples and Blakely Trettenero in opulent gowns spooling film to Eric Raddatz, who's wrapping a seated, jean-clad woman in 35 mm film. Her identity is obscured, of course, but four video versions were lensed, with the "woman wrapped in film" played, alternatively, by Amy Raddatz, Kaycie Lee, Jessica Sallee and Mercedes Gutierrez.
Synchronicity.
Right time, right place, right path.
So, yes, Melissa will be wearing a Mariapia Malerba to the FMff opening night gala.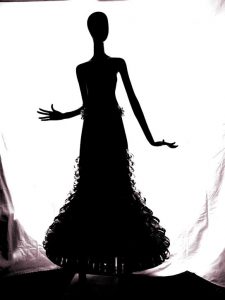 And yes, it will incorporate – someway somehow – some of the 35mm film from Captiva Island that John Biffar gave Mariapia Malerba.
And as for the message conveyed by this year's dress?
"When the digital cinema revolution hit in the early 2000s and studios phased out 35mm prints altogether, a great purge of film history began," laments Alamo Drafthouse Founder Tim League in an article appearing in IndieWire to commemorate Reel Film Day in March of 2017. "The vast majority of cinemas threw away their film projectors in favor of new digital projectors. They switched from 35mm film to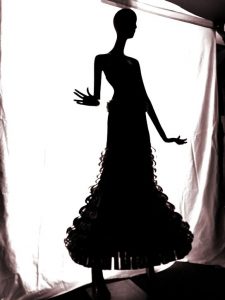 DCP digital files and never looked back. Without theaters to be able to play their wares, niche 35mm libraries and distributors shuttered their doors and many of these archives of film were lost and are not coming back."
Ninety percent of the films released in the silent era are gone. Although the classics may have been preserved for posterity, vast swaths of film thought to have no historical value were tossed indiscriminately into dumpsters. Discarded, as Mariapia is wont to say.
"Perhaps even more tragic," Tim League proclaims, "30 percent of the films from the grand exploitation/drive-in era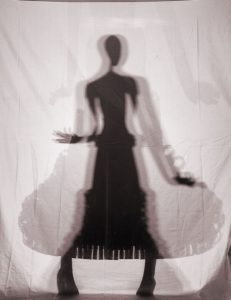 of the 1970s are similarly lost forever. The harsh reality is that America has a stunningly poor record when it comes to film preservation."
So as she did with her plexiglass gowns from the Metamorphosis collection and the pink-and-puce peacock dress of years past, Mariapia Malerba is poised once more to make a bold and forceful statement with "the dress" she has crafted for Melissa DeHaven to wear at the Fort Myers Film Festival opening night gala. Think before you discard, and repurpose, recycle and upcycle. It's eco-friendly and the right thing to do.
So just wait until you see THE DRESS!
You don't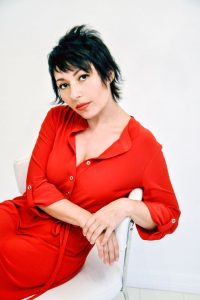 have to be rolling to walk the red carpet this year. Tickets for the opening night red carpet reception and movie only are just $12. That's less than a movie at Bell Tower! Get your tickets now at https://www.bbmannpah.com/performance.php?id=1015.
March 16, 2018.