Red carpet gala celebrates film, filmmakers and film lovers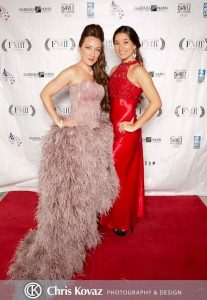 This Wednesday, the Fort Myers Film Festival rolls out the red carpet at the Barbara B. Mann Performing Arts Hall for the opening of its eighth annual film festival. While the event may not attract a phalanx of paparazzi, there is an official photographer and some bloggers on hand to snap images as local politicians, entrepreneurs, and cineastes arrive along with many of the producers, directors, cinematographers and actors who had a hand with films juried into the five-day event. Many of the men don tuxes for the opening, but the focus is deservedly on the women they are squiring. The Fort Myers Film Festival gala has become the social event of the Spring in Lee County, and the floor-length gowns, slinky cocktail dresses, swept-up hair styles and mani-pedis in evidence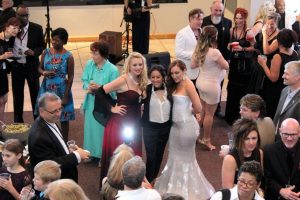 attest to just how eagerly-awaited opening night has become.
From the steps leading to the mezzanine, the lobby of the Performing Arts Hall is awash with perfectly coiffed and impeccably gowned women mingling happily with each other and their lucky escorts. With a boost from Italian-American designer Mariapia Malerba,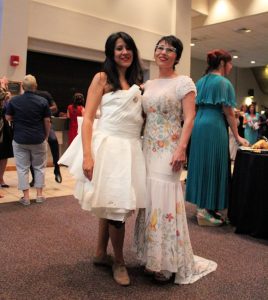 FMff co-producer and host Melissa DeHaven has clearly become one of the stars of the show. Without dissing anyone by failing to mention them by name, Amy Raddatz, fashionista Nicole Forbis, BonSoiree event planner Pamela Beckman, Simply Sassie April Voellmecke, Swan Studios owner and actor Marty Wisher, emerging film actor Kaycie Lee, and Mimi Tincher are just a few female power brokers who've made fashion statements in years past.
So did perfomance artist Leila Mesdaghi and sculptor Patricia Esposito last year. Mesdaghi arrived on the arm of popular contemporary artist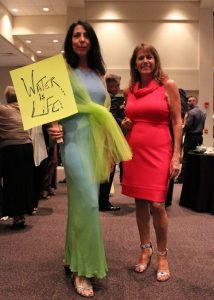 Cesar Aguilera wearing a "Costco Couture" cocktail dress he'd fashioned out of snow white paper towels. Esposito wore a pale blue and algae green gown and sash designed to protest the adverse effect that freshwater discharges from Lake Okeechobee are having on local water quality which, of course, was the theme chronicled by last year's opening night film, Black Tide.
Some have likened the FMff opening night gala to prom for adults. Others draw parallels to Hollywood red carpet affairs like the Golden Globes, SAGs and Academy Awards. To the extent that the latter analogy is apt, then we have Halle Berry to thank. Ever since she arrived at the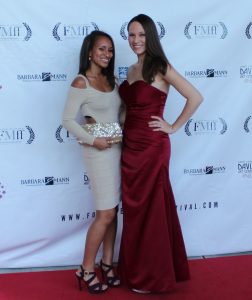 2000 Golden Globes in a glamorous white Valentino, the designers and stylists who dress movie and television stars for awards shows such as these have employed a model of discreetly elegant gowns, softly swept-up hairdos and a plethora of glittering bling.
Women have always used fashion to make a statement, but the FMff opening night gala makes a powerful statement in its own right too. The reason for the tuxes and gowns, buzz and bling is pure and simple. FMff producers Eric Raddatz and Melissa DeHaven have sagely created a happening designed to celebrate not just the genre of indie film, but the residents and winter visitors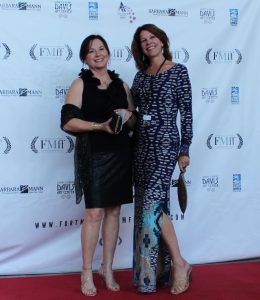 who individually and in the aggregate support not just film, but all of the arts in this little piece of paradise we call home.
Make no mistake, opening night is about film and all the super-creative folks who put themselves out there to conceive, make and distribute independent films – often on their own dime or with the succor of cloud source funding. They're smart, committed risk-takers who occupy the leading edge of short, documentary and feature film today. They deserve recognition and appreciation for their efforts, and the opening night gala celebrates their passion and achievements in a tangible, semi-Dionysian way.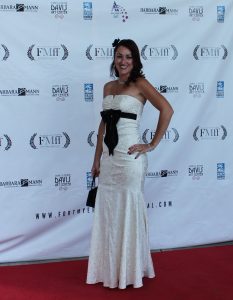 But the gala's appeal also inheres in the rare opportunity it offers for Fort Myerans to dress to the nines and mix, mingle and network with each other in a celebration of life. Although few people living today realize it, Fort Myers has a rich tradition of highly-publicized, well-attended social events. Many took place in swank venues like the Royal Palm and Bradford Hotels. Others were hosted in the living room of Seminole Lodge out on the Edisons' 13-acre riverfront estate and in the opulent historic homes of such well-connected business and civic leaders as Harvie Heitman, Walter Langford and William F. Towles. Edison, of course, pioneered the development of film and moving pictures, while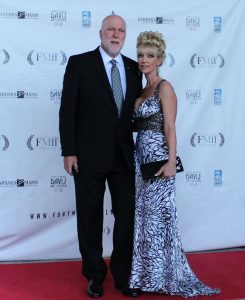 Heitman did as much to bring film to downtown Fort Myers one hundred years ago as Eric Raddatz and Melissa DeHaven are doing today through the Fort Myers Film Festival.
So it's only right and proper for us to observe and commemorate the opening of the Fort Myers Film Festival with a big, bawdy blow-out like the opening night gala.
Will you be there?
You don't have to be rolling in it or besties with Mariapia Malerba, Sarah LaPierre, Marmar Halim or one of the other designers at this year's edition of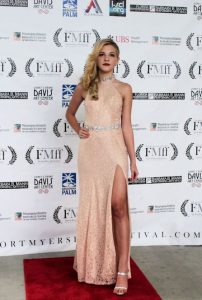 Art Walks the Runway (which DeHaven also organizes and produces). This year, it only costs $12 for a ticket to the red carpet and opening night film, Melody Makers, which is a tribute to the early, embryonic years of rock 'n roll. And for just $49 apiece, you can also gain access to the glitzy VIP post-screening party on the stage of the Barbara B. Mann Performing Arts Hall. So if you've never been before, don't miss this year's gala.
The red carpet starts at 5:30 with the film beginning promptly at 7:00 p.m. this Wednesday, March 21. It's the place to be and be seen.
And it's the only way you'll get an answer to the question on everyone's mind: What have Mariapia and Melissa come up with for this year's gala?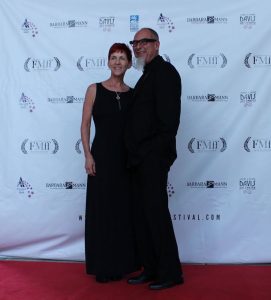 March 18, 2018.
RELATED POSTS.