Perfectly cast, 'Clark Gable Slept Here' denoted by superb performances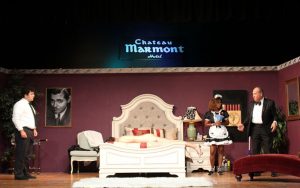 On Joan Jenks stage for a final weekend at Golden Gate Community Center is the Studio Players' production of the comedic farce Clark Gable Slept Here by Michael McKeever (Hand to God). Directed by Scott Lilly, it stars Danielle Channell, Perry Ventro, Luke Lauchle, Alicia Schwartz and Ricky Shafer.
Interestingly,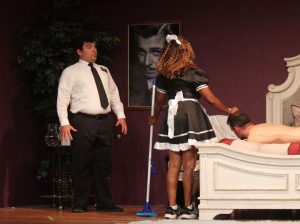 the action in the play revolves around a character who's heard but never seen. That's action-thriller superstar Patrick Zane, who's at Golden Globe Awards, a couple of blocks from his luxury suite in Hollywood's swank Chateau Marmont Hotel – a suite, coincidentally, where Hollywood icon Clark Gable not only slept, but reputedly proposed marriage to Carol Lombard.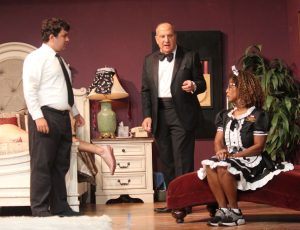 Zane is up for a Best Actor Award but his beaming manager, Jarrod Hilly Hilliard, is not at the Awards. Instead, the beleaguered manager has been summoned to Zane's room at the Marmont by the hotel's frazzled manager Gage Holland after housekeeping discovers the nude body of a male prostitute sprawled across Zane's bed. Hilly's not about to let a little glitch like a lifeless male hooker derail his client's big night and last chance for acting validation. After all, at 46,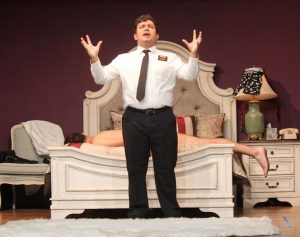 Zane's "past his expiration date." So Hilliard calls in Hollywood fixer Morgan Wright to dispose of the body and make sure that neither Holland nor the hotel maid go to the police or public about what they've found. What could possibly go wrong?
"After reading the script last year and [adding] the show to our schedule, my first thought was I know exactly who needs to be in this show," remarks Lilly.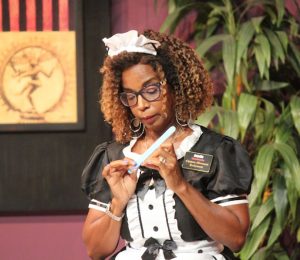 "Perry Ventro needs to be Hilly and Danielle Channell needs to be Morgan Wright. As luck would have it, Perry and Danielle showed up at the casting call!"
Lucky indeed. Who better to cast in a farcical female role than Channell, deservedly dubbed the Queen of Farce after roles like Beatrice Pomeroy in Don't Talk to the Actors (The Studio Players), Julia Budder in It's Only a Play (Lab Theater), and Desiree in The Realish
Housewives of Fort Myers (Lab Theater), for which she won the Broadway World Award for Best Supporting Actress in a Streaming Play.
Always on the look-out for acting talent, Lilly first saw Alicia Schwartz in a Marco Players show.
"I was very impressed by [her] performance … in Good People.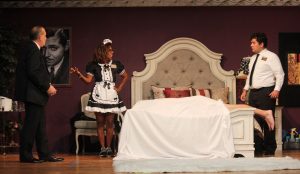 I reached out to her the next day … and encouraged her to come out and audition for Estella [the maid]. She did, and BAM, we have Estella!"
Then in walks Luke Lauchle.
"He had a great audition. He brought such passion to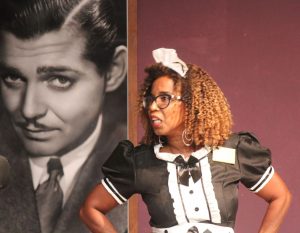 Gage."
Several other actors auditioned for the role of the Hotel Marmont's principled hotel manager "but there was something special about Luke." So, obviously, Lauchle got the part.
As for that naked male hooker, Lilly was scratching his head, wondering where he was going to find the right guy, the right age, the right look, a guy who'd be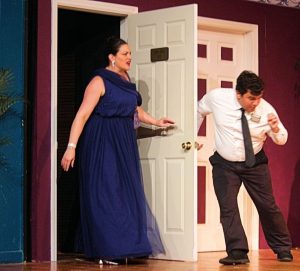 willing to lay naked across Patrick Zane's bed with his "bare ass glaring" in the lights for the first 38 minutes of Act One.
"Luckily, we had Stage 2 Improv on the schedule for the Third Annual Holiday Show back on December 18," Lilly recollects. "The performers show up and they have this new guy with them … who is this guy? As I watch the show, I was more and more convinced that I just may have found our Travis. After the show, I mention the part to him, explained the nude scene etc. …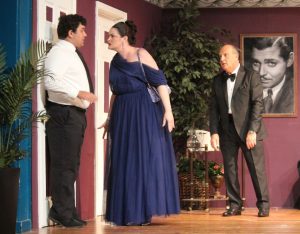 and he said 'Okay.' BAM, we got Ricky Shafer for Travis!"
Lilly reports that when all the actors assembled for on that first day for a table read "it was like magic." And that magic translates to their performances on stage.
Channell is pitch perfect as the Morgan Wright, a ruthless, no-BS fixer who's only remorse is that she's been called away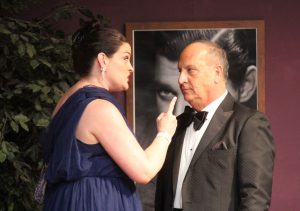 from her table at the Golden Globes which, ironically, is just two tables away from Jon Hamm's (you know, Mad Men's Don Draper), which kind of tells you all you need to know about Morgan's psyche.
Danielle told Naples Daily News theater critic Harriet Howard Heithaus that she suspects that covering up a scandal involving a famous film star "happens a lot more than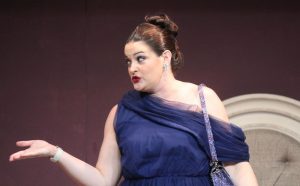 we know about."
Well, it certainly did back in the day. In fact, an argument can be made that Channell's character is a female Eddie Mannix. A thug who hung with mobsters, Mannix was the guy that Head of Publicity Howard Strickling called in to keep the lid on scandals that threatened the carefully-curated images the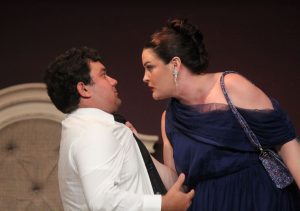 studio had constructed for each of its mega-movie stars. For example, it was Strickling that a distraught Marlene Dietrich called after discovering the dead body of John Gilbert. And it was Strickling and Mannix who procured private abortions for Jean Harlow, Judy Garland and Lana Turner.
But no story is as bizarre or subject to parody than that involving (and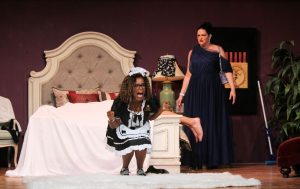 keeping with the title of this show) Clark Gable's love child, borne by actress Loretta Young, who became pregnant while she and Gable were filming The Call of the Wild. A staunch Catholic, Young refused to have an abortion, so Stickling and Mannix kept her sequestered from the press until she delivered the baby, who she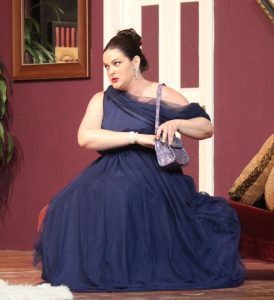 subsequently "adopted" from the orphanage in which the baby had been placed until the legal papers and favorable publicity could be arranged.
Even though Channell portrays her character as both callous and sinister, she nonetheless has some of the script's funniest lines, which she delivers with deadpan humor and split-second comedic timing worthy of her royal farcical pedigree. But as good as Channell is at delivering biting humor and eviscerating wit, she gives a workshop in scathing looks and piercing, penetrating glances in the role of Morgan Wright.
Well,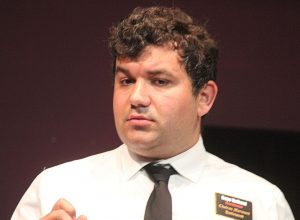 if Danielle Channell's Morgan Wright is an Eddie Mannix historical reference, then Perry Ventro's Hilly certainly conjures parallels to Howard Strickling. Like Strickling, Ventro's Hilly is dapper, unflappable, jaded and totally committed to doing anything and everything necessary to protect his star's billion-dollar brand – and covering up an overdose, sex-play murder or whatever the hell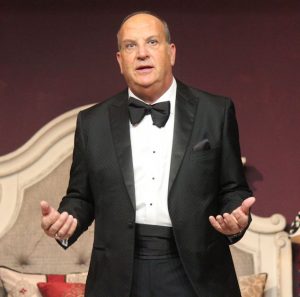 happened in Zane's Hotel Marmont suite is no problemo. And Ventro delivers a chilling monologue near the end of the play that serves as a reality check for anyone who believes anything that comes out of Hollywood or, by implication, Washington D.C. today or at any point in the past when it comes to a star's or politician's reputation.
If you like the comedic work of Rosie Perez (White Men Can't Jump, It Happened One Day), then you will love, love, love Alicia Schwartz in Clark Gable Slept Here.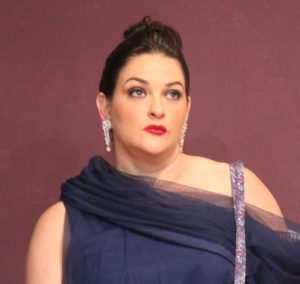 When the audience first meets her, she prattles on in staccato bursts of Spanish that Luke Lauchle's Gabe Holland has to translate for Hilly and then again for Morgan Wright. But Maid Estella is not just a comedic foil. There's a lot of depth and surprises associated with this character, who is in large measure a stereotype that McKeever not-so-subtly ridicules.
Lauchle excelled in The Naples Players' recent production of Boeing Boeing, where he portrayed the principled friend of a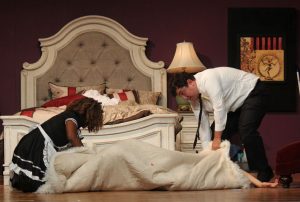 guy who's juggling romantic affairs with flight attendants from three different airlines. In Clark Gable Slept Here, Lauchle once again plays a principled man caught in the mendacious machinations on the show's other characters. As such, he's a problem for people like Hilly and Morgan Wright because he can't be bought off at any price. Or can he?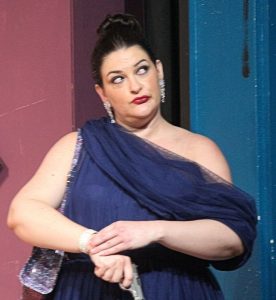 And for a cadaver, Ricky Shafer proves to be the perfect choice for Travis, the dead man laying across Patrick Zane's big brass bed. Shafer may be making his theatrical debut in Clark Gable Slept Here, but his performance as Zane's betrayed boy toy is marvelous. He really is an exquisite corpse. Or is he? Unfortunately, more cannot be made of Shafer's performance without giving away some plot twists. But he's no stiff.
The laughs and good time abound in this show for both the cast and the audience. Everyone on stage has their moments, which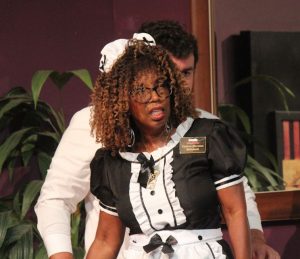 means that the audience has theirs too – as evidenced by the fact that Channell, Ventro, Lauchle, Schwartz and Shafer have had the honor and privilege of playing to a number of sold-out houses so far in this run. So you better act quickly if you'd like to secure a seat for one of this comedy's final four shows.
June 12, 2022.
RELATED POSTS.