Actors, artists, filmmakers and events in the news March 22-31, 2020
Grouped under headings that include art openings, film, outdoor art fairs and festivals and theater are advances, announcements and articles about the actors, artists, filmmakers and events making news in Southwest Florida this week:
1     ART & ARTISTS
Due to the COVID-19 outbreak, all of Southwest Florida's museums, galleries and art centers are closed to the public. Notwithstanding, some of these organizations have produced virtual shows and you can also read here about some of the artists who would have been featured but for stay-at-home orders and recommendations issued by the Centers for Disease Control & Prevention and Governor Ron DeSantis.
Virtual tour of Alliance's 34th Annual All Florida Juried Exhibition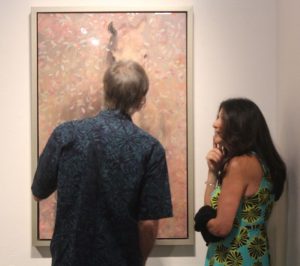 The Alliance for the Arts has created a Facebook-based virtual tour of its annual All Florida Juried Exhibition. Although you cannot see the show in the Alliance's gallery, you can view the 60 pieces juried into the show by Juror Amanda Poss online here or from your mobile device. Chosen from more than 500 submissions received from artists working in a wide variety of media from all over the state, the juried entries come together for an exciting exhibition representing today's contemporary Florida artists.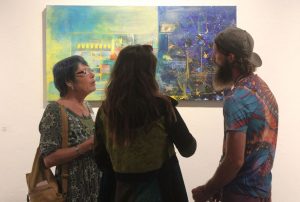 All artworks are for sale, so if you see an artwork that you'd like to acquire, please contact Gallery Director, Ehren Gerhard at exhibitions@artinlee.org.
And keep reading for more on some of the individual artworks and artists in the show.
_________________________________________
All Florida Juried exhibition winners and exhibitors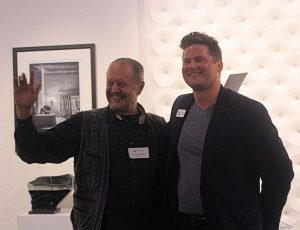 Best in Show went to Thomas Roth for LS1. Taylord Dezeme received 2nd Place for A Slice of Life and Joel Shapses took 3rd place honors for his sculpture Fantasia. Richard Stanton was awarded the Juror's Choice Award for Deco Beach.
In addition to Roth, Dezeme, Shapses and Stanton, the other artists who juror Amanda Poss juried into the show are:
Eileen Amster,
Cynthia Barbanera-Wedel,
David Belling,
Della Boynton,
Mila Bridger,
Stephen Bufter,
Deborah Butler,
Marcy Calkins,
Dennis Church,
Carol Coates,
Steve Conley,
Michael Danley,
Taylord Dezeme,
Kathleen Durdin,
Sharon Eng,
Alejandro Estrada,
Stacey Fletcher,
Muffy Clark Gill,
Kristin Herzog,
Del Holt,
Priscilla Jeffcoat,
Pamela Jones,
Jay Lana,
JoAnn LaPadula,
Jean Mau,
Dave McFarlane,
John Merchant,
Kellen Mills,
Lucy Nesheim,
Gregory Presley,
Whit Robbins,
Roy Rodriguez,
Sherry Rohl,
Thomas Roth,
Rita Schwab,
Cree Scudder,
Joel Shapses,
Dale Smith,
Paul Stackpole,
Erin Stein,
Grayson Stoff,
Daniel Venditti,
Christina Wyatt,
Barbara Yeomans and
Peter Zell.
______________________________________________
Considering Taylord Dezemes Dance Monkey 'Slice of Life'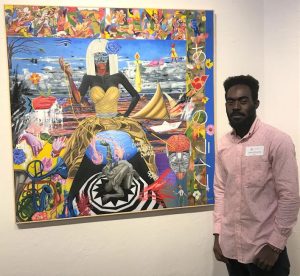 Taking 2nd Place honors in this year's Alliance for the Arts All Florida Juried Exhibition is Taylord Dezeme's A Slice of Life. The oil-on-canvas painting is a rich colorful surrealist composition filled with metaphorical images, symbols and musical references that viewers are free to interpret in a multitude of ways. But the horns, violins and staveless musical notes do invite a consideration of the expectations that are placed on musical and other performers by the patrons and fans with whom they intersect.
They say oh my god I see the way you shine
Take your hand, my dear, and place them both in mine
You know you stopped me dead when I was passing by
And now I beg to see you dance just one more time
Intentionally or unintentionally, patrons and fans place expectations on all performers. For some, the expectations prompt them to surpass their self-imposed limitations and achieve better and better results. But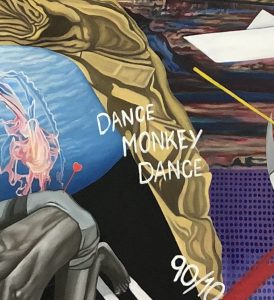 others are simply unable to meet or exceed the expectations raised by their own greatness. Michael Jackson is a poignant example, as are the Beatles. In small clubs like the Cavern, the Beatles created an extraordinary rapport with their fans through the raw energy they produced on stage. As the venues got bigger, this intimacy dissipated. They became increasing remote figures producing a sound so poor that it was often difficult to distinguish one song from another. And the  screaming made it all but impossible for them to hear, never mind harmonize with each other.
So I say
Dance for me, dance for me, dance for me, oh, oh, oh
I've never seen anybody do the things you do before
They say move for me, move for me, move for me, ay, ay, ay
And when you're done I'll make you do it all again
It's unlikely that Taylord Dezeme intended to invoke Australian singer/songwriter Tones and I in his painting. But then again, he incorporated the words "Dance Monkey Dance" into the composition. While Tones' wrote "Dance Monkey" in order to process a particularly meager slice of life she endured one day, the song has potentially given her the whole pie! To date, "Dance Monkey" has been streamed a billion times,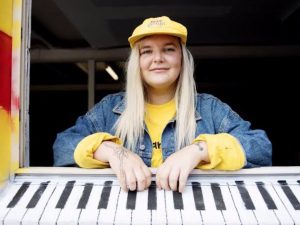 racking up 50 million streams in China in one week alone. It has topped the singles charts in over 30 countries including Australia, Austria, Belgium, China, Canada, Czech Republic, Denmark, Estonia, Finland, France, Germany, Greece, Iceland, Ireland, Israel, Italy, Japan, Malaysia, Netherlands, New Zealand, Norway, Portugal, Romania, Singapore, Spain, Sweden, Switzerland and the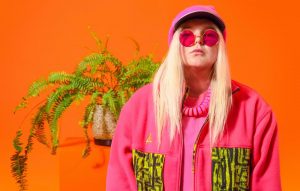 United Kingdom – and peaked within the top ten in many other European and Asian countries. In the U.S., it made it all the way to number seven on the Billboard Hot 100.
The sudden rise to fame has its challenges, admits Tones, who was living in her van at the time she wrote the song. "It's really crazy. I don't know how to deal with it.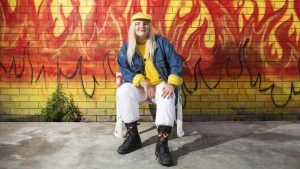 But I just turn my phone off and hang out with my friends and then it's all fine."
Just like a monkey I've been dancing my whole life
And you just beg to see me dance just one more time
Ooh I see you, see you, see you every time
And oh my I, I like your style
You, you make me, make me, make me wanna cry
And now I beg to see you dance just one more time
Of course, it's unclear whether the "Dance Monkey Dance"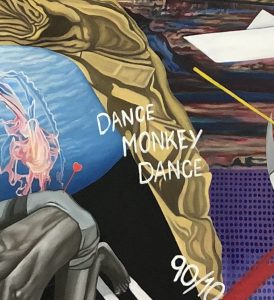 phrase in A Slice of Life is a reference to Tones and I's record-breaking single or the expectations people place on artists, musicians and other performers to repeat past work rather than reinvent themselves and their chosen genres. And while the comparison may be warranted and is certainly complimentary, there's much more content to fathom and divine in Dezene's 2nd place painting. Like a Dali or, locally, a Marcus Jansen, the longer you stare and study, the more you see. So take a trip down to the Alliance for the Arts. A Slice of Life and 59 equally meaningful and entertaining artworks await your inspection.
The exhibition runs through March 28.
______________________________________________________
'Teaser' extends fantasy photographer Mila Bridger's legend and lore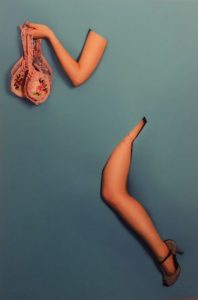 Included in the Alliance for the Arts 34th Annual All Florida Juried Exhibition is an image by fine art photographer Mila Bridger that she's named Teaser. It's a composition from which a woman's left arm and leg protrude from a blue-gray field. It's a variation, or perhaps extrapolation, of a theme she began a couple of years ago when she introduced her Mermaid's Dream series.
In Mermaid's Dream, Bridger depicts horizontal-striped stockinged legs protruding from a pool onto a white deck or waterside landing. The colors of the stripes change. One is red and white; another blue and black. In one, bare legs end in white-laced blue-and-white sneakers. But in each case, the torso to which the legs belong disappears beneath the surface of bluish-gray water; the owner anonymous.
Go here for the balance of this post.
_________________________________________________________
Spotlight on All Florida Juried Exhibition figurative painter Steve Bufter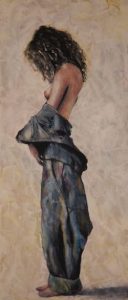 Steve Bufter creates post-stress eclectic style paintings on wood and wood carvings, emphasizing on portraiture and figurative compositions. His work is well known to area art enthusiasts, especially those who patronize Tower Gallery on Sanibel and the Alliance for the Arts. He has had several paintings juried into the Alliance's annual All Florida Juried  Exhibition, including this year's entry titled Overalls. His painting The Very Thought of It (about a woman contemplating her future after learning that her breast cancer has returned) made quite an impression at the 27th Annual All Florida show, and Lolita garnered Bufter a Juror's Choice award at the 31st Annual All Florida Show.
The rest of Steve's profile is here.
_______________________________________________________________
Spotlight on All Florida Juried Exhibition fine art photographer Dennis Church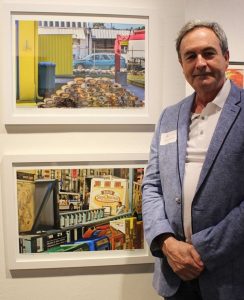 Included in the Alliance for the Arts 34th Annual All Florida Juried Exhibition are two images by award-winning fine art photographer Dennis Church. The first is View from Broadway and the other is titled North Fort Myers ….
Approaching the world around him with a subjective eye and stepping back from traditional realism, Dennis Church explores the world of what we do not see in the traditional landscape. Using color and shape, he improvises thoughtful images that are simultaneously simple and complex, challenging yet peaceful, and which ultimately offer the viewer a satisfying view that reflects the beauty and grace so often overlooked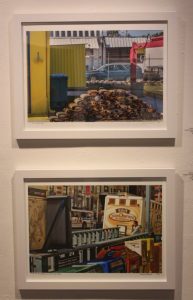 in the mundane world around us. He calls this body of work AMERICCOLOR, and through it, Church seeks to bring order to the visual confusion all around us.
North Fort Myers …. is a case in point. This classic Church composition seeks to impose order on a scene of visual confusion.
"Each day we move through a barrage of visual information that results in a cacophony of architecture, advertising, nature, color, and cultural symbols – all creating a landscape that is often chaotic and mind-numbing," Dennis has said of similar and related images.
Tinkering with, and often dismantling single-point perspective, Church creates planar and semi-planar documentary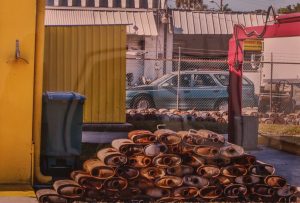 style pictures of ordinary and overlooked views in the lineage of Evans-Eggleston.
"Sometimes it is the challenge of 'how many balls one can juggle' in the picture frame and create a picture that works," Dennis says of North Fort Myers … in particular. "Also, my interest may be intrigued by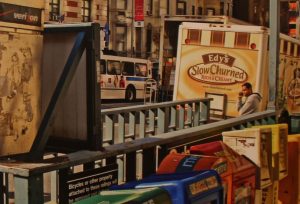 simple echoing color harmonies and/or jarring harmonic discord, even in the same picture. My intent is akin to improvising music, pictures that are to be felt, 'listened' to. This practice, infinite in the creative possibilities of the viewfinders' rectangle, keeps me in the present moment, an engaging perceptual practice that I find enduringly exciting and satisfying."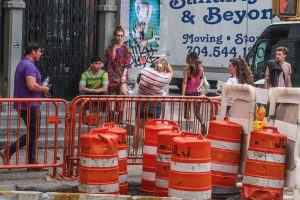 Church's fine art photographs have been exhibited in a number of galleries in the United States, and has been featured in many online and hard copy publications in the USA and Europe (including Wonder Magazine, Moscow, Fine Art Photographer, Prague, Image in Progress, Rome, Lens Culture and Lenscratch, Paris, The Oxford American and The Southern Photographer in the 
USA).
The Alliance for the Arts' 34th Annual All Florida Juried Exhibition is on view in the main gallery through March 28. The Alliance is located at 10091 McGregor Boulevard in Fort Myers, just south of the intersection of Colonial and McGregor Boulevards.
And go here for more on Dennis and his art.
__________________________________________________
Spotlight on 'All Florida Juried Exhibition' realist David Belling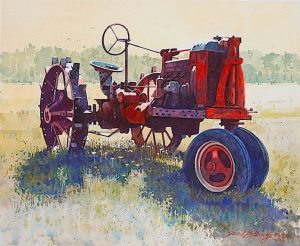 Included in the Alliance for the Arts 34th Annual All Florida Juried Exhibition are two images by award-winning realist David Belling.
Wisconsin farmlands provided the motifs for Belling's watercolors. "I found Iron Horse on a farm field near 3 Lakes this past summer," David reveals. "The Allis Chalmers is a combination of a tractor reference photo and a separate barn photo reference, both in the countryside about 30 miles northwest of Milwaukee."
Go here for the rest of this story.
__________________________________
Spotlight on DAAS' Maria Ramona Sanchez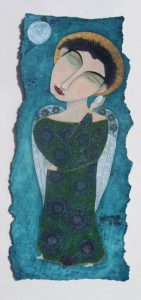 DAAS CO-OP Art Gallery & Gifts was featuring the whimsical works of Maria Ramona Sanchez when the COVID-19 outbreak forced the gallery's temporary closing. Sanchez  is a self-taught artist whose medium is oil on wood, canvas and handmade paper. Painting is a deep and integral part of this artist's life.
"The moon lives in its secular cycles and rhythms," says Sanchez of her motifs. "Creatures of diverse origin flow with it in a cosmic dance. With its intangible light fills hearts with magic. It is a perceptual adventure, and my most pleasing support whenever giving or receiving anything. My paintings and their inhabitants come without effort, sometimes surprised to find themselves in them. And they arrive with a mission: that of populating the universe with beauty, love and a serene happiness."
Sanchez's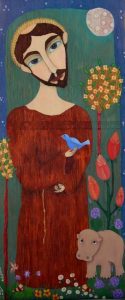 work has been exhibited in solo and group exhibitions in Latin America, the United States and Europe. She has also participated in important art fairs (Chicago, Art Miami, Art Santa Fe, Red Dot Art) and museum exhibitions (MOLA, Long Beach, Santa Fe Museum of History in New Mexico, Naples Museum of Art and National Museum of Fine Arts in Havana, Cuba). Many of her paintings are part of important private collections worldwide. She has also rendered big format works that are part of public and private places and has has illustrated books for children and youngsters.
Maria Ramona Sanchez  was born in Havana, Cuba in 1952. She graduated from the University of Havana with a degree in Spanish Literature. She currently lives and works in Southwest Florida.
More information about Maria Ramona Sanchez and her work can be found at daascoop.com or by calling 239-590-8645.
_______________________________________________
Spotlight on DAAS' 'Frida's Flowers Invitational Exhibition'
DAAS Gallery's April show was going to be Frida's Flowers Invitational Exhibition. It's a collection of work by Southwest Florida artists who responded to DAAS' challenge to create pieces inspired by the iconic surrealist painter Frida Kahlo.
Luis Jimenez is one of the DAAS member artists who contributed work for the show. His piece is a pyrography sketch painted with acrylics and other water-based mediums that not only depicts the legendary Mexican artist, but is an ode to her life and work.
"The symbolism in my work represents what we humans take with us when we die," comments Jimenez.
"She [Kahlo]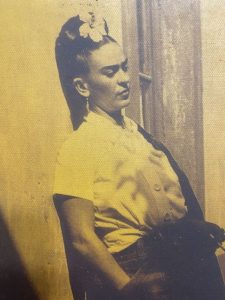 took with her all the pain through her romantic life, accidents, sickness, but not forgetting her artistic achievements doing what she loved, which was making art."
Kahlo is an idol and an incredible source of inspiration to DAAS president and member artist David Acevedo, who is preparing for a major solo exhibition at the Sidney & Berne Davis Art Center in July, 2020.
"I do not know or fully understand my connection to this woman and how I feel when I contemplate her paintings," says Acevedo, who is also participating in the invitational exhibition.
"She persevered
through heartaches, ailments and so many other circumstances, but never gave up. She was resilient and always found a way to continue painting and that, I think, is very much how I am. Frida lives in my heart and that is why we wanted to dedicate this exhibition to her."
DAAS has not yet announced whether they will hold the show once the CDC and Governor DeSantis' stay-at-home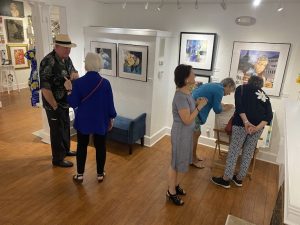 orders/recommendations have ended or produce a virtual tour of the show that can be viewed online or via your mobile devices. Check back for updates.
More information about gallery and the status of the show can be found at daascoop.com or by calling 239-590-8645.
_______________________________________________________________
Fifth Avenue's Shaw Gallery featuring romantic figures of Anna Razumouskaya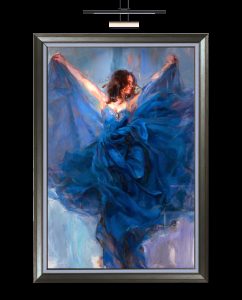 Shaw Gallery of Fine Art is digitally featuring work by Anna Razumouskaya, a Russian artist residing in Canada who is best known for classic, romantic figures that carry a sense of elegance and grace.
"They carry an aura associated with the Renaissance and yet, due to her signature powerful and dynamic technique, they are refreshingly modern," states Shaw Gallery's bio for the artist. "Anna's eclectic mix of experiences has enabled her to create a truly unique signature style that resonates with those who share her passion for life. She is a great believer in art's power to heal, transform and inspire others in their journey."
Razumouskaya is a graduate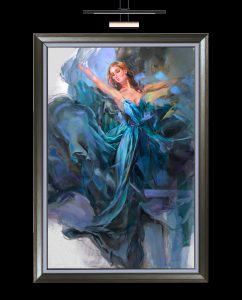 of the Russian State University for Arts, where she got the distinction award of high-class artist in 1991. She subsequently studied art in Germany, Belgium and Holland. With solo exhibitions in New York, Toronto, Paris, Amsterdam, Antwerp and Berlin and numerous works in private collections across the globe, she has become one of the most exciting and collectible artists on the contemporary scene.
Born at the height of the cold war, Anna has seen two very different worlds, that of the austere communist regime alongside the sophistication and femininity of her fashion-conscious mother. She excelled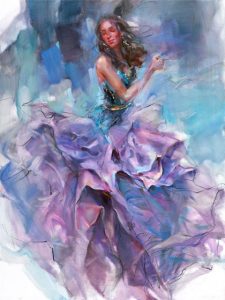 at art school, and enjoyed the freedom of learning and perfecting her technique in a variety of different media. Of particular interest to her were the portrait masters of the late 19th Century, such as John Singer Sargent, the Russian painter Valentin Serov, and earlier masters including Peter Paul Rubens and Rembrandt. She traveled around Europe absorbing the influences of artists, and finally settled in Canada which she now feels to be her real home.
"Looking at Anna Razumouskaya's art, you always get a feeling of artist soul tension behind the painting," Shaw Gallery's bio expounds. "'Romanticism' is the word to describe Anna's works…interlacing of quiet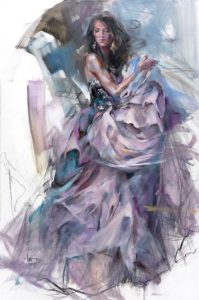 tones with the bright color impact at the end is the trademark of the artist… abstract elements is the significant aspect of every artwork and, in combination with the sensual dynamics, creates an unforgettable experience for the viewer."
Shaw Gallery of Fine Art has been serving Southwest Florida for 31 years. Although its brick-and-mortar location on Fifth Avenue South is only open by appointment during the COVID-19 outbreak, it's online gallery is open 24/7. The Gallery represents more than 40 prominent artists whose work will enhance any collection.
For more on this artist or to view Shaw Gallery's virtual exhibition, go here. Please direct any inquiries to 239-261-7828.
___________________________________________
Sheldon Fine Art providing virtual visit to Naples Pier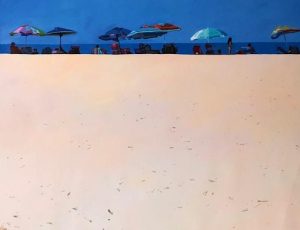 Sheldon Fine Art on Naples Fifth Avenue South is currently featuring beach scenes rendered by German artist Henri Lepetit.
The New England coastline fuels Henri's unabated passion for painting. His bold brushstrokes and thick creamy impasto tackle the delightfully sparkling colors and brightness of light without hesitation. He knows where he is going and how to achieve the end result.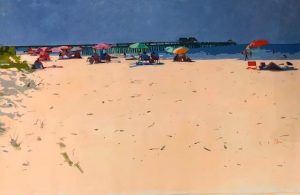 Always aware of the privilege to be able to afford contemplating at will the atmosphere of a setting, Henri strives to adapt his palette to ever-arising new challenges.
It was while sojourning in Provence that Henri's passion for visual art transformed from a paying hobby into full professional status. Since that time, he has steadily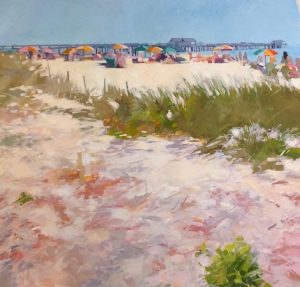 and successfully built a wide and eager collector base throughout the world.
Lepetit's oeuvre is informed by his extensive travels, which began when, at the age of 12, he began to accompany his father on scientific assignments throughout the African continent, the Middle East, and later the entire length of South America. While today Henri's calls Germany home, he's made several visits to Southwest Florida and his motifs include our beaches and the Naples Pier.
So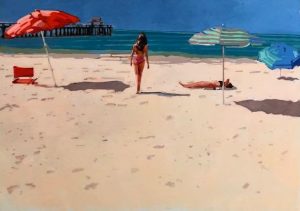 during this period when our beaches remain closed in order to protect everyone from community spread of the COVID-19 virus, you can still visit them virtually by visiting Sheldon Fine Art's online gallery. Please direct inquiries to the gallery by email at sheldonfinearts@aol.com or by calling 239-649-6255.
____________________________________________________________
Arsenault Gallery offers digital show of new work by Amy Moglia Heuerman
Arsenault Gallery had planned a pop up show of Horizons, new work by Amy Moglia Heuerman.
"Amy's new work gives us hope and reminds us that better days are just beyond the horizon," states Paul Arsenault. "We hope you enjoy her new paintings, share them with friends, and continue to support the arts.
You may view Amy's work on the gallery's website.
Please call the gallery at 239-263-1214 if you are interested in any of Amy's work.
_________________
2       Outdoor Art Fairs and Festivals
During the pendency of the COVID-19 outbreak, all outdoor art fairs and festivals, including Fort Myers Art Walk, have been cancelled.
3.      FILM
No film festivals were scheduled in Southwest Florida for the week of March 22-31, 2020. However, the because the Sidney & Berne Davis Art Center has announced it will be closed until May 11, the status of the Fort Myers Film Festival (scheduled for May 6-10) is in question. Check back for announcements and developments. However, there is news to share about previous film festivals, like the 5th Annual Bonita Springs International Film Festival, as well as films and filmmakers of interest to Southwest Florida cineastes.
BIFF 5 announces winners in 10 indie film categories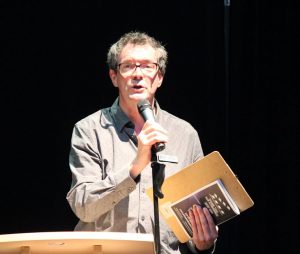 The 5th Annual Bonita Springs International Film Festival took place February 27-March 1. Here are the films that took top honors this year:
Kids Shortz:  Oh, The Places You've Been, a 9-minute film in which a specific demographic travels to new places and old via VR; produced by Lighthouse Studios.
Florida Youth:  Reserved, a 6-minute film about connection and familiarity in spite of the difficulties life throws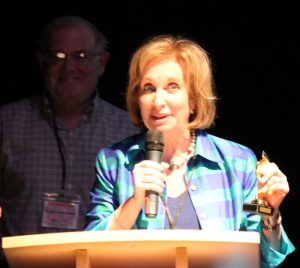 at us; directed by Hannah Cheesman.
Florida Adult: My Father's Fabulous Funeral, a quirky 15-minute comedy about a dysfunctional family struggling to give their oddball father a fitting funeral despite the difficulties presented by their obnoxious stepmother; directed by Mark Stolzenberg and produced by Mark Schulman, Judy Copeland, Mark Stolzenberg and Eric H. Alexander.
You will find the rest of the winners here.
______________________________________________
'Walk On's Kendra Johnson has knack for defying the odds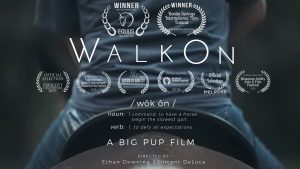 Best Short Documentary honors at this year's Bonita Springs International Film Festival went to Walk On, a 10 minute film that tells the story of Kendra Johnson who has learned to overcome disabilities attributable to a genetic disorder known as arthrogryposis through her interactions with the staff and horses at the Naples Therapeutic Riding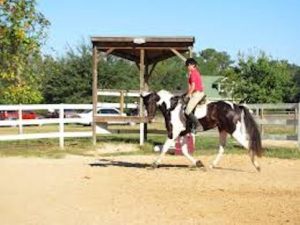 Center.
Arthrogryposis multiplex congenita or AMC is characterized by joint contracture in two or more areas of the body. It derives its name from two Greek words which translate as "curved or hooked joints" and refers to a condition in which a joint becomes permanently fixed in a bent (flexed) or straightened (extended) position, completely or partially restricting the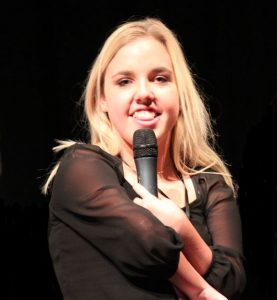 joint's movement. In addition, the muscles of the affected limbs are typically underdeveloped.
Kendra's AMC affected her right elbow, hips and legs. Her contractures were severe. So severe, in fact, that her doctors told her parents, Ken and Tonya Johnson, that that Kendra might not live. Even if she beat the odds, they felt certain she'd never walk.
But Kendra survived.
Go here for the rest of this review.
______________________________________________________
BIFF Best Short Narrative award winner: James Cotton's 'Tiger Claw'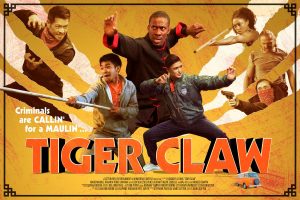 The Bonita Beach International Film Festival's Best Short Narrative this year was James Cotton's kung fu action film Tiger Claw, in which some low-level criminals are callin' for a maulin'.
The short features a trio of kung fu enthusiasts who are on their way to a regional tournament when they witness a small-scale jewelry heist. Unlike the Seinfeld foursome, this trio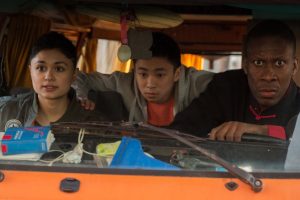 sets aside their personal quest for Golden Dragon Trophy and pursues the thieves in their garish orange van to a dark and dank warehouse (where else?). What happens next is a mash-up and homage to iconic martial arts stars like Bruce Lee, Jackie Chan and Gordon Liu (Pai Mei in Kill Bill Volume 2) ….
Go here for the rest of this story.
______________________________________________________________________
BIFF Tom Falciglia People's Choice award winner: Taika Waititi's dramedy 'JoJo Rabbit'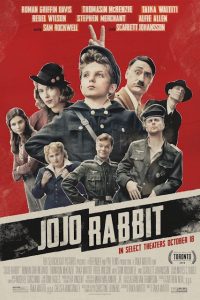 The Bonita Beach International Film Festival Tom Falciglia People's Choice Award winner this year was JoJo Rabbit.
JoJo Rabbit is a World War II satire that follows a lonely German boy (Roman Griffin Davis) whose world view is turned upside down when he discovers his single mother (Scarlett Johansson) is hiding a young Jewish girl (Thomasin McKenzie) in their attic. Aided only by his idiotic imaginary friend, Adolf Hitler (Taika Waititi), Jojo must confront his blind nationalism.
Go here for the rest of this post.
______________________________________________________________________
'In Tango' filmmaker Marilu Holmes talks inspiration and challenges in making the film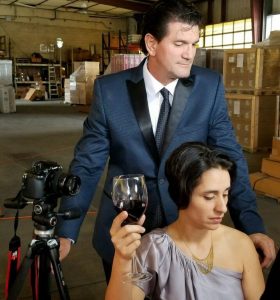 Marilu Holmes' short film In Tango screens on Saturday during the Bonita International Film Festival's Short Package II. It's a film about romance, redemption and the benefits that come from getting to know the people you meet rather than prejudging them based on brief encounters.
In Tango is Holmes' second filmmaking effort. She previously wrote the screenplay, produced and starred in the 2017 indie Thinking Out Loud, a comedic short about what would happen if our thoughts could be heard.
She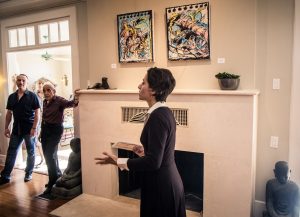 and co-producer Wendy White shot that film with tricked out iPhone 6s.
Although Holmes again wrote the screenplay for In Tango (she also stars in, directs and produces the film), this time around she hired a cameraman.
Go here for the rest of this piece.
______________________________________
Kickin' it with 'La Vista' filmmaker Pedro Cohen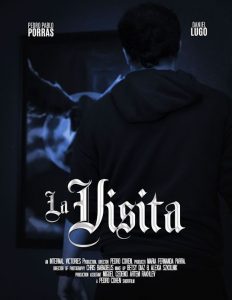 Among the indie films screened at this year's Bonita Springs International Film Festival was La Visita, a short film with horror elements starring Pedro Pablo Porras as a man who must face his own demons and Daniel Lugo as Lucifer.
"There are not many films that explore mental health," explained Miami filmmaker Pedro Cohen during the film festival.
"Many people face mental health issues, so it's important to let people know that they're not alone and that there are people they can turn to and rely upon when they need assistance."
Go here for the rest of this review.
________________________________________________________
'Meat Girls' filmmaker Gabriella Griego displays Tarantino tendencies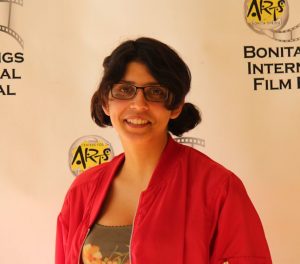 The Youth Shortz package at this year's Bonita Springs International Film Festival included 11 wonderful films directed and produced by aspiring young filmmakers from the United States, Australia, Canada and Iran, including Meat Girls Inc. by Gabriella C. Griego.
Meat Girls is a futuristic 7-minute short that Gabriella wrote, shot, edited and produced as a class assignment at Design and Architecture Senior High School (DASH) in the Miami Design District,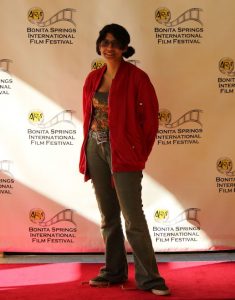 where she is a junior. The film takes us into the future, where we discover that the planet's human population has burgeoned to 50 billion people. Not surprisingly, food is in short supply. In an effort to prevent widespread starvation and attendant war, people are being induced to "volunteer" for a mind-control program under which they are harvested like a farm animal for their meat. In fact, they assume the characteristics of animals, and in one disturbing scene, the film depicts a young Asian girl crawling on all fours and pushing her face into a plate of food which has been placed for her on the floor as if she were a cat or a dog.
____________
4      THEATER
Due to the COVID-19 outbreak, all of Southwest Florida's theaters are closed. But the need to create and perform goes on. Read here about the efforts being made by area theater companies and thespians to reach out and entertain. Also reproduced here are past interviews conducted with local actors that you may have previously missed or wish to re-read.
Lab Theater issues virtual casting call for two SoDis productions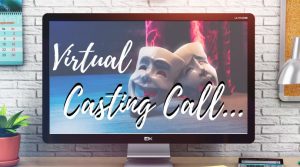 Lab Theater is establishing a SoDis (social distance) theater and has issued a virtual casting call for actors to participate in two staged readings done virtually and broadcast over Facebook Live.
The first show will be Macbeth, so some experience with the Bard is preferred.
The other show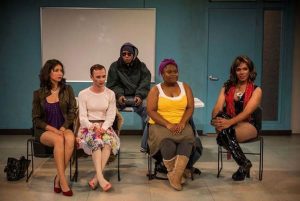 is Philip Dawkins' Charm, which requires nine actors of color, including
one trans female in her late 60s,
one gender-neutral actor in mid-30s,
one trans female in her early 30s,
two trans females in their late teens or early 20s,
one cis-gender gay male,
one trans male in his early 20s,
one heterosexual cis-gender female, and
one mostly heterosexual male.
While Macbeth needs no introduction, you may not be familiar with the uplifting LGTBQ fairy tale called Charm. It follows Mama Darleena Andrews, a 67-year-old black transgender woman who takes it upon herself to teach an etiquette class at Chicago's LGBTQ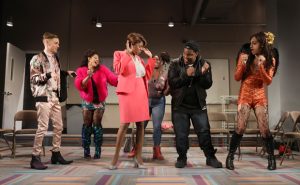 community center. Within no time, the idealistic teachings of Emily Post begin to clash with the very real life challenges of identity, poverty, and prejudice faced by her students. Inspired by the true story of Miss Gloria Allen and her work at Chicago's Center on Halsted, Charm asks how do we lift each other up when the world wants to tear us down?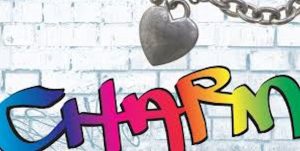 And like Shakespeare, says Variety, "Dawkins command of language puts a nice kick in his dialogue."
Virtual casting means actors from anywhere can participate as long as they have internet access.
_______________________________
Gerri Benzing loves everything theater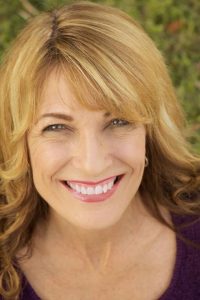 Her face lights up Seed & Bean as she spies Terry Tincher crossing the café to say hello. After sharing a warm embrace with the white-bearded GM of Florida's first CBD marketplace, Gerrie Benzing settles into her window seat overlooking a stretch of Broadway that takes in the Franklin Shops on First. She's there to chat about her leading role in Zalman Velvel's farcical comedy D.M.V. and theater in general.
Right now, she's luxuriating in the role of Bernice Hodes (rhymes with POTUS), the manager of a local branch of the Department of Motor Vehicles who is retiring after logging 30 years as a frontline bureaucrat. She's sold her house, packed all her belongings and is moving cross-country to be closer to her daughter. She just has to negotiate one final day of the crazies.
Go here for the rest of Gerri's August, 2019 interview.
_____________________________________________
Cantrella Canady takes audiences on emotional journey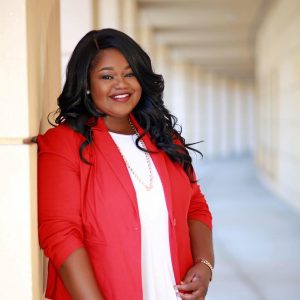 It was a sultry evening in August at the IMAG History and Science Center. Students from the Alliance for the Arts inaugural 9-week CHANGE acting course had assembled in the theater to perform a series of vignettes that legendary playwright George Wolfe wove into the fabric of his edgy play titled The Colored Museum. Toward the end of the program, up strode Cantrella Canady to reprise the role of Lala Lamazing Grace, an African-American singer who's made it big time, not in Motown but across the pond in France.
Go here for the rest of Cantrella's December 15, 2018 interview.
______________________________________
BendyKat – out of the tunnel and at a crossroads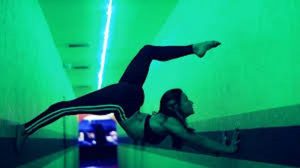 The video is only a minute long. [It's here.] It's shot from the near end of cold green-lit tunnel somewhere in south Cape Coral. The concrete floor is covered by squares of pale tan ceramic tile. The walls are skip troweled with rough-faced plaster. Painted black and gray bands run the length of five-foot-wide hallway.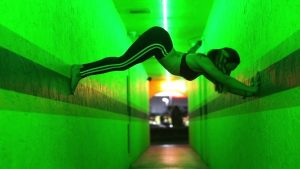 The outline of door openings lurk in the background. A narrow fluorescent lighting strip bisects the ceiling, softly illuminating a lithe, diminutive figure curling into a back-bending hand stand. Parallel white bands synchronously run the length of her form-fitting black leggings. The camera fixates on the woman, who suddenly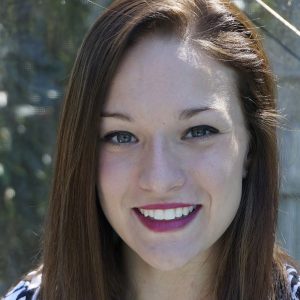 defies gravity, stretching from band to band halfway up the walls.
The woman in the frame is Katarina Danks, a world-class professional performer and motion artist trained in contortion, jazz and contemporary dance disciplines. And as BendyKat continues to twist, bend and stretch into eye-catching inverted shapes from floor to walls and back again, the camera begins to rotate its POV in a 360 degree circle. Walls then floor become ceiling as Danks shifts seamlessly from one hand stand to another.
Go here for the rest of Kat's March 24, 2019 interview.
_____________________________________
Mining for meaning with actor Lauren Drexler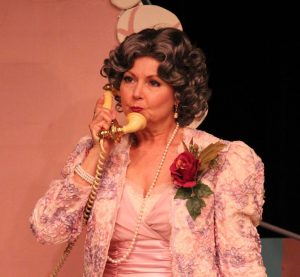 We settle on Lydia Black's orange leather couch in a gloomy corner of the Alliance gallery for a quiet chat about Harvey and all things theater. It being late August, we eye the storm clouds building in the Southwest Florida sky, darkening the landscape outside. Jeff Abbott's Lady with Black Dog lean in to eavesdrop on the soft spoken woman as she begins to speak. As with E.F. Hutton, when Lauren Drexler talks, everyone listens.
Every actor fashions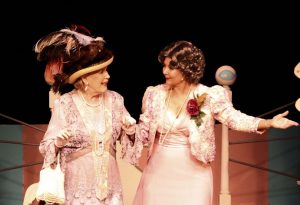 his or her unique approach to analyzing and developing the characters they play. Drexler's is deliciously cerebral. She mines meaning from expositive, seeming inconsequential bits of dialogue to become intimately acquainted with her characters' backstory, personalities, hopes and fears.
Go here for the rest of Lauren's August 22, 2019 interview.
Acting feeds Dena Galyean's soul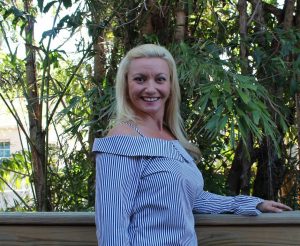 Fresh from starring as Nora Helmer in Theatre Conspiracy's production on Henrik Ibsen's A Doll's House, Dena Galyean kicks back in a simple brown wooden chair on the south porch of Bennett's Fresh Roast Café in downtown Fort Myers. It's crisp and cool. Locals might even argue the temps are downright frigid. But a native of the Chicago burbs, Galyean barely notices the folks at adjoining tables shivering beneath sweaters and winter coats.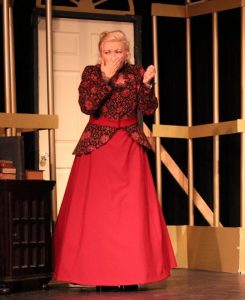 "This is invigorating," she proclaims, her lips curling into a satisfied smile.
The actor readily admits that Nora has been her most challenging role to date. When she ticks off the reasons she loves acting, the opportunity to be someone else for a little while figures prominently in the equation. "I like hearing stories, I like sharing stories, and I especially enjoy telling someone else's stories, embodying that person and giving them a voice," she says, her big brown eyes twinkling as she sips her coffee.
Go here for the rest of Dena's interview.
_____________________________________
Katelyn Gravel's ongoing quest for authenticity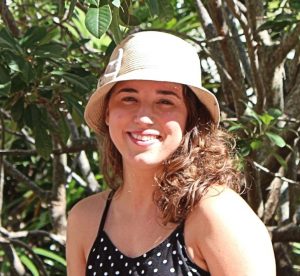 From the other side of a sidewalk café table in front of Starbucks on First Street, Katelyn Gravel smiles sheepishly from beneath a simple tan cloche hat. It's a week day, so there's lots of passing foot and vehicular traffic, but her eyes stay fixed on mine. She's not easily distracted. That's because Katelyn Gravel lives in the moment, whether she's giving an interview or performing on stage.
If you're not familiar with Katelyn's body of work, she is a co-founder of Ghostbird Theatre Company and regularly performs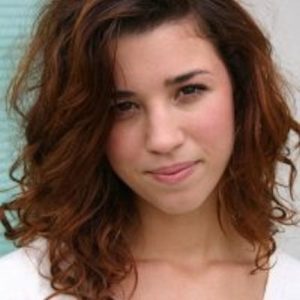 in its productions. Her impressive resume includes Boxes Are for What We Keep (at the Happehatchee Center in Estero) Samuel Beckett's Catastrophe and Barry Cavin's Ibb (in the historic Langford-Kingston Home), ORBS! (at Koreshan State Park), Writing Shadows (also in the Langford-Kingston Home), No. 27 (performed at Bonita Springs' historic Shangri-La Springs), The Chicken Play (also at the Happehatchee Center), Antigonick (performed in Marcus Jansen's studio and gallery on Evans Road) and Mud.
Go here for the rest of Katelyn's November 30, 2018 interview.
_______________________________________
For Derek Lively, it's all a matter of intentionality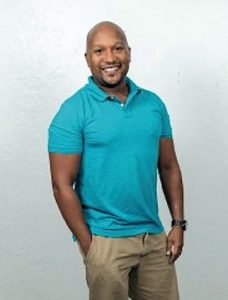 Southwest Florida theater-goers are still raving about Derek Lively's portrayal of Walter Lee Younger in Theatre Conspiracy's recent production of Lorraine Hanberry's masterwork, A Raisin in the Sun. It was his best role to date, but not his first "tour d'force" performance. That appellation was employed by a theater critic nearly 20 years ago as well – then, to describe his performance in Dreamin' in Church, a one-actor dramedy by playwright Robert O'Hara that was part of Worth Street Theater Company's Snapshots 2000. In spite of a nearly 18-year hiatus, it would seem, the veteran actor has barely missed a step.
If you're not familiar with Worth Street Theater, it produced shows at New York's Joseph Papp Public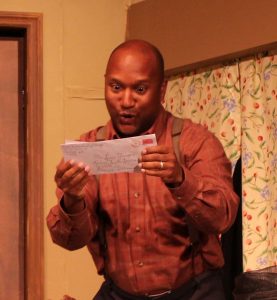 Theater, Samuel Beckett Theatre and Tribeca Playhouse. By the turn of the century, Lively had been prominent in the Manhattan theater scene for more than 20 years, with over 40 productions to his credit over that span. He was regularly seen at regional and Off-Broadway venues. In addition to Public Theater and Samuel Beckett, he also took the boards at La Mama Experimental Theatre Club in the East Village, where emerging artists learn from established artists and where artists from around the globe share work and ideas.
Go here for the rest of Derek's May 21, 2018 interview (which predated his appearances as Frederick Douglass in The Agitators, Dr. Martin Luther King, Jr. in Mountaintop, and a different kind of king in August Wilson's King Hedley II).
________________________________________________
Whether in a dress or tux, Todd Lyman having time of his life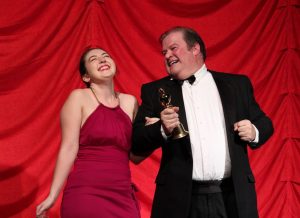 Todd Lyman is loving life right now. After relocating from New Hampshire to take care of his ailing mom, he's finally settling in to life in Southwest Florida. He's got a good daytime job. His circle of friends and contacts grows with each new production he's in. And he's having fun spending time at the D.M.V. – as in the hip new play that's entering its final weekend at Lab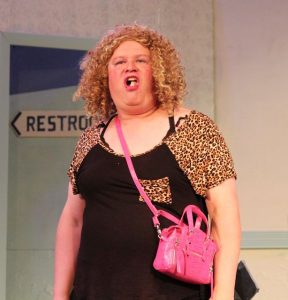 Theater.
Lyman ticks off the reasons why he's having a grand time performing in D.M.V. "Great cast, eclectic mix, and a world premiere," he says, his words coming in staccato bursts.
While local playwright Zalman Velvel carefully crafted the main character in the storyline and the dialogue spoken by everyone else, his script accords wide latitude to Director Carmen Crussard and her cast to flesh out the personalities and backstory of the other characters in the play.
Go here for the balance of Todd's August 21, 2019 interview.
_______________________________________________________
After lung transplant, Danica Murray no longer sweats the small stuff
A few short months ago, it appeared that Danica might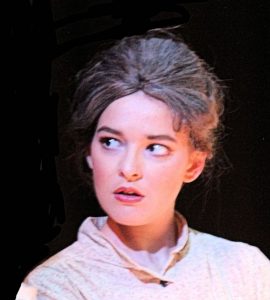 not survive, never lone appear in another stage play.
She'd been cast in the plum role of Barblin in Andorra by Lab Theater Artistic Director Annette Trossbach. She was so excited to land the role that she shaved all of her hair off for the drama's penultimate scene.
But in the final weeks leading up to Andorra's opening, her health took a turn for the worse. Born with cystic fibrosis, her fluid-filled lungs required several brief stints in the hospital.
Go here for Danica's November 14, 2019 interview.
_____________________________________
Shelley Sanders thrives on re-inventing herself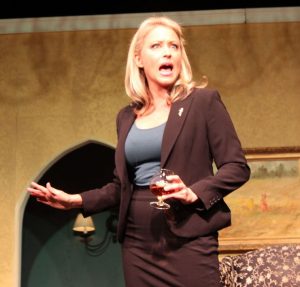 Settling into a blue upholstered seat in the back row of the Foulds Theatre prior to the final dress rehearsal for Murderers, Shelley Sanders quietly surveys the stage. It's not one of Bill Taylor's more elaborate sets. Just an armchair flanked by a round end table centered on a rectangular area rug set against an unadorned mustard wall interrupted by two spired doorways. But little more is required for the Jeffrey Hatcher comedy, consisting as it does of three 35-minute monologues by a trio of Riddle Key Retirement Home killers.
Sanders is the last,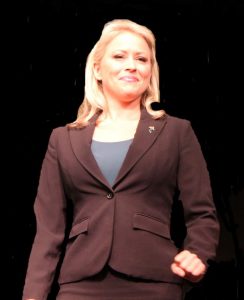 but the most prolific murderer of the group.
"I like being on stage," she effuses. "It doesn't matter whether it's a comedy, tragedy or drama."
Or musical.
"The great thing about musicals is that they give you a chance to work out without having to go to the gym," she quips. She works out with a group of friends at Custom Fitness, but it's not her preferred method of staying in shape. "Between the dancing and moving around, musicals get you in shape doing what you love to do."
Go here for the rest of Shelley's interview.
______________________________________________
The only part Sue Schaffel plays better than whacky is bitch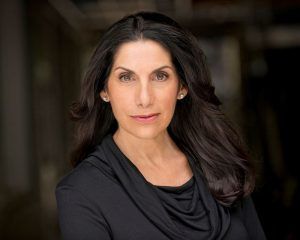 Comedy has broken out big time this month at the Laboratory Theater of Florida, where a cast of zany actors including Sue Schaffel are spoofing Bette Davis and Olivia de Havilland's 1964 cult classic horror-thriller, Hush Hush Sweet Charlotte. Although this is her first production in Southwest Florida, Schaffel already feels right at home. Not only does she have an advance degree in zaniness, she's buds with Randall Kenneth Jones, who has the de Havilland role of wicked bad cousin Miriam.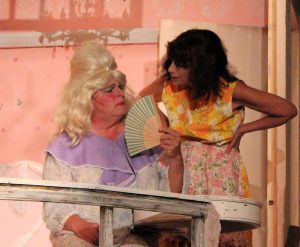 "I'm never cast as a normal character," Sue proclaims, grinning. It's a badge of honor. Then, with her eyes narrowing ever so slightly, she coyly adds, "I play two roles really, really well. I play whacky, and I play the bitch even better."
"I cast her in her second show ever," Jones breaks in. That was back in Maryland in 1986, when Randy was directing a production of When Shakespeare Ladies Meet. "It was easy to see even then how quirky she'd be playing Desdemona in that show."
Go here for the balance of Sue's June 14, 2018 interview.
_______________________________________________________
Catching up with Madelaine Weymouth about portraying Dr. Watson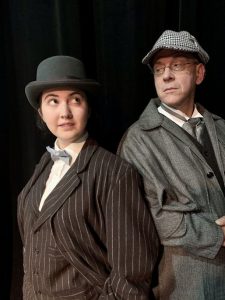 If you scroll down the list of actors who've portrayed Dr. John Watson in film, you'll come across names like Jude Law, Ben Kingsley, James Mason, Dudley Moore and Robert Duvall. But you won't find a single woman cast in the iconic role.
You won't find any female actors who've tackled the role on stage, in radio or in audio dramas either.
In fact, you'll only find two women with the talent and temerity to tackle the part in any medium. One is Tao Tsuchiya in the Japanese television series IQ246: The Cases of a Royal Genius. The other is Ally McBeal/Kill Bill icon Lucy Liu, and she actually plays Dr. Joan Watson in the long-running U.S. series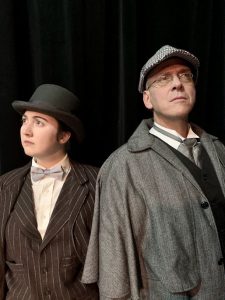 Elementary.
So it was an interesting choice when Theatre Conspiracy at the Alliance Director Rachael Endrizzi chose Madelaine Weymouth for the role in Ken Ludwig's Baskerville: A Sherlock Holmes Mystery.
"Rachael didn't mind casting a female in the role of Watson, but she emphasized from the first day of rehearsals that people are expecting to see Watson regardless of whether he's being played by a man or a woman," Weymouth pointed out in a recent interview at a café table outside a local Starbucks.
Go here for the rest of Maddy's February 12, 2020 interview.