Belle Theatre's 'Odd Couple Female Version' more than merely hilarious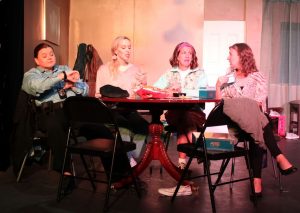 Odd Couple: Female Version is on stage for four final shows this weekend at Belle Theatre in Cape Coral. The storyline revolves around Florence Ungar, who is taken in by enabler extraordinaire Olive Madison after her marriage of fourteen years ends suddenly, unexpectedly and seemingly inexplicably. But good-hearted Olive quickly discovers that her highly idiosyncratic friend is not the easiest person to live with …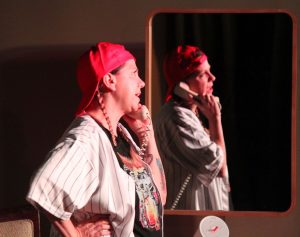 proving that, indeed, no good deed goes unpunished.
Stephanie Sabelhaus is wonderful in the role of Olive Madison. She must have spent hours in front of the mirror practicing every form of exasperation, befuddlement, incredulity and disbelief. But as good as her facial expressions are, she's a master of the one-liner, a wisecracking whiz. She has to be. After all, she is a woman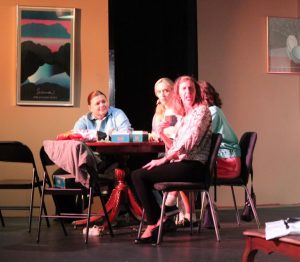 who just adores a man in tight pants.
But there's a serious underbelly to the character that Sabelhaus subtly coaxes into the daylight streaming into her 12th story windows. Olive Madison is a study in co-dependency.
When Odd Couple Female Version first came out, a number of reviewers dismissed the play as too lighthearted and frivolous. But Neil Simon's characterization of Olive Madison is nothing short of genius.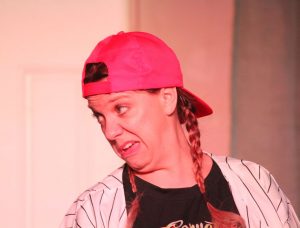 Of course, one really has to block out Jack Klugman's portrayal of the character to truly appreciate the female version of Oscar Madison. In contrast to Oscar, Olive Madison draws her validation and self-worth from other people, such as the ex-husband, who's constantly asking Olive for loans, or Florence, who plays the victim card to the max in order to induce Olive to take her in.
Olive is a clear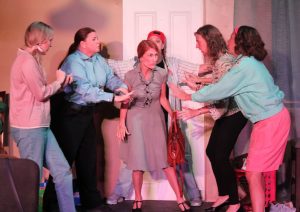 and unapologetic rescuer. As is typical of people who suffer to varying degrees from this Jungian complex, Olive puts herself and her needs to one side as she focuses on throwing a lifeline to her ex and her friend.
It turns out that her gruff exterior is a cover for a soft and too-tender heart, and Sabelhaus elicits understanding, sympathy and empathy for her character from the audience. That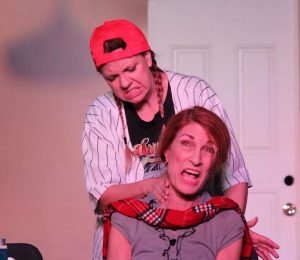 makes it all the more satisfying when Olive completes her character arc at the end of the play, when she learns to her dismay that neither her ex or Florence need her to bail them out any longer.
For as good as Sabelhaus is in the role of Olive Madison, this is Gerrie Benzing's show. Her portrayal of Florence Ungar delivers a master class in character nuance. Superficially, Florence is a study in neuroses. She's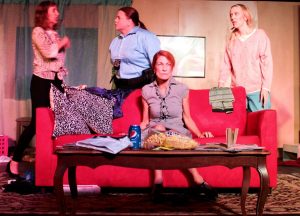 a germaphobe. She's a neat freak. She's obsessive-compulsive. She's uptight. She's controlling, needs constant reassurance and, in general, is just a load. But dig deeper and you'll find a diabolically clever master manipulator. Gerrie Benzing's Florence Ungar plays the victim card with the panache of a female Phil Davis and the steely verve of a Kristen Foxen.
And therein lies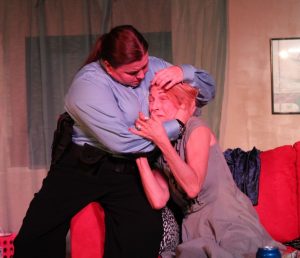 the beauty and brilliance of Benzing's portrayal and Tyler Young's direction. On the surface, the many faces that Benzing mugs during the course of this sprightly two-act comedy can be seen and enjoyed as the rich and varied expressions of a deeply neurotic and highly annoying nudge. But scratch that surface, and you'll perceive the visages of victimhood … of a dark, dastardly Machiavellian who's discovered that the way to get what she wants in life is through projecting the poor,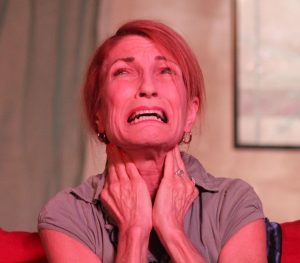 "woe is me" persona – in other words, playing the victim card.
Whether nimbly neurotic or maniacally manipulative, the character affords Benzing the opportunity to really show both her comedic and dramatic prowess. She doesn't disappoint, exhibiting at various points through the play everything from nervous ticks and gestures and frantic fits and moose calls to nimble physicality, as when she crawls under a coffee table during an early house-cleaning spree that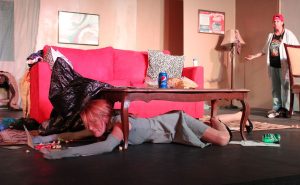 ultimately finds her on top of the dining room table ridding a hanging light fixture of a year's worth of accumulated dust.
But nothing – and I mean nothing – compares to the hilarity of the near catatonic state into which Benzing devolves in mid-apartment when confronted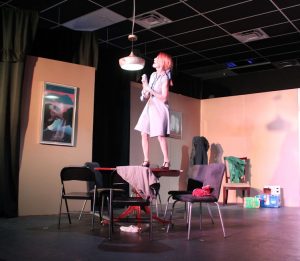 by the prospect of following the Constasuela boys upstairs for a double date with Olive. That one scene is worth the price of admission.
Odd Couple: Female Version also boasts an incredibly talented supporting cast.
Stacy Stauffer is hysterical as Menopausal Renee, who furiously fans herself in the opening scene and feverishly disconnects the air purifier that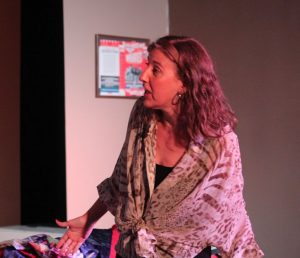 Florence installs in Act Two.
Anna Grilli enjoys many moments, but her reaction to Florence shoving her face into a sandwich provides one of the funniest sight gags in the show.
As curt, hard-edged and sassy Sylvie, Samantha Richardson provides some nice contrast to the other girls at the Trivial Pursuit table.
And as cop-off-the-beat Mickey, Aimee Naughton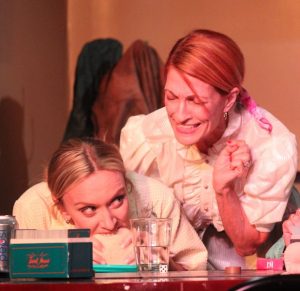 has perhaps the most sanguine line in the show. "Who goes to Florida in July?" she asks at one point. Indeed, who goes to Florida … or remains here … during July or August or even September which, in a post-climate-change world is denoted by record high temperatures day in and day out?
Collectively, this foursome displays the requisite chemistry and camaraderie to make us believe they've not only been friends for quite some time, but they genuinely care for and support one another.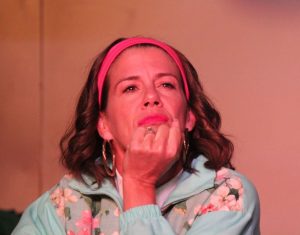 And although they're only on stage for a few relatively brief scenes, Jake Raterman and David Hernandez capture the audience's attention, their fancy and their hearts as Jesus and Manolo, two Latinos struggling to master the English language notwithstanding its weird and incongruous idioms.
While there's a lot of succulent meat on the bones of The Odd Couple: Female Version, it is first and foremost a very funny comedy rife with crackling wisecracks,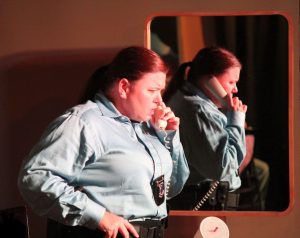 juicy one-liners and witty repartee delivered with split-second timing, not only by Sabelhaus and Benzing, but the entire cast. There are actually more laughs in Female Version than the original Odd Couple. And that's worth a trip to the new Belle Theatre alone. But this version offers theater-goers a semi-serious study in personality disorders, and who among us couldn't benefit from a little quiet self-examination?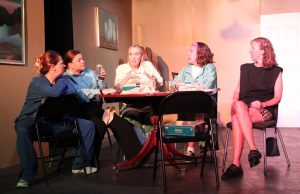 Go here for remaining play dates and times.
September 9, 2022.