With two midnight shows, Fort Myers Theatre contributes to 'Rocky Horror' mystique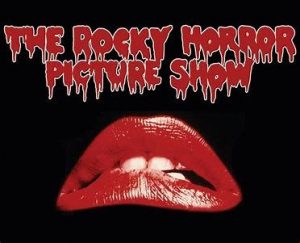 On stage October 20 through the 30th at Fort Myers Theatre is The Rocky Horror Show. Whether you're a Rocky Horror virgin or a veteran who's seen the movie 20, 30, 40 or more times, there's just something so damn satisfying about watching a live performance of this cult classic with an audience filled with Rocky Horror zealots, many dressed specifically for the occasion.
Saying that Rocky Horror is a campy cult classic is like trying to explain breathing. Of course, it's a parody of B horror movies – complete with an unsuspecting naïve young couple, a creepy old gothic mansion and a host of maniacal otherworldly denizens that include Frank N Furter, his sidekick Riff Raff, an assortment of creatures of the night and, of course, a bevy of phantoms. But it's the costumes, the music and the intricate dance numbers that drive audiences wild show after show after show.
The plot begins with two young college graduates by the name of Brad and Janet decide to visit their old professor on a dark and rainy night. Predictably, they get a flat on the drive out and are ushered by invisible phantoms to a cold and foreboding mansion on the hill to use the phone. However, they are quickly commandeered by the charismatic Dr. Frank N Furter for a night of musical entertainment and debauchery, making for an experience they'll never forget.
Robin Dawn Ryan (Robin Dawn Dance Academy) is in her element when it comes to musicals. There's the ever-present danger of rendering a show that's been produced and screened as much as this one in a trite, stale manner. No worries here. Ryan's staging, direction and choreography infuse the entire show and particularly the song-and-dance numbers with a fresh, Billie Eilish "Tough Guy" vibe that resonates, with a boost by Vocal Director Lisa Clark, across the generational divide.
Of course, Brad and Janet serve as both catalysts and foils for all of the action in Rocky Horror, and Parrish Danesh and Paola Cifuentes couldn't be more perfect in these roles, having developed considerable on-stage chemistry in the roles of Gomez and Morticia in The Addams Family last season. It's an added advantage that both have strong, resonant voices that send cascades of notes flowing into the audience. But comedy requires special talent, and Danesh and Cifuentes are at their absolute best during the opening scene of Act Two when they are blown away (sorry for such a shameless pun) to find themselves in bed with Frank rather than each other. (You really have to see the scene to appreciate it.)
Joey Bostic reprises the role of Frank N Furter, which he played for New Phoenix Theater three season ago in 2019 . He portrays the character as an intolerant, mercurial narcissist ready, willing and eager to employ intimidation, leather whip and gas-powered chainsaw against anyone who dares to take the spotlight away from him. Bostic captures Frank's menacing, Dionysian demeanor perfectly, breathing life into the competing interpretations about whether Richard O'Brien conceived of Frank N Furter as a criticism of the God of Deuteronomy – who smites those who refuse to obey him – or more as a condemnation of Ziggy Stardust (a rock and roll god sent from another planet (or at least David Bowie) to bring us music from the stars).
Brittany Ringsdore plays Columbia, a groupie who's loved both Frank and one of his minions, Eddie (played by Michael Messina). She's also the one who sees Frank for what he is, and she delivers the musical's most penetrating, heartfelt and longest monologue. Columbia experiences the widest range of emotions over the course of the storyline, and Ringsdore meets and exceeds the demands made upon her by the role.
Pablo Cifuentes and Allison Lund excel as Riff Raff and Magenta; Kagan Vann is superb as Rocky; Kira Sonin-Dwarkin is terrific as wheelchair-bound Dr. Scott; and it would be difficult to think of a better narrator than Terry Lavy. But it's patently unfair to leave anyone out. The entire ensemble (Michael Messina, Leah Carter, Kenzie Leeseberg, Arianna Milan and Emma Said-Luke) functions as a cohesive, well-0iled transducer. They're a joy to watch.
Make no mistake. This is a live stage show. Yes, the Alliance for the Arts is screening the movie, but there's just something special about screaming barbs, insults and epithets at a group of live actors (or at minimum Brad) rather than a picture displayed on a television or movie screen. The experience is more personal, intimate, immediate. But for reasons of safety (the actors, not the audience), Fort Myers Theatre is restricting audience participation to two special midnight performances (on October 22 and 29), complete with cascading toilet paper and an array of other audience participation props.
Whether you dress as your favorite character or come as you are – whether you're a virgin or an inveterate veteran – you'll quickly (re)discover why Rocky Horror lives on and on and on. There's no denying that some may be put off by the innuendo, sexual content and costumes, but it's all in good fun. Compliments to Fort Myers Theater, Robin Dawn Ryan, Lisa Clark and Artistic Director Michelle Kuntze for contributing to the Rocky Horror brand and mystique.
The saga plays October 20 through 30th at Fort Myers Theatre on San Carlos Boulevard in Fort Myers.
October 14, 2022.