'Disenchanted' princesses just want to be taken seriously and seen for who they really are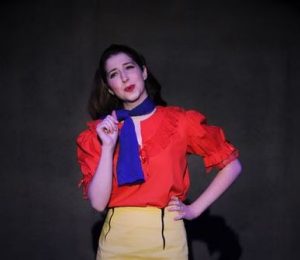 LabTV made its debut on Friday with a filmed theater production of Dennis T. Giacino's Disenchanted! Stay-At-Home Version. Although the characters involved in the show are eight Disney princesses, the message that emerges from the sanguine musical is unexpectedly timely in 2020.
The Elite Eight of Disenchanted! are Snow White, Cinderella, Sleeping Beauty, Belle, Hua Mulan, The Little Mermaid,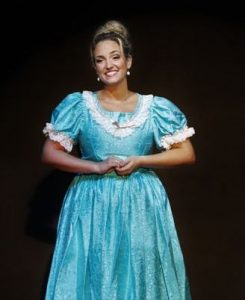 Pocahontas and The Princess Who Kissed the Frog. "Forget the princesses you think you know," states the tag line promoting the show, "the original storybook heroines have come back to life years and years after their supposed "happily ever after," and they're not too thrilled with how things turned out." But that's more than a bit misleading. This ain't no girls'-night-out bitch session. The girls have a bone to pick with their old buddy Walt and the Brothers Grimm. With some exceptional vibrato and a whole lot of angst and gravitas, they bippity boppity bust out a little princess show of their own to tell you that what they really want in life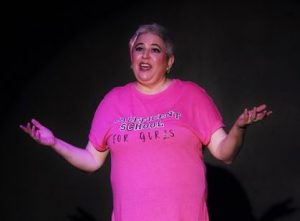 is to be taken seriously and be seen for the strong capable people they actually are.
Isn't that what every modern woman wants in today's male-dominated work-and-play world?
The spokeswoman for the princess pack is a brassy in-control, no-nonsense Snow White, unflinchingly portrayed by Rachael Lord, who shows off her musical theater chops from the very first note to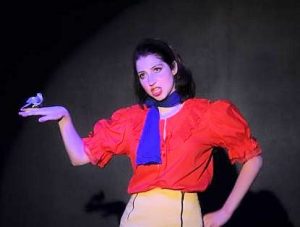 the last stanza of the ending song. [Go here for Lord's profile.]
Snow's less evolved but endearingly perky, quirky and impish first lieutenant is Cinderella, blissfully played by Southwest Florida newcomer Kimberly Suskind, who nicely counterbalances Snow White's domineering personality. From her BFA in Musical Theater from the Boston Conservatory to her long list of performances in musicals throughout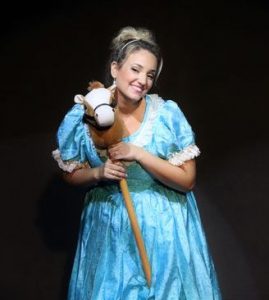 Pennsylvania, New Jersey and Delaware, Suskind also has boasts a musical theater pedigree. [You'll find Suskind's resume here.]
Rounding out Snow's organizing crew is Sleeping Beauty, lovingly played by Nancy Fueyo, who was last seen virtually in SoDis (Lab) Theater's production of Melanie Payne's Inviting Marie (May, 2020) and Scott Sickles' Intellectuals (she was Margot Welles). Fueyo is not only a vet of several popular musicals like Gypsy, Sound of Music, Oklahoma and Grease, she's performed at Carnegie Hall.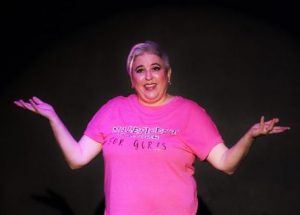 But in Dis!, her role is to play the foil to Rachael Lord's Snow White. Sleeping Beauty, you see, not only has trouble living up to the ideals of perfection underlying the Princess Complex, she can't measure up to Snow White's rather exacting standards either.
Lord, Suskind and Fueyo have rich, powerful voices and they rock each of the numbers they sing,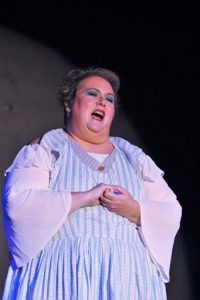 whether individually or as a group. But it's important to note before going any further that all eight actors have tremendous voices and the singing is without question one of the strengths and joys of this production. In fact, if you are a fan of Broadway music, this show is well worth the $25 it costs for a digital pass.
It helps, to be sure, that the actors recorded their numbers in a sound studio, which the technologically gifted Paula Sisk superimposed over their performances on the Lab Theater boards during the filming process. This is no Milli Vanilli situation. All of the musical performances in LabTV's Disenchanted! are real. But as Lil Nax X, Katy Perry, Beyonce' and Mariah will confirm, acoustics and related limitations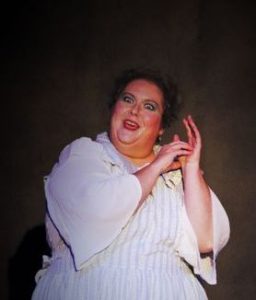 can sometimes compromise sound quality. This is one of those situations where voice overs truly enhance the overall quality of what's already an excellent production.
Snap. Now back to the show.
The first myth the trio explodes is the one that has girls just sitting around waiting for their princes to come. (Yes, there are some droll double entendres in the opening number.) They also roundly reject the corollary principle that when their prince finally deigns to show, they swoon, instantly fall in love and marry soon after. Isn't that they way it typically happens, ladies?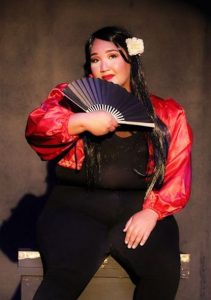 With their predicate in place, Dis! then explores the deleterious side effects our beleaguered princesses have endured as a consequence of their tussles with PC (no, not political correctness, but the princess complex).
Take poor Belle from Beauty and the Beast. She's that smart and witty bookworm from classic French lit who inexplicably speaks and sings with an American accent. She chats with inanimate objects, like tea pots and cook ware. She's intimate with her bidet. She can't shut off the chatter, and it's driving her insane-eh-eh-eh. "I'm the girl who picks up my husband's poop; how much lower can this character stoop," sings an exasperated Linda Onorevole in a number that's reminiscent of "Beauty School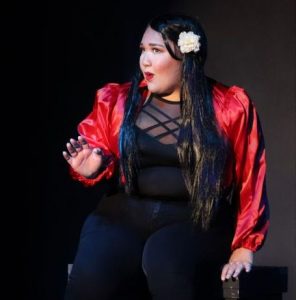 Dropout from Grease.
Next up is Hua Mulan, a beautiful, dutiful, virginal (she swears) Asian girl with bangs like K.D. Lang's, who's fine with some Gertrude Stein. "I wonder why, I didn't get the guy," croons Elizabeth Mora, who adds more rich vocals to a cast that could give pop phenoms BTS a run for the money. "Then it occurred to me that I just might be … lesbian." With a wink of the eye, Mulan encourages one and all to say good-bye to the old standard. Because given the chance, what woman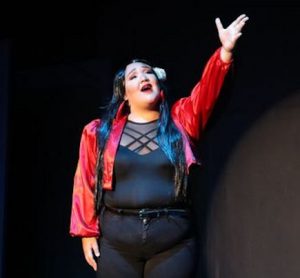 wouldn't want to be the one wearing the pants. And that's true regardless of sexual identification or orientation. That's for sure.
After Mulan it's Sleeping Beauty's turn to detail her PC problems, but snap, after her 100-year nap, the poor thing seems to be experiencing some inopportune bouts of narcolepsy. So Snow and Cinderella call up the next act featuring The Little Mermaid, just of the halibut.
Kat Ebaugh is The Little Mermaid. Although she has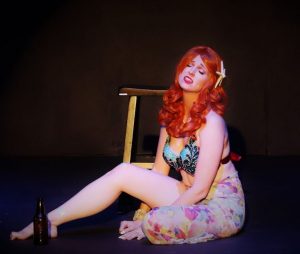 theatrical experience, she hails not from the deep blue sea but a background in burlesque. [Go here for Ebaugh's resume.] It's a perfect fit because hers is the most languid, sensuous and emotionally intense of all he princess numbers. But there's a delightful dichotomy of movement here. The Mermaid's song begins with Ebaugh seated on the ground and then moves to a saddle stool, where she balances with the artistry and athleticism of a Simone Biles or Aly Raisman. But when she stands on her newfound legs, her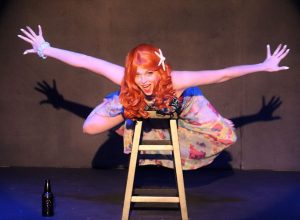 grace and finesse evaporate like a puddle of sea water on hot pavement in the August sun.
The contrast underscores gravamen of her lament. She gave up what made her unique "just to net a man." In her case, that was her iridescent tail fin and beautiful voice. But with that, she also lost the ability to swim the seven seas. Oh, she loves her husband,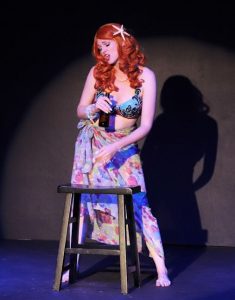 but the price of love was too much. Now she questions the wisdom of sacrificing her true self "for a prince and a pair of these." Legs, she's discovered, are no bargain. There's the agony of shaving. And not only is she an unsteady red-headed bipedal fish out of water, she has cross her legs when sitting so as not to give the boys a peek and then spread them to get laid. It's such a lot to ask.
It's a terrific number that Ebaugh gives with a country Reba-Wynonna-Katie Armiger country twang. "You're not going to see that on Disney Plus," Snow White observes tongue-in-cheek when the song is done.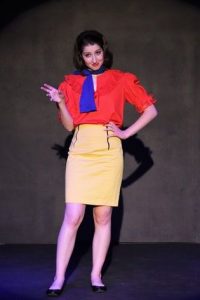 The Princess Complex is multi-dimensional. On one level, it imposes on young girls and women a set of behavioral prescriptions that that influence their values, self-esteem and body image. But PC also has a sinister commercial component that the entertainment industry and Madison Avenue gleefully use to market and sell every product and service imaginable under the sun.
Like perfume.
Enter Pocahontas, played by Carmen Rivera. In a soulful song that shows off her amazing voice and lyrical ability, Rivera's Pocahontas asks with a mixture of sadness and outrage why her story wasn't told honestly by Hollywood.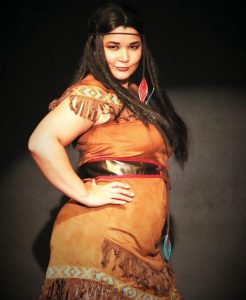 It's an arresting number that excoriates, among other things, the sexualization of children (although in a much more benign manner than, say, Maimouna Doucoure's Cuties on Netflix) and the homogenization of Native Americans to sell advertising space and cinema tickets.
"I was only ten, but now I'm double D," Pocahontas sings, adamantly maintaining that she never, ever kissed, let alone married, John Smith.
But that didn't stop Disney from fabricating a character who bears little relation to the actual figure from America's early history.
And that's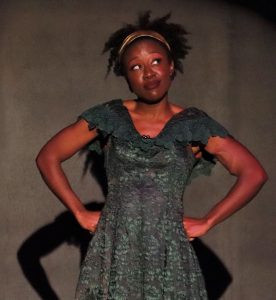 precisely the experience of The Princess Who Kissed a Frog, portrayed with panache and self-assurance by Krystle Pitts. [You'll find her credits here.] Like Pocahontas, this princess cites the economics that finally drove Hollywood to make her part of the royal menagerie. "Why'd it take 'em so long to give a sister a song? I been waiting around, finally broke new ground, just good business to bet on black," Pitts sings as dollar bills rain down on her from above. While she's thrilled that her childhood fantasy's finally come true, she's a wide-eyed realist who knows that "a princess got some color just to make some loot."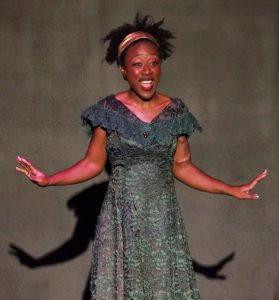 Body image issues leading to struggles with anorexia, bulimia and bullying are the consequence of PC Rule #323, relates Cinderella, who looks into the camera and says, "We never eat." This is perhaps the most humorous song in the show, containing a recitation of all the junk food and sweet indulgences that women have to deny themselves. Even though eating disorders are no laughing matter, the sight gags and facial expressions are a hoot. And the highlight of the number is a little rap riff digression that Ebaugh's Little Mermaid dives into as she talks up the pleasures of eating sushi. It's a scene you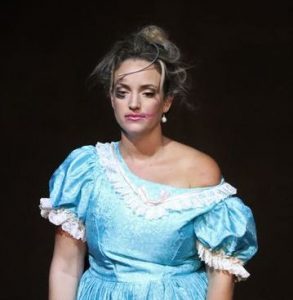 really have to experience for yourself.
To this point in their one-hour princess show (after all, no one wants to watch a livestream that goes on longer than that), Snow White has been biding her time. Now she's ready to vent on all those Prince Charmings who expect the women in their lives to do what they're told without comment or complaint. Cinderella and Sleeping Beauty sing back-up …. producing a triangle and a duck call to drown out the profanity now spewing form Snow's scarlet lips as she delivers an ultimatum to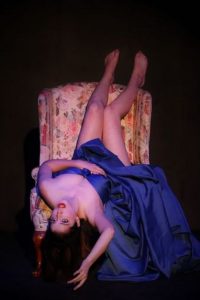 any Prince Charming who has the temerity to suggest that it's a woman's lot in life to whistle merrily while they do all the household and other chores. "If that's the fairy tale he wants, he can go triangle himself, and when he wants the bathroom cleaned, he can eat duck call and triangle die." Political correctness and the PC aside, all three agree, if their guys don't change, "I'll simply say fuck you."
A seasoned playwright, Giacino saves the show's most poignant moment until the end. It happens when Snow White is forced to confront the reality that even the feminist in charge can be both the victim and the perpetrator/progenitor of misogynist thinking. Snow intends to cut Sleeping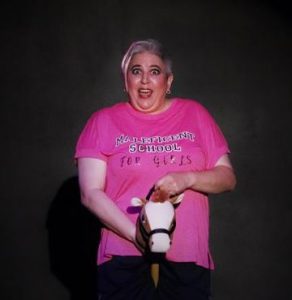 Beauty's song from the show because "Princess Ambien" slept through her scheduled performances. But Sleeping Beauty stops Snow in her tracks with a simple question. Aren't you requiring me to meet your own definition of perfection, and how is that different than living up to the definition of perfection imposed by the Princess Complex?
In an Eleventh Hour rendition of "Perfect," Fueyo provides the solution to the riddle of why she sleeps so much. She's battling clinical depression! "When I sleep, I dream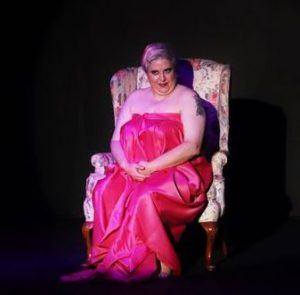 I'm perfect, 'cause that's the girl I'm told to be." But the truth is, everyone has their own je ne sais quoi. Everyone is "perfectly me."
Disenchanted: A New Musical Comedy would undoubtedly be a much different show than Disenchanted: Stay-At-Home Version. Performed on stage to a packed house with the accompaniment of a live band, it's the type of show that would propel women out of their seats and cause their guys to slink lower into theirs. But LabTV's filmed version actually brings Giacino's theme to life in a clearer, less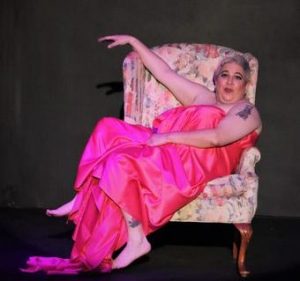 ambiguous way. Because there are no distractions, viewers are forced to focus on the message expressed by each princess in their song. And the split screen provides a better, more cogent juxtaposition of each princess' distinct personality and the harm she's suffered as a result of PC. Far from frivolous, Dis! is a show worth seeing.
Two performance remain: 8:00 p.m. on Saturday, September 26 and 2:00 p.m. on Sunday, October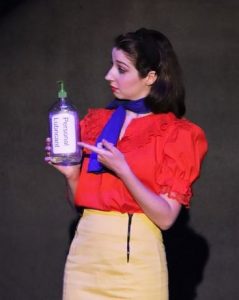 4.
September 21, 2020.
RELATED POSTS.