Actors, artists, directors, filmmakers and events in the news November 22-30, 2021
Grouped under headings that include art openings, film, outdoor art fairs and festivals and theater are advances, announcements and articles about the actors, artists, filmmakers and events making news in Southwest Florida this week:
1      ACTORS
Kat Ebaugh part of ensemble cast of 'Gentleman's Guide to Love and Murder' at TNP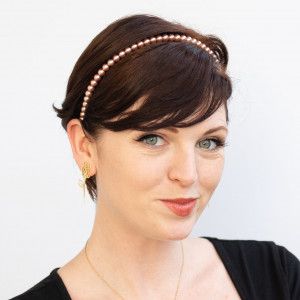 Kat Ebaugh is part of the ensemble cast of The Naples Players' production of A Gentleman's Guide to Love and Murder, which opens with a red carpet gala at 6:30 p.m. on November 23 in Blackburn Hall. In addition to performing with Stage 2 Improv troupe, she has appeared in numerous stage productions at The Naples Players, including TNP's virtual production of Comedy Night on August 22, 2020 as well as Kay O'Connell's outdoor horror Projekt Grotesquerie. You may have also seen Kat as The Little Mermaid in Lab Theater's filmed production of Dennis Giacino's Off-Broadway smash Disenchanted: A New Musical Comedy [Stay-At-Home Version] and a woman trapped between parallel universes in Laura Lorusso's short film Multiverse Anomaly for the 2021 Lab Theater 24-Hour Screenwriting Project. Go here for Kat's full profile.
_____________________________________________________________________
F. Scott Davis part of ensemble cast of 'Gentleman's Guide to Love and Murder' for TNP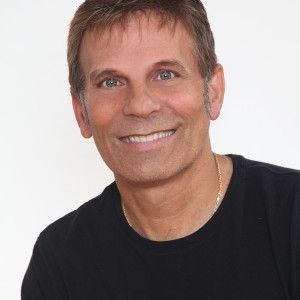 F. Scott Davis is part of the ensemble cast of A Gentleman's Guide to Love and Murder, which performs at The Naples Players in November. Davis a local actor who was active in theater in Michigan before locating to Southwest Florida. His area stage credits include Ed in The Studio Players' production of Torch Song, Vicomte de Nanjac/Phipps in An Ideal Husband for The Naples Players, Girolamo Savonarola in Botticelli in the Fire, Michael in the Florida premiere of How to Transcend a Happy Marriage (directed by Steven Ditmyer), and the roles of Dennis Gordon, Jerry and Rich in the Florida premiere of Topher Payne's comedic farce Let Nothing You Dismay for Lab Theater. For more on Scott, please go here.
_____________________________________________________________
Sue Schaffel stars in 'Complete History of America Abridged' for Lab Theater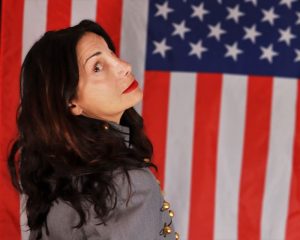 We were so worried …. Last we saw Sue, she was sprawled out on the Lab Theater stage at the end of White Rabbit Red Rabbit and no one knew whether she'd drank poison or not. But either she's okay or has risen from the dead! Either way, Sue will star along with Anne Reed and Kaci Davis in The Complete Story of America (Abridged) for Lab Theater, opening with half price previews on December 1 & 2. Whew! Go here to see Sue's stage and film credits.
____________________________________________________________
Anne Reed stars in 'Complete History of America Abridged' for Lab Theater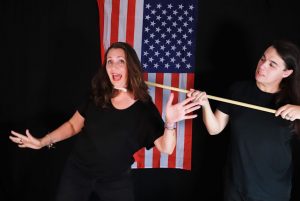 Perhaps a bit waterlogged, but no worse for wear, Anne Reed has survived Men on Boats to star in another hysterical historical, The Complete History of America Abridged for Lab Theater. It opens with two half-price previews on December 1 & 2. Go here to see what else Anne's been in and up to.
________________________________________________________
Lauren Drexler is anxious, uptight empty-nester Sharon in 'Roommate'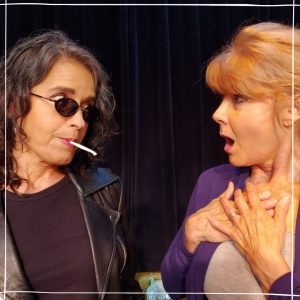 Lauren Drexler plays anxious, tightly-wound empty nester Sharon in Theatre Conspiracy's production of The Roommate. Trepidation turns into full-blown alarm when she discovers that her new roommate, Robyn, is a pot-smoking vegetarian lesbian from the Bronx, who arrives with a box full of clay voodoo dolls. Who better to play such a meaty role than the woman known for stellar performances as Mrs. Chumley in Harvey, melancholy teacher Heather Clark in Johnna Adams' Gidion's Knot and terminally-ill Dr. Katherine Brandt in Moises Kaufman's 33 Variations? Go here for Lauren's full theatrical profile.
______________________________________________________
Sharon Isern plays 'Roommate' with a secret for Theatre Conspiracy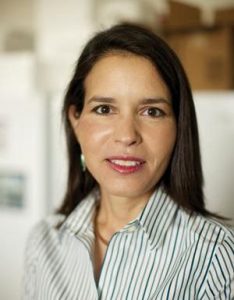 Sharon Isern will appear in the role of Robyn in The Roommate for Theatre Conspiracy at the Alliance for the Arts. Her recent stage credits include Dagmara in The Chechens for Theatre Conspiracy, bride-to-be Courtney in One Slight Hitch for The Studio Players, Judith Baxter Short in The Bare Truth and Wendy in On the Farce Day of Christmas for The Marco Players, a server in Saved by the Bell and the woman in Where is Man? (both part of The Studio Players' 3 Plays), and Rocker in Rockaby (one of four plays run concurrently in Ghostbird Theatre Company's Langford-Kingston Home production of  Samuel Beckett's October House). But there's more. Go here to see Sharon's full theatrical profile.
_________________________________________________________________
Robert Armstrong plays neurotic waiter Stephen for Studio Players in 'Slow Food'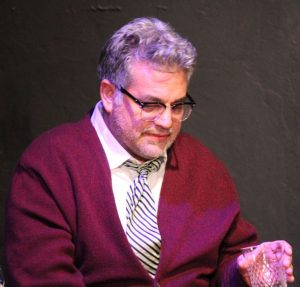 Robert Armstrong stars in January, 2022 as Stephen, an absurdly neurotic waiter in Wendy MacLeod's newest comedy, Slow Food. Prior stage credits include George in the Tim Sniffen parody Death of a Streetcar Named Virginia Woolf, Mary Sunshine in Chicago, Algernon in The Importance of Being Earnest, Max in Lend Me a Tenor, Leo (and Maxine) in Leading Ladies and Freddy in Noises Off.
________________________________________________________
Betsy Greenblatt in hangry in Studio Players' production of 'Slow Food'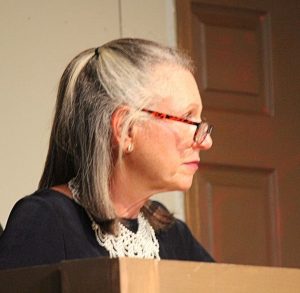 Betsy Greenblatt made her Southwest Florida premiere as Judge Murdoch in Nuts for The Studio Players. She appears next in the role of Irene in The Studio Players upcoming performance of Slow Food. Betsy is a New Jersey community theater transplant. Prior to moving to Southwest Florida at the end of 2019, Betsy performed in community theatre in New Jersey for almost 40 years, where some of her favorite roles included Mama in A Shayna Maidel, Charlotte Hay inMoon Over Buffalo, Florence inFemale Odd Couple, and Miss Prism inThe Importance of Being Earnest.
_______________________________________________________________
Greg Wojciechowski goes from monster to Potter in 'Wonderful Life' radio play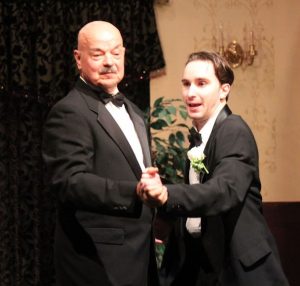 Greg Wojciechowski is a retired lawyer from Chicago who moved to Fort  Myers in 2011. That's when he also exchanged the courtroom for the stage. He has been in numerous productions in various venues in Southwest Florida. He is playing Mr. Potter for Cultural Park Theater in It's a Wonderful Life: A Live Radio Play.
Read here about the other characters Greg has played.
________________________________________________________________
Howard Nutt plays Joseph (and others) in 'It's a Wonderful Life Live Radio Play'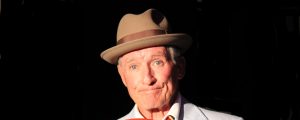 Howard Nutt is a Queens, N.Y. native. Howard decided to try acting only a few years ago after moving to Southwest Florida. He is playing Joseph and others in Cultural Park Theater's production of It's a Wonderful Life: A Live Radio Play.
____________________
_________________________________________
Actress needed for single-day performance of play to benefit two non-profits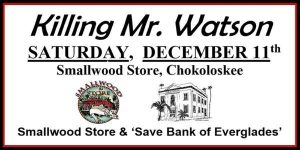 Rick Vorell is seeking a lead actress between 18 and 32 years old for a single-day two-show play titled Killing Mr. Watson. Staged at the historic Smallwood Store in Everglades City, the play re-creates the 1910 killing of Edgar J. Watson in Florida by a posse of local farmers and fishermen who were convinced
that he'd killed a number of his employees so that he would not have to pay them. Written by Larry Block, who also directs, the play is based on the book by Peter Matthiessen which was turned into a 1996 indie film starring Deborah Ford Smith, Lynn Smallwood McMillin and Judy Caseley Smallwood.
Actors will appear in period costumes. Shows will be performed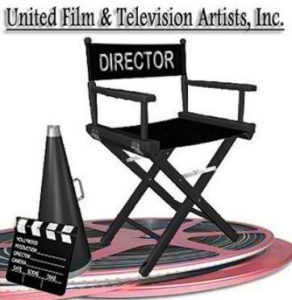 at 11:00 a.m. and 2:00 p.m. on December 11. The show and adjunct art auction are fundraisers benefitting two non-profits: the Smallwood Store and the Everglades Society of Historic Preservation, which are renovating the old Bank of Everglades Building. There is a rehearsal the evening before and morning of the performance.
There is also a small non-speaking part for a male actor.
If you have the time and interest, please contact Rick Vorell c/o ufta@ufta.us.
_______________________________
2   DIRECTORS
Heather McLemore Johnson directs 'Complete History of America Abridged' for Lab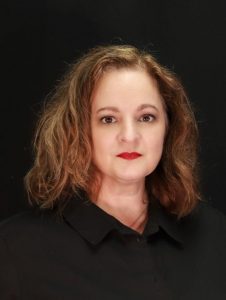 Heather McLemore Johnson is a recent theatrical transplant from Starkville, Mississippi. Although she is best known as a local stage actor, Heather has been working assiduously to expand her theatrical repertoire to include stage management and directing as well. Johnson makes her official directorial debut with The Complete History of America Abridged after directing Candice Sanzari's Critics' Choice winner Thanksgiving is for Nutters in Lab Theater's 24-Hour Playwriting Project in 2018.
Go here to access Heather's full theatrical profile.
____________________________________________
Kevin Hendricks directs 'Slow Food' for Studio Players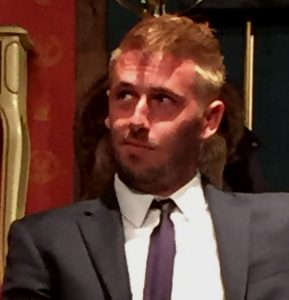 Kevin Hendricks makes his directorial debut with Wendy MacLeod's Slow Food. His stage credits include Cat on a Hot Tin Roof, You Can't Take It With You, Things Being What They Are, Clever Little Lies, A Streetcar Named Desire (he played Stanley Kowalski), Burn This and Who's Afraid of Virginia Woolf. He also played Dasher for Lab Theater in their filmed production of The Eight: The Reindeer Monologues. When he's not acting or directing, Kevin produces Studio Players shows, builds sets and sits on The Studio Players' board.
_______________________________
3    THEATER
Drexler and Isern are 'Roommates' with lots of secrets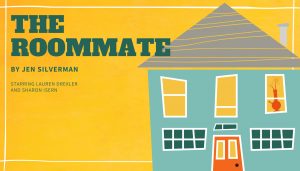 Jen Silverman's poignant, hilarious one-act play The Roommate opens in the Foulds Theatre at the Alliance for the Arts on December 9. Starring Lauren Drexler and Sharon Isern, The Roommate is a powerful story about life transitions, personal transformation, love, friendship and identity.
The rest of this advance is here.
Go here for play dates and times.
____________________________________________________________
'Holly Jolly Christmas' on Broadway Palm main stage through December 25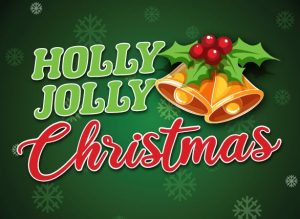 Holly Jolly Christmas opens at Broadway Palm Dinner Theatre on November 25. The show features Broadway-style dancing, stunning costumes and traditional holiday favorites such as Rockin' Around The Christmas Tree, Jingle Bells, Silent Night, Rudolph the Red-Nosed Reindeer and many others. With matinee, twilight and evening options, the show runs through Christmas Day.
__________________________________________________________
'No Claus for Concern' in the Off Broadway Palm through Christmas Day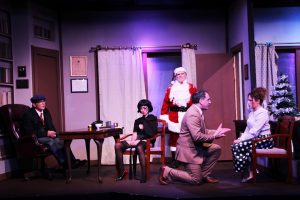 The Off Broadway Palm Theatre is celebrating the holiday season with the British farce No Claus For Alarm playing now through December 25, 2021. Written by Southwest Florida resident and Broadway Palm favorite Victor Legarreta, the production is making its premier in The Off Broadway Palm.
Fitz-Lloyd Crowley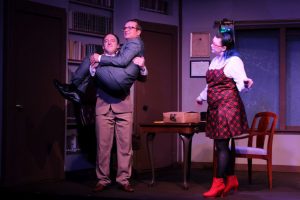 and Abraham Bacrumby of the law office Abe Bacrumby and Fitz are in a bit of a pickle when Abe unknowingly brings in the head of the Russian Mafia as a client. It's Christmas and they must try to keep two girlfriends, a bossy barrister, and a clueless receptionist from finding out about each other or there will be more than chestnuts roasting on an open fire.
The cast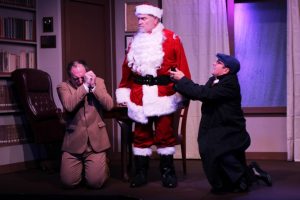 features all Broadway Palm alumni including Rachael Endrizzi as Beatrix, Caitlin Moss as Amanda, Megan Orlowski as Ms. Thalia, Ken Quiricone as Abraham Bacrumby, Christopher Russell as Fitz-Lloyd Crowley, Rob Summers as Nicoli, and Michael Weaver. Directing No Claus For Alarm is Victor Legarreta.
The Off Broadway Palm is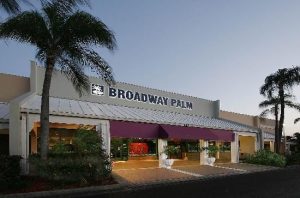 an intimate theatre, located in the main lobby of Broadway Palm. Performances are Tuesday through Sunday evenings with selected matinees. Ticket prices range from $45 to $65 with discounts available for groups of 20 or more. Tickets are now on sale and can be reserved by calling (239) 278-4422, visiting BroadwayPalm.com or in person at 1380 Colonial Boulevard in Fort Myers.
_____________________________________________________
Cultural Park play recreates classic movie as 1940s radio broadcast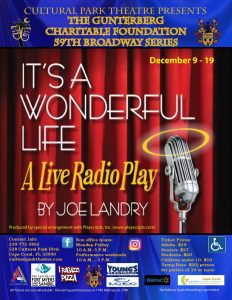 It's a Wonderful Life: A Live Radio Play comes to Cultural Park Theater December 9-19. The play recreates the classic holiday movie as a 1940s radio broadcast.
Starring James Stewart, Donna Reed and Lional Barrymore, It's a Wonderful Life is #20 on the American Film Institute's Top 100 Greatest American Films of All Times and #1 on 100 Years … 100 Cheers, with George Bailey listed as #9 on AFI's 100 Heroes list and James Stewart #3 on AFI's list of the greatest stars in cinematic history.
And go here for cast, play dates, times and ticket information.
________________________________________________________________
Lab's 'Complete History of America' filled with zany slapstick and juvenile antics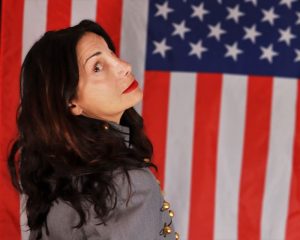 The southwest Florida premiere of the comedy The Complete History of America (Abridged) by Adam Long, Reed Martin, and Austin Tichenor opens at The Laboratory Theater of Florida on December 3 and runs until December 19. This fast-paced comedy is American History on speed, offering a 90-minute roller coaster ride to remind us that it's not the length of your history that matters – it's what you've done with it! The rest of this advance can be found here.
___________________________________________________________________
'Gentleman's Guide to Love and Murder' denoted by catchy music, hilarious comedy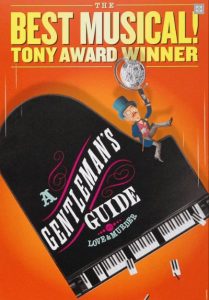 A Gentleman's Guide to Love and Murder opens in Blackburn Hall at The Naples Players on Wednesday, November 23 with a red carpet gala from 6:30-7:30 that features local vendors, food, drinks and live music by Chariot.
Nominated for ten Tony Awards, this comedic romp is filled with unforgettable music and non-stop laughs. The show follows Monty Navarro (Luke Jaconis) who finds out he is ninth in line to inherit an earldom and a large family fortune.  He decides he must eliminate the other eight heirs standing in his way. But the plot thickens as Monty tries to win the heart of Sibella Hallward (JamieLynn Bucci) until he finds himself drawn to Phoebe D'Ysquiths (Elizabeth Feins).
The rest of this advance is here.
Go here for play dates, times and ticket information.
_____________________________________________
'Slow Food' a comedy for anyone who's ever been hangry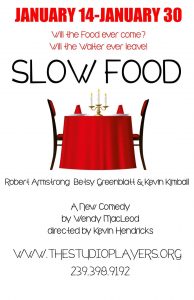 Slow Food comes to the Joan Jenks Auditorium at Golden Gate Community Center January 14-30. Wendy MacLeod's latest, Slow Food, is a comedy for anyone who's ever been hangry.
Ever notice how when your tummy is rumbling, you're more likely to lash out at unsuspecting family, friends, co-workers and even innocent bystanders? This sudden, irrational rage is often referred to as "hanger" (a combo of hunger and anger). It's a thing. Just ask Peter and Irene.
Peter and Irene are out for a nice meal on their big anniversary in Palm Springs. But not only won't their highly neurotic waiter bring them their food, Stephen has them examining everything from their menu choices to their very future together! The rest of this advance is here.
Go here for play dates, times and ticket info.
__________________________________
4     ARTISTS
Pat Collins exhibiting work in Grant Recipient Show at Langford Kingston Home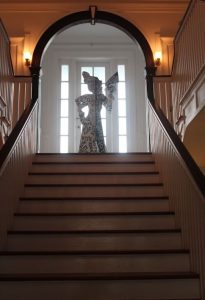 Pat Collins is one of the artists who is exhibiting work in this year's Individual Artist Grant Recipient Show, on view through November 27 in the historic Langford Kingston Home in downtown Fort Myers.  Collins creates mixed media works, with a focus on painting & printmaking, including murals, interactive mixed media constructions/installations. Many of her works comment on current issues and human rights, and her Future of the Past voting rights themed exhibition at Lesley University in Massachusetts was immediately inspiring. Her print for the show led to an interactive series culminating in Voting Priority 2020, presented at Florida Southwestern State College and Florida Gulf Coast University campuses to engage students in the voting process.
Go here for Pat's full profile.
________________________________________________________
Krista Johnson exhibiting figurative abstracts in Grant Recipient Show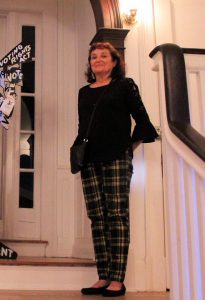 Krista Johnson is one of the artists exhibiting work in this year's Individual Artist Grant Recipient Show, on view now through November 27 in the historic Langford Kingston Home. Krista Johnson has spent her life in the lush nature of Southwest Florida and her paintings are spirited expressions that capture the color, abundance and mystery of the world she loves. "I have arrived at a style which is intrinsically mine – my paintings have a part of me in them," states Krista. "When I am moved by something extraordinary I have seen in nature, I try to convey those feelings onto the canvas.  My hope is that it translates to the viewer." The rest of this profile is here.
_____________________________________________________
Leo Johnson exhibiting abstract artworks in Grant Recipient Show
Leo Johnson is one of the artists exhibiting work in this year's Individual Artist Grant Recipient Show, on view now through November 27 in the historic Langford Kingston Home. Leo Johnson is a third generation Cuban-Sicilian who is immersed in the realms of art, culture and language. His paintings are in many prestigious collections and universities, including the Student Union Building at Florida Gulf Coast University. Read here for more on Leo and his art.
______________________________________________________
Mike Kiniry's 'Three Song Stories' featured by Grant Recipient Show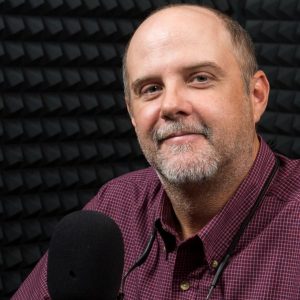 Mike Kiniry was one of the area artists who received an Individual Artist Grant from the City of Fort Myers during the 2018-2019 cycle. If the name sounds familiar, one reason could be that Mike produces Gulf Coast Live and is co-creator and host of the WGCU podcast Three Song Stories: Biography Through Music.
Mike's grant helped fund and support the latter initiative, so Mike has provided a loop featuring outtakes from selected Three Song Stories interviews for viewers to sample during the Fort Myers Individual Artist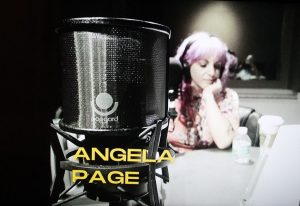 Grant Recipient Show on view now through November 27 in the historic Langford Kingston Home in downtown Fort Myers (across from the Burroughs Home).
The premise of the 3SS podcast is as ingenious as it is unique.
The rest of his profile is here.
_________________________________________________________
Terry Lynn Spry exhibits storytelling paintings in Grant Recipient Show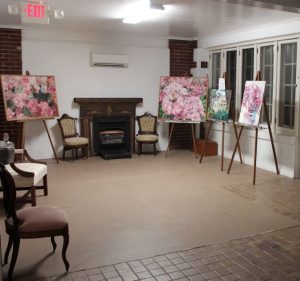 Terry Lynn Spry is one of a dozen 2018-2019 grant recipients who is exhibiting work at the historic Langford Kingston Home during the month of November in Fort Myers' Fort Myers Individual Artist Grant Recipient Show. Her medium being oil on canvas, Terry Lynn loves to create paintings that tell stories. She considers painting the same as breathing and better than chocolate. A two-time Individual Artist Grant Recipient, Terry Lynn graduated from Phoenix Institute of Technology with a degree in production art. She studied under Nina Conner.
Go here for Terry Lynn's full profile.
______________________________________________________________________
Lambertus 'Berry' van Boekel exhibiting Top 100 List paintings at Grant Recipient Show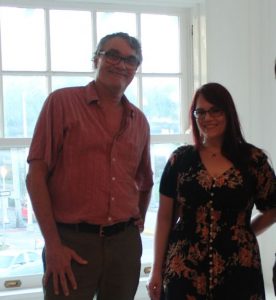 Portrait and figurative painter Berry van Boekel is exhibiting selections from is Top 100 2019 and The Top 100 2021 series in Fort Myers' Individual Artist Grant Recipient Show in the historic Langford Kingston Home. The series consists of hundreds of small paintings and drawings of popular musicians. Not surprisingly, the series has developed an avid following of art collectors, curators and music fans around the world. Firmly rooted in portraiture and figurative painting, his work nevertheless explores a variety of stylistic approaches. The simple elegant concept of the list not only allows for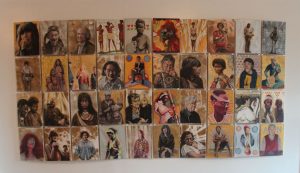 experimentation with a wide range of musical tastes, but also gives van Boekel license to evoke different moods and sensibilities within the paintings. Go here to learn about Berry and his art.
_____________________________________________________
Gregory Van Kirk exhibiting photography in Grant Recipient Show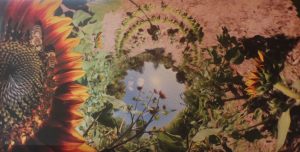 In Southwest Florida, Gregory Van Kirk is best known as bass guitarist of the rock group Strange Arrangement, but since 1999, he has also been turning his creative attention to fine art photography. He utilizes modern technology to capture, create and present his work to viewers, commonly in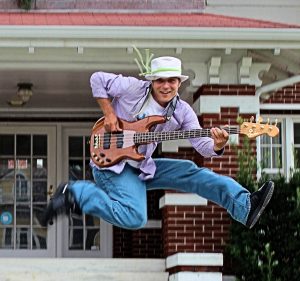 the form of an encompassing 360-degree circle, spherical view or tiny planet. You can see an example of his work at the Langford Kingston Home, which is hosting the Fort Myers Individual Artist Grant Recipient Show through November 27.
For more on Gregory, his photography and Strange Arrangement, please read here.
____________________________________________________________________
Artist Roseline Young exhibiting in Grant Recipient Show at Langford Kingston Home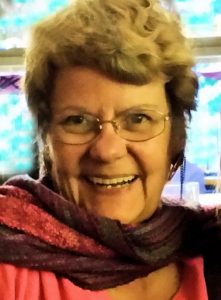 Fiber artist Roseline Young is exhibiting samples of her work in the Fort Myers' Individual Artist Grant Recipient Show, which is taking place at the historic Langford Kingston Home during the month of November. Young utilizes weaving, quilting, spinning and fabric manipulation to create artworks and installations for both indoor settings and outdoor venues. Her medium includes cotton, wool, linen, mohair and raw, unspun fleece, some of which she obtains from friends who raise sheep and grow their own cotton. Young creates tapestries, installations and community weavings for display in public spaces. Many of these artworks and installations express environmental concerns relating to water quality and climate change. You can find out more about Rose and her art here.
_______________________________________________
5     ART SHOWS, EXHIBITIONS & ARTS ORGANIZATIONS
Wegman & Massing 'Two Clever by Half' at Rauschenberg Gallery through December 4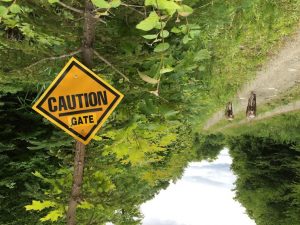 Florida Southwestern State College is exhibiting William WEGMAN & Jack MASSING: TWO CLEVER BY HALF – A Call & Response Project at the Bob Rauschenberg Gallery from September 2 through December 4, 2021.  Described by the artists as "an experimental visual discussion in a studio setting within the Gallery," this site-specific exhibition will premiere newly-commissioned collaborative works in a frequently evolving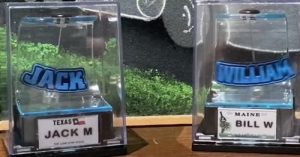 installation.
With the artists-in-residence often creating work in "full-view" during regular/public Gallery hours, this exhibition will provide an unprecedented opportunity to experience the "work-in-progress" of internationally-renowned (yet, first-time) collaborators, Jack Massing and William Wegman.
Go here for the rest of this summary.
_______________________________________________________________________
Grant Recipient Show open to public weekdays in November at Langford Kingston Home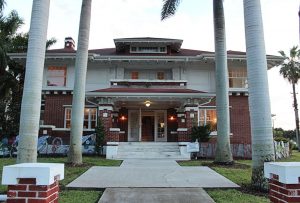 The Fort Myers Individual Artist Grant Recipient Show is on view now through November 27 in the historic Langford Kinston Home in the downtown Fort Myers River District. The exhibition showcases the work of artists who received grants from the City of Fort Myers in 2018 and 2019, including (alphabetically) Patricia Collins, Lily Hatchett, Krista Johnson, Leo Johnson, Mike Kiniry,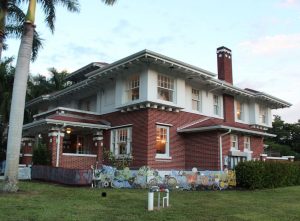 Tim Smith, Terry Lynn Spry, Berry van Boekel, Gregory and Warren Van Kirk and Roseline Young. [Please click on the foregoing hyperlinks to learn more about each artist and their body of work.] As an added bonus, busts cast in 1990 by North Fort Myers sculptor D.J. Wilkins for the Harborside Event Center are on display in the foyer of the Langford Kingston Home along with a bust of Seminole Chief Billy Bowlegs.
Please go here for the rest of this announcement.
_______________________________
6.  ART FESTIVALS
Deadline for Naples Downtown Art Show is December 10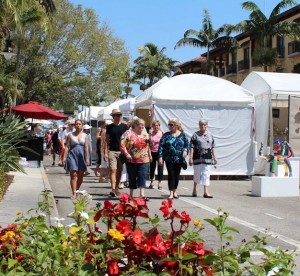 The deadline for artist applications for Naples Art Association's Naples Downtown Art Show is December 10, 2021. Now in its 34th year, the Naples Downtown Art Show is one of the last major art festivals of the winter season and a favorite festival for artists, art enthusiasts and collectors.
This festival was rated #34 by Sunshine Artist Magazine 2018.
If you would like to exhibit in this show, here's what you will need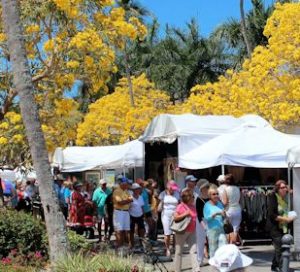 to know:
Dates: Saturday and Sunday, March 19 & 20, 2022
Festival Hours:  10:00 a.m. – 5:00 p.m.
Location: 5th Avenue South, Downtown Naples
Accept 250 artists max
Application fee: $35
Booth fee: $540 for 10×10
Cancellation refund policy: TBA
Set up specifics: 4 a.m., early morning set up only;
On street set up in quads: No electrical
Application deadline: December 10, 2021
Jury Process begins: December 17, 2021
Status Notification: December 29, 2021
Booth Fee Due: January 21, 2022
Artist Info Emailed: March 4, 2022
Wait List Acceptance: January 22, 2022
Full Refund Deadline:  February 4, 2022 (subject to $50 processing fee)
No Refund Deadline:  February 18, 2022
There are openings for 250 artists.
________________
7.   PUBLIC ART
Fort Myers launches ambitious art hub plan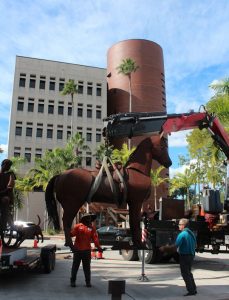 The City of Fort Myers took a major step over the weekend towards implementing its plan to create art hubs throughout the city. Toward this end, it relocated sculptures created by Columbian artist Edgardo Carmona to Billy Bowlegs and Roberto Clemente Parks in Ward 1, the Urban Community Farm in Ward 2, the S.T.A.R.S. Complex and IMAG History and Science Center in Ward 3 and the Collaboratory in Ward 4. The City's 9-member Public Art Committee had previously identified each of these sites as locations that already are or which are expected to become cultural, business or residential gathering spots.
The rest of this announcement can be found here.
______________________________________
Finalists chosen for MLK-VSSB gateway artwork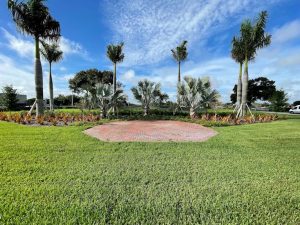 The City of Fort Myers Public Art Committee has announced that Michael Don Clapper, Douglas Kornfeld and Cecila Lueza are the finalists for the gateway artwork that is to be installed at the intersection of Martin Luther King, Jr. and Veronica S. Shoemaker Boulevards. Each will receive a $500 honorarium to design an iconic site-specific work that will incorporate the themes of Dreams, Hope and Civil Rights.
The rest of this story is here.
____________________________________________________________
Public Art Committee seeking artists for outdoor artwork at new fire station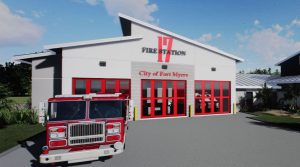 The Fort Myers Public Art Committee is seeking artists for a representational, three-dimensional outdoor artwork to be installed at a new fire station serving the City of Fort Myers. The sculpture is to be installed at Station 17, a Missile Level E Essential Facility providing fire and EMS services to business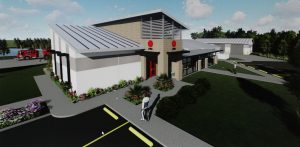 locations and residential developments along Six Mile Cypress Parkway that are located south of Colonial Boulevard and north of Daniels Parkway, as well as the southbound lanes of I-75. Located in Ward 6 (represented by Councilperson Darla Bonk), the station is expected to be completed in late Spring or early summer of 2022.
Go here for the rest of this announcement.
____________________________
8.  FILM
TGIM returns to Davis Art Center on December 6
T.G.I.M. returns to the Davis Art Center on Monday, December 6. As in years past, T.G.I.M. gives area cineastes a look at how the Fort Myers Film Festival views submissions and a voice in the selection process.
"This is one of the highlights of our season," says Melissa Tschari DeHaven, producer and co-host of T.G.I.M. and the Fort Myers Film Festival. "It's so much fun! Everyone loves coming out on Monday nights. There's always something happening that you wouldn't expect on a weeknight."