Actors, artists, directors, filmmakers and events in the news August 8-14, 2021
Grouped under headings that include art openings, film, outdoor art fairs and festivals and theater are advances, announcements and articles about the actors, artists, filmmakers and events making news in Southwest Florida this week:
1      ACTORS
Madelaine Weymouth in 'Chechens' at the Alliance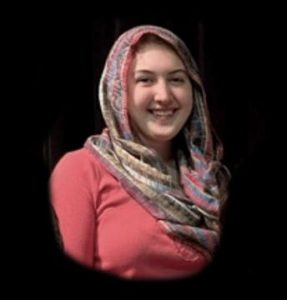 Madelaine Weymouth appears in role of sharp-tongued and rebellious daughter Elina for Theatre Conspiracy at the Alliance in the production of 2019 New Play Contest winner The Chechens by Phillip Christian Smith. She last appeared on stage as Betty Schaefer in Lab Theater's summer spoof Sunset Schmoulevard and before that as Clarice Orsini in the regional premiere of Jordan Tannahill's Botticelli in the Fire. Her resume is extensive. To see what other roles she's played, please go here.
__________________________________
Hollis Galman in 'Chechens' at the Alliance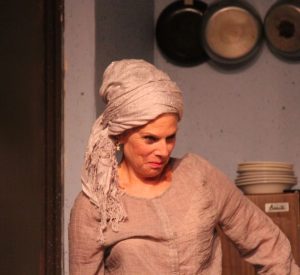 Hollis Galman appears for Theatre Conspiracy at the Alliance for the Arts in the role of family matriarch Raisa in 2019 New Play Contest winner The Chechens by Phillip Christian Smith. She last appeared in the iconic role of Ethel Thayer in On Golden Pond for The Studio Players. Other local roles include Marty in Circle Mirror Transformation and the larger-than-life role of Masha in Vandy and Sonia and Masha and Spike, which represented her Studio Players' debut. While she was living and working in New York, she also appeared in a number of Off-Broadway productions. Go here to access all her theatrical credits.
__________________________________
Sharon Isern plays Dagmara in 'Chechens'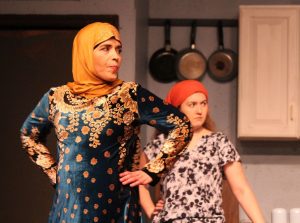 Since making her Southwest Florida theater debut in 2018 in Ghostbird Theatre Company's site-specific play Everyone on this Train (performed at the historic Atlantic Coast Line railway station, now the Collaboratory), Sharon Isern has performed in nearly a dozen productions including, most recently, as bride-to-be Courtney in One Slight Hitch for The Studio Players. Now she is playing Dagmara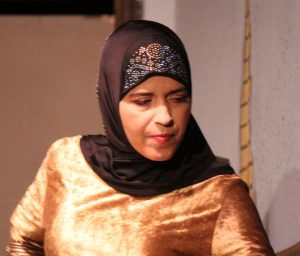 for the Alliance for the Arts in The Chechens. This, by far, is her best performance to date. Thanks to playwright Phillip Christian Smith, the character of Dagmara provides Isern with the opportunity to explore and convincingly portray a range of attitudes and emotions. Her scenes toward the end of this play will astonish and astound. Go here to view her full resume.
______________________________________
Miguel Cintron plays Uncle Usman in 'Chechens'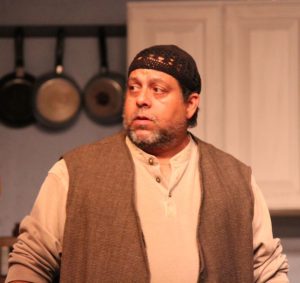 It is often said that a strong villain is an essential ingredient of a strong plotline and larger-than-life characters. That is certainly true of Chechens' bad guy, Uncle Usman, a man who fervently wishes to take his deceased brother's place in the mind and heart of his widow, Raisa. Usman is something of an Eastern European Greek tragic figure. His fatal flaw is espousing a religiosity that threatens to destroy the very thing he wants most in life. Miguel Cintron is brilliant in the role. It's been a few years since he appeared as the Almighty in An Act of God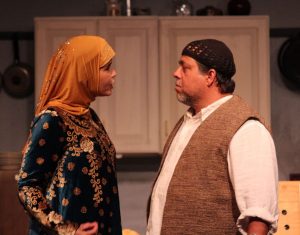 for Lab Theater. Cintron picked up where he left off in that show, infusing his Chechens character with an irritatingly omniscient and officious bearing that will make the hair on the back of your neck stand on edge.
Go here to see what else Cintron has been in.
____________________________________
Gerrie Benzing playing Edith Frank in 'Diary'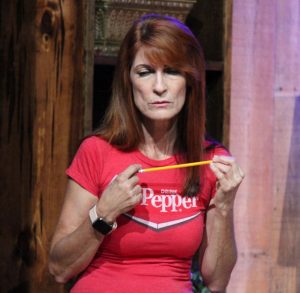 Gerrie Benzing will portray Edith Frank in Fort Myers Theatre's production of The Diary of Anne Frank. The part is the polar opposite to her last role, that of Ruth in Calendar Girls for The Naples Players. "Edith Frank is a very sad person," observed Ellice McCoy in 2015, who played the part for Lab Theater six years ago.  "Of the eight people who went into hiding in that annex, Edith was the one most unable to cope with the situation in which they found themselves. She was so depressed, all she could do was sit there and try to take it all in." 
And her depression was compounded exponentially by her estranged relationship with both her husband and her daughter. Normally upbeat and life-affirming, McCoy found the role emotionally draining. Benzing, no doubt, will as well. But she's a pro who relishes the opportunity to tackle dramatic parts, such as Theresa in Circle Mirror Transformation for The Studio Players, Ethel Thayer in On Golden Pond for Cultural Park Theatre (for which she won a Cultural Park Theatre Best Actress Marquee Award) and Amanda in The Glass Menagerie. Go here to see all of Benzing's stage and other theatrical credits.
_________________________________________________
Kayci Suskind plays big sister Margot in 'Diary of Anne Frank'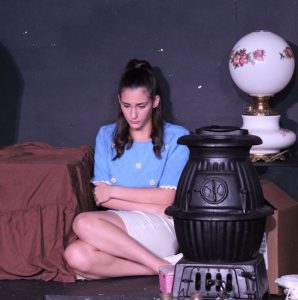 Kayci Suskind plays Anne Frank's big sister, Margot, in Fort Myers Theatre's production of The Diary of Anne Frank, on stage through August 28. Her portrayal of the character is, in a word, haunting.  Kayci was seen most recently as the Sour Kangaroo in Seussical the Musical and in the ensemble (and Kitty's understudy) in The Drowsy Chaperone, both for Creative Theater Workshop. Kayci has been accepted into Florida Atlantic University's BFA Musical Theatre Program, which she will be attending in Fall of 2021. Go here to view Kayci's full theater profile.
____________________________________________________________________
Anna Joy Lehman plays Miep Gies, without whom there'd be no 'Diary of Anne Frank'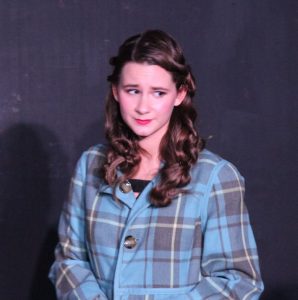 On stage through August 28 at Fort Myers Theatre is Wendy Kesselman's adaptation of Frances Goodrich and Albert Hackett's The Diary of Anne Frank. Anna Lehman plays the role of Miep Gies, the woman who, with her husband, helped hide the Franks, Van Danns and Dr. Dussel from the Nazis from June of 1942 until their discovery by the Gestapo on August 4, 1944.
The rest of this article is here.
_____________________________________________
Spencer Barney plays Mr. Kraler in 'Diary of Anne Frank'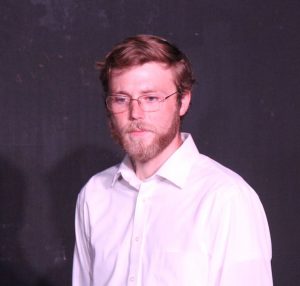 On stage through August 28 at Fort Myers Theatre is Wendy Kesselman's adaptation of Frances Goodrich and Albert Hackett's The Diary of Anne Frank. Spencer Reese Barney plays the part of Mr. Kraler, whose actual name was Victor Kugler.
Hiding Jews from the Nazis was an offense punishable by death, and after the Gestapo raided the annex and took the Franks, Van Danns and Dr. Dussel into custory, they arrested Kraler/Kugler and sent him to a forced labor camp in eastern Holland. 
The only reason that Miep Gies was spared a similar fate was that the police officer who interrogated her was also from Vienna and decided to let her go.
Ten years after the war, Victor moved to Canada, where he lived until his death in Toronto on December 16, 1989 at the age of 81. Regrettably, he suffered from Alzheimer's during the final years of his life.
__________________________________
2     DIRECTORS & PLAYWRIGHTS
McCleary directs and choreographs Grease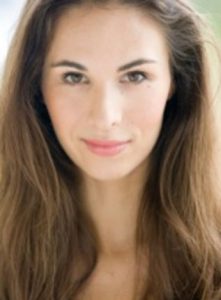 Instead of resting on the laurels of her success with Beehive: The 60s Musical, the incomparable Amy McCleary has tackled the direction and choreography of Grease, on the mainstage at Broadway Palm Dinner Theatre now through August 14. And as you'll see when you catch the show, she's clearly put her own unique spin on this iconic classic. McCleary is a multi-faceted musical theater artist who works as an actor, director and choreographer in local and regional theater. Amy started in theater as a chorus girl. Since then, she has played some pretty prestigious roles, including Velma Kelly in Chicago. But most Southwest Florida theater lovers know McCleary more through her work as Prather Entertainment Group's resident director/choreographer, and in that capacity, she has staged more than 50 productions. Go here to view her impressive resume of shows and other accomplishments.
______________________________
3    THEATER
'Chechens' message worth pondering in age of increasing division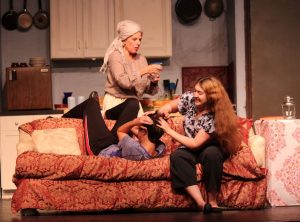 On stage in the Foulds Theatre at the Alliance for the Arts for six more shows is Phillip Christian Smith's The Chechens. Winner of the 2019 Theatre Conspiracy New Play Contest, the play features three strong female characters who share a close and caring relationship with each other and their youngest son/younger brother who wants only to be free to be who he is and love who he wants. That, unfortunately,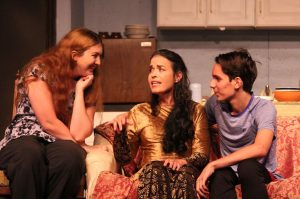 is impossible in the repressive culture in which he has grown up, where "blue boys" are being rounded up and detained in a camp on the outskirts of town.
There's much to unpack when it comes to discussing The Chechens.
You will find the full review here.
_______________________________________________
The word at Broadway Palm through August 14 is 'GREASE'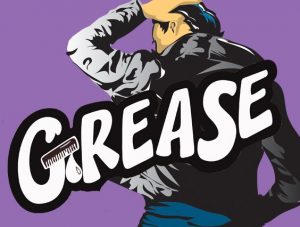 This summer GREASE is the word at Broadway Palm! Playing through August 14, 2021, travel back in time with your favorite teenagers in this light-hearted and nostalgic look at young love. This feel good, rock 'n' roll musical is sure to get everyone dancing in the aisles and singing along to their favorite songs.
Broadway Palm's time warp will transport you back to Rydell High and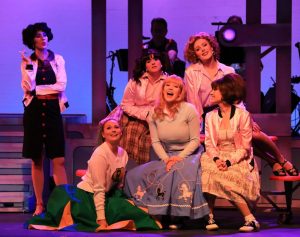 the hot-rodding Burger Palace Boys with its gum-snapping, hip-shaking Pink Ladies. Head "greaser" Danny Zuko and new girl Sandy Dumbrowski try to relive their summer romance as the rest of the gang sings and dances their way through Greased Lightnin'; Summer Nights; Born to Hand Jive; We Go Together; Look at Me, I'm Sandra Dee; You're The One That I Want; Beauty School Dropout; and more!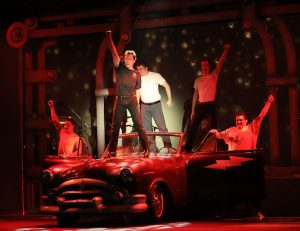 Performances are Wednesday through Sunday evenings with selected matinees. Tickets are $48 to $73. There is a summer special for children 18 and under, tickets are just $20 for the meal and the show. Group prices are also available. Tickets are now on sale and can be reserved by calling (239) 278-4422, visiting BroadwayPalm.com or in person at 1380 Colonial Boulevard in Fort Myers.
Broadway Palm is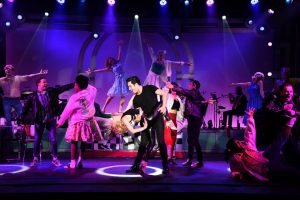 continuing to follow CDC guidelines while providing a delicious meal and exceptional entertainment in a safe and socially distanced environment. For a list of the extensive health and safety measures they have taken, please visit BroadwayPalm.com. It is important to note that Broadway Palm is asking guests that are not fully vaccinated to wear a face mask while not eating or drinking. Proof of vaccination will not be required.
______________________________________
Center for Performing Arts announces auditions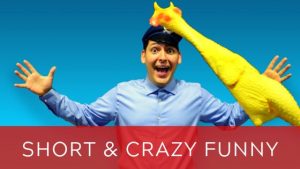 The Center for Performing Arts Bonita has announced auditions for two upcoming events, Funny Shorts Live! and Clue: On Stage. They will be held by appointment only on Friday and  Saturday, August 17 & 18. To reserve audition time, please call 239-495-8989.
Funny Shorts Live! will be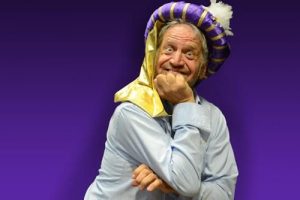 performed one night only on September 10 and will be selected from the following short plays:
Jorge Hosts Chanukah – Hispanic father/grown son and his Jewish wife
The Last Deck Chair in the Resort – 2 women, 20s to 40s
A Hole Lot of Trouble – 2 construction workers and a Hole
Very Private Detective – Noir silliness, 2 men, 1 woman
Always a Bridesmaid  – 20s to 30s, groomsman and bridesmaid find sparks
A Midsummer Night's Script – 4 actors, including the Bard — 20s to 40s, British
The Kiss – 3 portraits and 1 dead painter come to life in a night at the museum
The Harmonica in Your Closet – 3 people in their 20s-30s, 2 are African American
Funny Shorts LIVE! is an extension of the Center's wildly popular Stage IT! 10-Minute Play Festival, an annual competition and book publication that draws playwrights from around the world.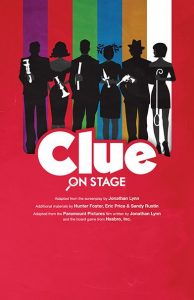 Clue: On Stage will be performed on October 15-17 and October 28-31. Twelve roles are being cast for this show, including all the colorful characters from the game as well as a cook, butler, cop and maid.
Auditions will be cold readings from the scripts of both productions. Rehearsals take place in the evenings and only a few weekends. For Funny Shorts Live, the schedule is very flexible and can be adapted for availability of cast and staff.
CFABS' next auditions will take place in late October for its November 12 production of its Staged Reading series.
The Center for Performing Arts is located at 10150 Bonita Beach Road.
_________________________________________________________________
Florida Rep producing world premiere of Jones/Coble collaboration 'Bulletproof Backpack'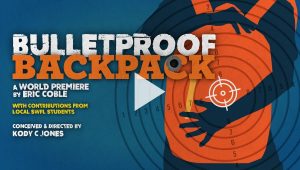 Florida Repertory Theatre is bringing the world premiere of Bulletproof Backpack to the historic Arcade Theatre for a limited engagement August 11-15. Conceived by Education Director Kody C. Jones and written by Broadway playwright Coble (the same creative team behind 2018-s hard-hitting play Refugee), Bulletproof Backpack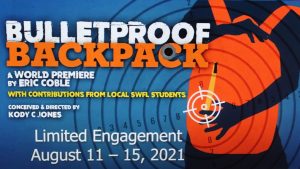 began as a student driven social conflict project that originated with Oregon Children's Theatre. Written with contributions from a team of local Southwest Florida young people, the play creates a platform for students to research, discuss and interview their local community on the subject of gun violence in our schools. Bulletproof Backpack is an  intertwining of student feedback and interviews with fictional characters who beg for answers and continue to pose the question… "How can we feel safe in our schools?"
Performances are August 11-15. Tickets are $25/$20.
__________________________________________________________
Fort Myers Theatre promises living, lyrical version of diarist Anne Frank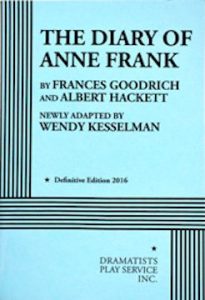 Anne Frank began a diary when she turned 13, just days before she and her family went into hiding in Nazi-occupied Amsterdam. Frances Goodrich and Albert Hackett transformed her diary into a stage play in 1955 that won both a Tony Award and Pulitzer Prize for Drama. More than 40 years later, Wendy Kesselman adapted their play for a generation that was finally able to confront the true horrors of the Holocaust. In her iteration of this timeless story, Kesselman interwove survivor accounts and newly-discovered writings from the diary to create a contemporary, impassioned story. Now, director Kristen Wilson and the Fort Myers Theatre bring his modern version of The Diary of Anne Frank to the stage in eight haunting performances that begin on August 13.
The rest of this advance is here.
Go here for play dates, times and ticketing.
__________________________________________________________________
Lab Ed's summer camp production of 'Failure: A Love Story' runs through August 8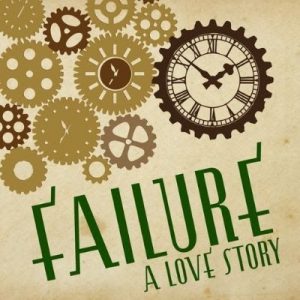 The Laboratory Theater of Florida in conjunction with The Laboratory Theater of Florida: Education will present Failure: A Love Story by Philip Dawkins through August 8.
Set in 1928, the play follows the Fail sisters, Nelly, Jenny June and Gerty. They live above the family clock repair shop near the Chicago River, and are destined to die within the year in reverse order.
Go here for the rest of this advance.
Go here for play dates, times and ticket information.
___________________________________
4     ARTISTS
Acevedo's 'Different Strokes' work evinces naturalistic, primordial sensibility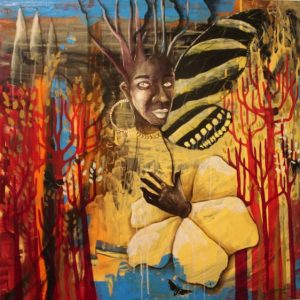 David Acevedo is one of 72 artists with work included in the Alliance for the Arts' member show Different Strokes, on view now through August 28. His painting AJA is a representation of the African goddess of nature.
"I was inspired by these chaotic times [in which] we are living, where nature itself seems to be sending a message that most of us ignore," David explains.
You'll find the rest of this post here.
___________________________________________________
Boren's 'Water View' is clarion call for water quality stewardship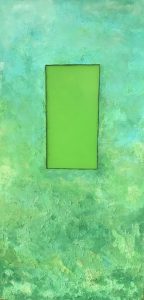 Katherine Boren is one of 72 artists with work on display in the Alliance for the Arts' member exhibition Different Strokes. Her abstract composition is titled Water View. It is a mixed media piece incorporating sand from the Gulf off the shore of Sanibel Island.
At first blush, the painting presents a juxtaposition of greens. The majority of the canvas transitions from soft turquoise to the luscious, mottled emerald green you would see dangling from a parasail high above the tranquil waters off the white sandy beaches of Pensacola, Fort Walton Beach and Destin. The waters west of Sanibel and Captiva were once that color too. And Boren's Water View "celebrates the beauty of the water the way it once was and could be again if we all do our part in caring for our community and planet."
Go here for the rest of this story.
______________________________________________________
Khaysie Tiburcio's 'Child's Play' contains numerous ironic elements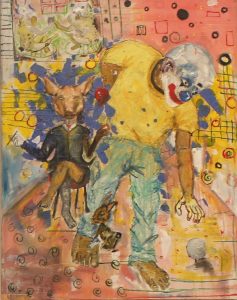 Khaysie Tiburcio is one of 72 artists with work on display in the Alliance for the Arts' member exhibition Different Strokes. Her composition is titled Child's Play.
"Child's Play highlights our imagination," Khaysie shares. "I included a few ironic elements that include the rabbit with the human foot for 'good luck,' and the goat and sheep playing patty cake to emphasize the playful behavior  in the piece."
Tiburcio reports that the painting process for Child's Play proved to be as fun as it was rewarding. "I was able to experiment with different mediums to add textures and patterns."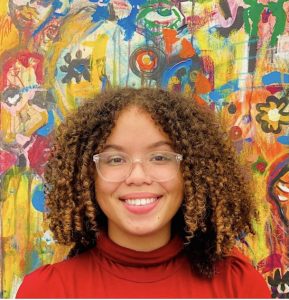 Khaysie Tiburcio is one of five artists juried into this year's Alliance for the Arts Art Lives Here Billboard Campaign. Her work for that initiative is a metaphorical piece titled Art Within Their Souls, which underscores how art becomes a part of the artist and not simply an expression of the artist's thoughts and emotions. Go here for more on Khaysie's billboard artwork.
You can view Child's Play and the other 71 works of art included in Different Strokes in the Alliance's main gallery now through August 28.
________________________________________________________________
'18 Occasions' really is a 'Different Stroke' for mixed media artist Roy Rodriguez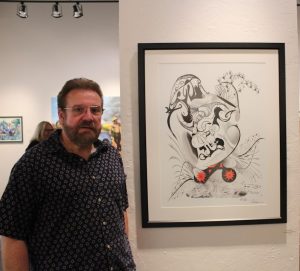 Roy Rodriguez is one of 72 artists with work on display in the Alliance for the Arts' member exhibition Different Strokes. "This one really is a Different Stroke for me," says Roy. It is a composite of 18 photographs combined and printed on canvas.
"One day I put some powder on a puff and noticed this incredible design made by the powder," Roy divulges of his inspiration and process for the unconventional artwork. "I was so taken that I rushed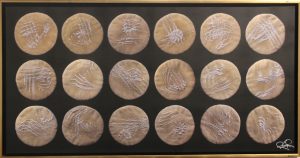 to photograph it."
The next day, an image reminiscent of waves crashing over rocks appeared when he powdered the puff.
Go here for the rest of this post.
_________________________________________________________________
Susi Wingenroth's 'Palm Queen' part of Alliance's member show 'Different Strokes'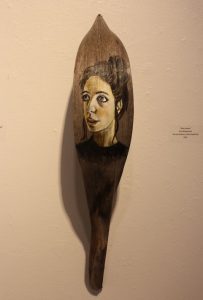 Susi Wingenroth is one of 72 artists with work included in the Alliance for the Arts' member show Different Strokes, on view now through August 28. Titled Palm Queen, her piece is a woman's portrait painted on a frond from a queen palm. If Wingenroth's name seems familiar, it's because she is also one of five artists juried into this year's Alliance for the Arts Art Lives Here Billboard Campaign. Her Art Lives Here work is titled Frame of Reference. Wingenroth is a Lee County School District arts educator. Prior to her current post, Susi taught art at Canterbury School from May of 2006 through August of 2016 and Renaissance School from August of 2001 through June of 2016. She has her B.A. Fine and Studio Arts from the University of Maryland College Park.
_______________________________________________
5     ART SHOWS, EXHIBITIONS & ARTS ORGANIZATIONS
'Different Strokes' at Alliance through August 28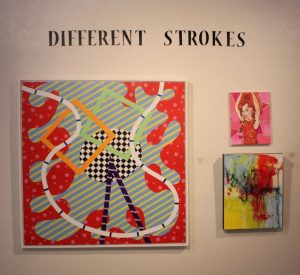 On view in the main gallery at the Alliance for the Arts through August 28 is Different Strokes. The exhibition recognizes the unique styles and widely diverse approaches to making art of the Alliance's member artists. The artists participating in this two-month-long 72-piece show were challenged to exhibit pieces that didn't quite fit into other calls to artists over the past year.
Each day the Alliance strives to support and foster all styles and mediums – ranging from traditional 2 and 3-dimensional mediums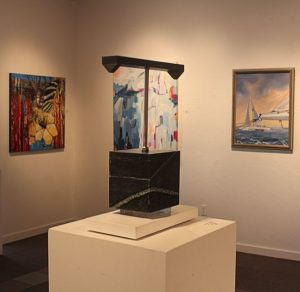 (like painting, drawing, printmaking, sculpture, ceramics, fiber and mixed media) to emerging and contemporary trends (such as digital, installation, performance and experiential based works). This diversity of genre, media and motif is on full display in Different Strokes.
Gallery hours are 9:00 a.m. until 5:00 p.m. Monday through Friday and Saturdays from 9:00 a.m. until 1:00 p.m. during their weekly farmer's market. Admission is free, although donations are gratefully accepted.
_______________________________________________________
'Dia de los Muertos' returns to Alliance in October by popular demand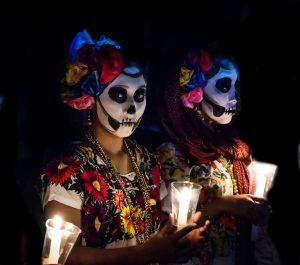 By popular demand, Dia de los Muertos or Day of the Dead is returning to the Alliance for the Arts.
Contrary to what the title might suggest, Day of the Dead is a celebration of both life and death – a time to remember and commemorate the lives of family and friends who have passed from this world into the next realm. The holiday springs from the observation that death is a natural and inevitable part of the human experience – the end point on a continuum that begins with birth, progresses through childhood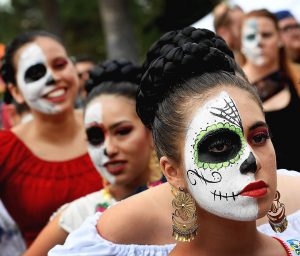 and culminates with the process of becoming a contributing member of the community. On Dia de los Muertos, the dead take their place among the living as part of the community, awakened from their eternal sleep to share celebrations with their loved ones. And believing that the dead would be insulted by mourning or sadness, Dia de los Muertos celebrates the lives of the deceased (children on Day 1 and adults on Day 2) with food, drink, parties, and activities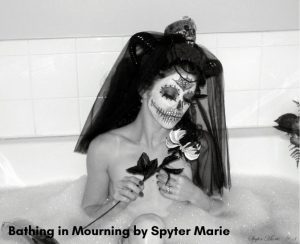 the dead enjoyed in life.
During Dia de los Muertos, families decorate altars, or ofrendas, with candles, photographs, toys, food, and bright colors to honor their loved ones and lead their visiting spirits home. The most familiar symbols of Dia de los Muertos are calacas and calaveras (skeletons and skulls), which appear everywhere during the holiday – in candied sweets, as parade masks and as dolls. But rather than somber or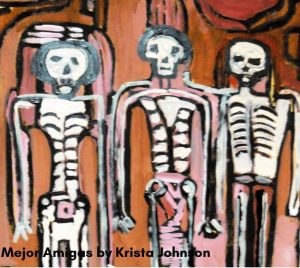 macabre, calacas and calaveras are almost always portrayed in a positive, uplifting manner, frequently dressed in fancy clothes and entertaining situations.
In fact, calaverita de azucar, or sugar skulls, are a prominent symbol in the Dia de los Muertos tradition. These brightly decorated sugar skulls are placed on the altars of the deceased, especially children, as a whimsical reminder of precious life. The monarch butterfly is also commonly associated with Dia de los Muertos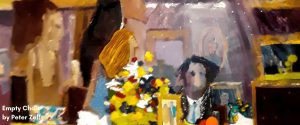 as they are thought to bring with them the spirits of deceased loved ones during their migration to Mexico. Another common symbol includes the use of cempasuchil, a brightly colored Mexican marigold, whose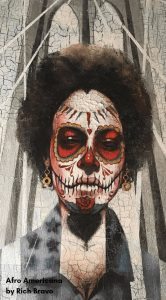 smell is believed to attract spirits to visit their families during Dia de los Muertos.
This, then, is the context for the art that exhibitors bring to the Alliance for the Arts to display in its Dia de los Muertos exhibition. As the family and community play integral roles in this cultural celebration, the congregation of local art to honor the deceased maintains the power of community in the Dia de los Muertos tradition. Each artist explores their own interpretation of this rich holiday, and brings to light not only the honor associated with death in Mexican culture, but remind us of the vivacity and significance of the lives of our loved ones who have passed.
The show exhibits October 1-30, 2021, and opens with a 5:00-7:00 p.m. in-person reception in the main gallery. Awards will be given of $250 for Best in Show, $125 for 2nd Place and $75 for 3rd Place. The deadline for submissions is Friday, September 17.
_________________________________________________
DAAS' August show featuring whimsical art of Lorrie Bennett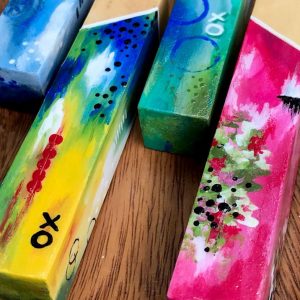 DAAS CO-OP Art Gallery's August show features the artwork of whimsical artist/illustrator Lorrie Bennett.
Bennett is a self-taught, contemporary and expressive mixed-media artist and illustrator. Lorrie knew from an early age that she was an artist. Even though her earlier career was not originally a creative field, artistic endeavors always found their way into her life. And then after 20+ years as a single mother working as a Graphic Designer/Marketing Manager, she decided it was time to spend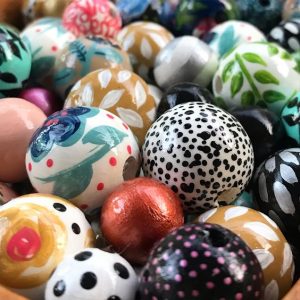 her life as a full-time artist and currently works out of her studio at her home.
For Lorrie, creating has been a lifelong journey of experimentation and exploration. She is bound by no medium and paints an assemblage of layers of materials that include acrylics, watercolors, inks, pastels, charcoal, monoprints, photo transfers, fabrics and vintage ephemeral papers such as wallpapers, book pages, maps and sewing patterns (some over a century old). Lorrie also often incorporates mark-making patterns that come from textured items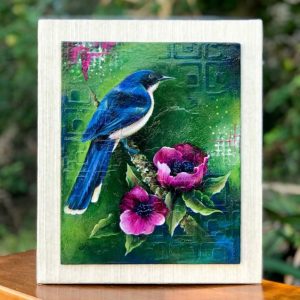 such as rolled up cardboard, bubble wrap, bottle caps and even Styrofoam.
"The excitement is the process of combining paints, drawing, mark-making, and collaging while choosing what to add, to cover up and what to leave untouched," Lorrie effuses.
Inspired by the John Muir quote "And into the forest I go, to lose my mind and find my soul," Lorrie's current series weaves figurative and nature scenes together – as well as smaller botanical works.
Nature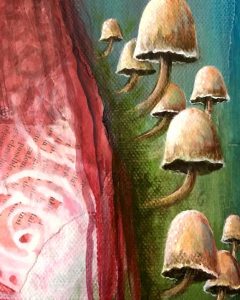 has always been a huge inspiration for Lorrie and all things nature have often found its way onto her canvas over the years.
Her figurative paintings express bold strength and beauty while a gentle kindness emerges – "something I believe every woman carries inside."
Each painting begins with a collaboration of materials and photography that once combined create a new story of life energy and soul.
Lorrie has been blessed to have her artwork reside in homes, businesses, and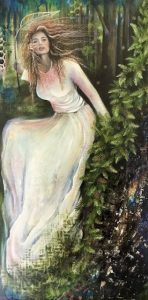 numerous publications including two adult coloring books, Inkspirations: Fruit of the Spirit and Inkspirations: Fruit of the Spirit for Moms. She has illustrated several children's books and is currently working with Applewood Books on a children's counting book named Dreaming of Fort Myers, available later this year on Amazon and stores throughout the U.S. Her art was also chosen for the cover and inside pages of The Beauty of Zentangle, which recognized and presented 137 tangle artists worldwide. In 2018, Lorrie received the Sidney & Berne Davis Art Center's Choice Award for Exhibition: X juried show, for her mixed-media painting The Story of Chromosome X.
The opening reception is scheduled for 6:00-10:00 p.m. on Friday, August 6, 2021 in conjunction with Fort Myers Art Walk. The exhibition will be on display through August 28, 2021.
DAAS CO-OP is located at 1815 Fowler Street, in the Butterfly Estates complex in Fort Myers, FL. The gallery's temporary business hours are Wednesday to Sunday, from 10am to 3pm. More information about the venue and/or how to become a member can be found at daascoop.com or by calling 239-590-8645.