Actors, artists, directors, filmmakers and events in the news August 22-31, 2021
Grouped under headings that include art openings, film, outdoor art fairs and festivals and theater are advances, announcements and articles about the actors, artists, filmmakers and events making news in Southwest Florida this week:
1      ACTORS
Kayci Suskind plays big sister Margot in 'Diary of Anne Frank'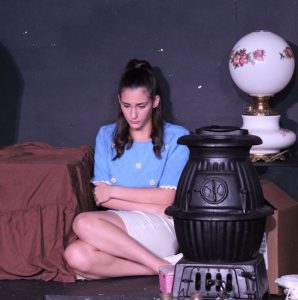 Kayci Suskind plays Anne Frank's big sister, Margot, in Fort Myers Theatre's production of The Diary of Anne Frank, on stage through August 28. Her portrayal of the character is, in a word, haunting.  Kayci was seen most recently as the Sour Kangaroo in Seussical the Musical and in the ensemble (and Kitty's understudy) in The Drowsy Chaperone, both for Creative Theater Workshop. Kayci has been accepted into Florida Atlantic University's BFA Musical Theatre Program, which she will be attending in Fall of 2021. Go here to view Kayci's full theater profile.
____________________________________________________________________
Anna Joy Lehman plays Miep Gies, without whom there'd be no 'Diary of Anne Frank'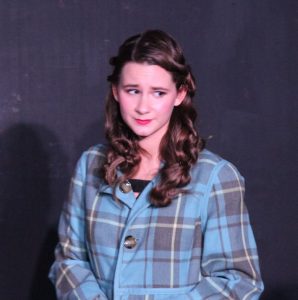 On stage through August 28 at Fort Myers Theatre is Wendy Kesselman's adaptation of Frances Goodrich and Albert Hackett's The Diary of Anne Frank. Anna Lehman plays the role of Miep Gies, the woman who, with her husband, helped hide the Franks, Van Danns and Dr. Dussel from the Nazis from June of 1942 until their discovery by the Gestapo on August 4, 1944.
The rest of this article is here.
_____________________________________________
Spencer Barney plays Mr. Kraler in 'Diary of Anne Frank'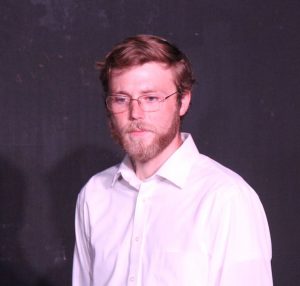 On stage through August 28 at Fort Myers Theatre is Wendy Kesselman's adaptation of Frances Goodrich and Albert Hackett's The Diary of Anne Frank. Spencer Reese Barney plays the part of Mr. Kraler, whose actual name was Victor Kugler.
Hiding Jews from the Nazis was an offense punishable by death, and after the Gestapo raided the annex and took the Franks, Van Danns and Dr. Dussel into custory, they arrested Kraler/Kugler and sent him to a forced labor camp in eastern Holland. 
The only reason that Miep Gies was spared a similar fate was that the police officer who interrogated her was also from Vienna and decided to let her go.
Ten years after the war, Victor moved to Canada, where he lived until his death in Toronto on December 16, 1989 at the age of 81. Regrettably, he suffered from Alzheimer's during the final years of his life.
____________________________________________________________________
Spotlight on Kinsley Squicciarini's interpretative 'Anne Frank' opening dance number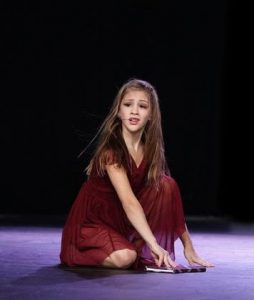 On stage through August 28 at Fort Myers Theatre is The Diary of Anne Frank. The show opens with an evocative contemporary dance that sets the tone for Anne Frank's sequester in the cramped Amsterdam annex that was to be her home, and that of seven others, for the next two years.
Choreographed by Amy Valerius, the competitive dance routine is beautifully performed by ten-year-old Kinsley Grace Squicciarini.
Go here for the rest of this feature.
________________________________________________________________
Ruthgena Faraco playing the lead, Celie, in Lab's production of 'The Color Purple'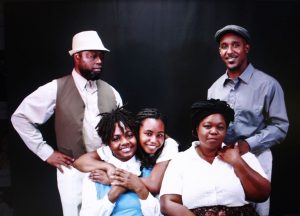 Ruthgena Faraco was brilliant in the role of Mary Warren in Arthur Miller's The Crucible. Now she'll appear in the lead as Celie in Lab Theater's production of The Color Purple. In addition to The Crucible and The Color Purple, Ruthgena played Molly Cunningham in Joe Turner's Come and Gone (for Theatre Conspiracy at the Alliance), Lorraine in All Shook Up (Cultural Park Theatre) and Kala in Tarzan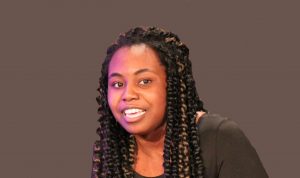 (for which she garnered a 2018 Cultural Park Theatre Marquee Awards nomination for Lead Actress in a Musical). Go here to see all of Ruthgena's theatrical credits.
_____________________________________
Tijuanna Clemons plays Doris in 'Color Purple'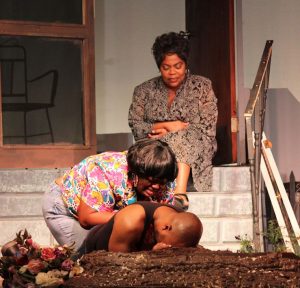 Tijuanna Clemons appears in the role of Doris in the Southwest Florida premiere of The Color Purple for Lab Theater. She has appeared previously as Diana Dahner in Steven Dietz's Rancho Mirage, Bertha Holly in August Wilson's Joe Turner's Come and Gone and Louise in August Wilson's Seven Guitars, and Ruby in August Wilson's King Hedley II, all for Theatre Conspiracy at the Alliance for the Arts.
____________________________________________
Cantrella Canady is Sofia in Lab Theatre's 'Color Purple'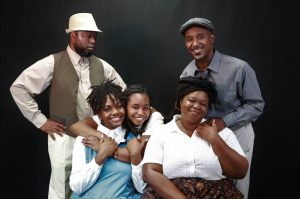 Cantrella Canady plays the part of Sofia in the Southwest Florida premiere of The Color Purple, which opens with two half-price previews on September 1 and 2. Canady was seen most recently in Bulletproof Backpack for Florida Repertory Theatre and at Lab Theater in David Mamet's Race. She has an ambitious 2020-2021 schedule, with performances going forward in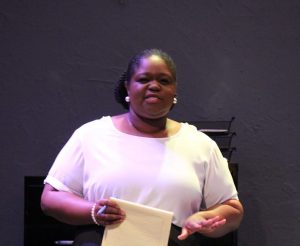 West Side Story for Florida Rep November 23-December 15), The Colored Museum for the Alliance for the Arts (January 8-22) and The Curious Incident of the Dog in the Night-Time for Players Circle Theatre (February 16-March 6). Go here to access Canady's full profile.
_________________________________________________________
Greg Wojciechowski goes from Max to Monster in 'Young Frankenstein'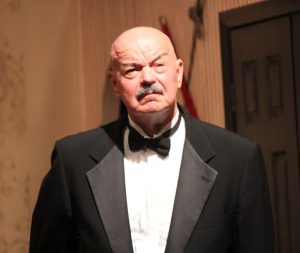 Greg Wojciechowski goes form Max von Mayerling in Lab's summer spoof Sunset Schmoulevard to the Monster in Young Frankenstein for New Phoenix Theatre. Greg's other stage credits include Norman Thayer in On Golden Pond for Cultural Park Theater, Teddy Brewster in Arsenic and Old Lace, Ken Gorman in Rumors at New Phoenix Theatre, and Lady Bracknell in The Importance of Being Earnest for Cultural Park Theater.
________________________________________________________
Kenneth Bradley Johnson eyes the role of Igor in 'Young Frankenstein'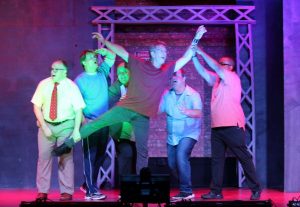 When New Phoenix patrons last saw Kenneth Bradley Johnson, he was reprising the role of Jerry Lukowski in The Full Monty. He returns to the New Phoenix stage in the role of happy hunchback Igor in Young Frankenstein, which runs September 30 through October 24. His local acting credits include the roles of editor Richard Ehrlich in Time Stands Still, Milford, Ivan and Oscar Saperstein in Topher Payne's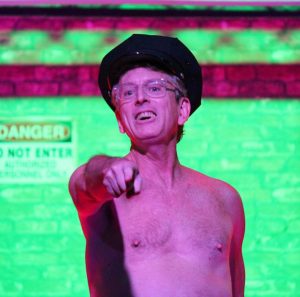 Let Nothing You Dismay, Phaedra (the enigma) in La Cage aux Folles for New Phoenix Theatre, Paster Greg in  Hand to God, Earl "Brother Boy" Ingram in Sordid Lives for Lab Theater and Noli Timeri (Don't Be Afraid) for Theatre Conspiracy at the Alliance. Ken has also appeared at Florida Repertory Theatre, Broadway Palm Dinner Theatre and The Cape Playhouse. You can access Ken's full theater resume here.
________________________________________________________
Tricia Hennessy cast as leggy lab assistant Inga in 'Young Frankenstein'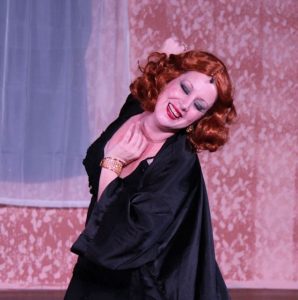 Tricia Hennessy last appeared on stage in the title role in The Drowsy Chaperone, which she'll follow as the leggy lab assistant in New Phoenix Theatre's production of Young Frankenstein, opening September 30. Hennessy has been in the dance and theatre world for the last 30 years. Over that span, Tricia has performed in numerous community and regional theater productions. In addition to her acting credits, Tricia has choreographed three productions, served as an assistant director in another and performed in a number of operas. But she take the most pride as an accomplished dance instructor and supporting dancers through Empower Dance and Athletic Wear in Cape Coral.
Go here to access all of Tricia's theatrical and related credits.
________________________________________________________________
Emilie Baartman plays TWA stewardess Gloria in Naples Players' 'Boeing Boeing'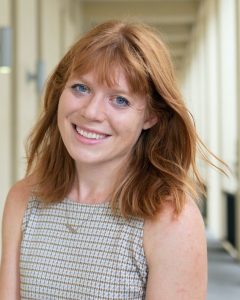 Emilie Baartman appears in the role of TWA airline stewardess (they were still called that back in the 1960s) Gloria in Boeing Boeing for The Naples Players. A Naples actor, singer, dancer and costume designer, Emilie impressed as Pam Lukowski in The Full Monty for New Phoenix Theatre in March of 2020. Go here to see all of her theatrical credits: http://www.artswfl.com/…/baartman-emilie/emilie-baartman.
_____________________________________________
Scott Davis appears as Ed in Studio Players' 'Torch Song'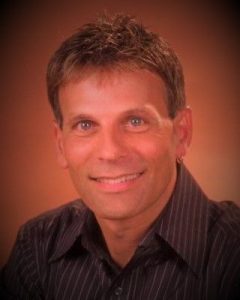 Scott Davis will appear in the role of Ed in The Studio Players' production of Torch Song. Scott Davis a local actor who was active in theater in Michigan before locating to Southwest Florida. His area stage credits include Vicomte de Nanjac/Phipps in An Ideal Husband for The Naples Players, Girolamo Savonarola in Botticelli in the Fire, Michael in the Florida premiere of How to Transcend a Happy Marriage (directed by Steven Ditmyer), and the roles of Dennis Gordon, Jerry and Rich in the Florida premiere of Topher Payne's comedic farce Let Nothing You Dismay for Lab Theater; and Ralph Sheldrake in Irving Berlin's White Christmas, Ewart Dunlop in The Music Man, Tammany O'Holleran in Miracle on 34th Street and Freddy Evnsford-Hill in My Fair Lady for The Naples Players. The rest of Scott's profile is here.
__________________________________________________
Daniel Sabiston appears as Alan in Studio Players' 'Torch Song'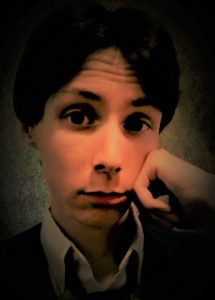 Daniel Sabiston appears in the role of Alan in The Studio Players' production of Torch Song, opening September 10. Daniel's stage credits include various roles in Lab Theater's summer spoof Sunset Schmoulevard, Poggio di Chullu in the regional premiere of Jordan Tannahill's Botticelli in the Fire for Lab Theater, an oh-so-mean bully (not bunny) rabbit by the name of Serling Hunter in Kayleigh O'Connell's Projekt Grotesquerie, Ezekiel Cheever in The Crucible and the Journeyman in Andorra, all for the Laboratory Theater of Florida.
Go here to see Daniel's full theatrical profile.
______________________________________________________
Michael Francisco Cherbini appears as David Beckoff in 'Torch Song'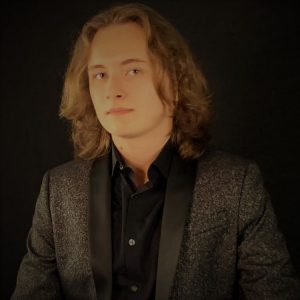 Michael Francisco Cherbini appears in the role of David Beckoff in The Studio Players' production of Torch Song, opening September 10. His prior theater credits include Frederic in Pirates of Penzance, Baby John in West Side Story, Koko in The Mikado and Ralphie Parker in The Christmas Story. Cherbini is a Cypress Lake High School Senior who is also enrolled in the Accelerated Collegiate Experience (ACE) Program at FGCU. He has been acting and singing in Southwest Florida for the past eight years. He belongs to the renowned TAG (The Acapella Group).
Go here for the rest of this profile.
__________________________________
2     DIRECTORS & PLAYWRIGHTS
Sonya McCarter directing 'The Color Purple'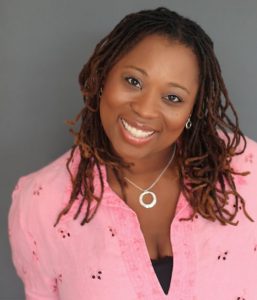 Sonya McCarter is directing The Color Purple for Lab Theater. McCarter is an actor, director and an instructor in the Alliance for the Arts' CHANGE (Communities Harnessing the Arts to Nurture and Grow Equity) program. In addition to The Color Purple, her directing credits include Lorraine Hansberry's A Raisin in the Sun, August Wilson's King Hedley II, Seven Guitars and Ma Rainey's Black Bottom, Lydia Diamond's The Bluest Eye and George C. Wolff's The Colored Museum.
Go here to see Sonya's full theatrical profile.
______________________________________________________
Kristen Wilson directs 'Diary of Anne Frank' for Fort Myers Theatre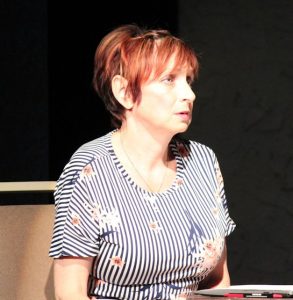 Kristen Wilson is directing The Diary of Anne Frank for Fort Myers Theatre. Wilson is better known on the other side of the stage lights. A talented local actor, her stage credits include Mrs. Tottendale in Creative Theater Workshop's production of The Drowsy Chaperone, Vicki Nichols in Terrence McNally's The Full Monty, Tawny, Deb and Linda Saperstein in Let Nothing You Dismay, the Senora in Andorra, and roles in Steel Magnolias, Dearly Beloved, Home Games, Five Tellers Dancing in the Rain, Always a Bridesmaid, The Dinner Party, Who Am I This Time?, Evening of Culture, Grace & Glorie and Tribute. Go here for more.
______________________________
3    THEATER
Fort Myers Theatre promises living, lyrical version of diarist Anne Frank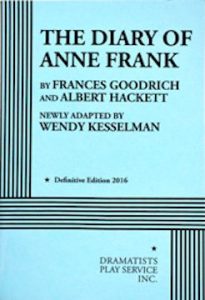 Anne Frank began a diary when she turned 13, just days before she and her family went into hiding in Nazi-occupied Amsterdam. Frances Goodrich and Albert Hackett transformed her diary into a stage play in 1955 that won both a Tony Award and Pulitzer Prize for Drama. More than 40 years later, Wendy Kesselman adapted their play for a generation that was finally able to confront the true horrors of the Holocaust. In her iteration of this timeless story, Kesselman interwove survivor accounts and newly-discovered writings from the diary to create a contemporary, impassioned story. Now, director Kristen Wilson and the Fort Myers Theatre bring his modern version of The Diary of Anne Frank to the stage in eight haunting performances that begin on August 13.
The rest of this advance is here.
Go here for play dates, times and ticketing.
_____________________________________________________
The cruel fate of Anne Frank, her sister Margot and Mrs. Van Dann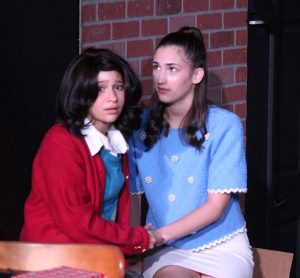 On stage through August 28 at Fort Myers Theatre is the Frances Goodrich adaptation of The Diary of Anne Frank. An impassioned drama about the lives of eight people hiding from the Nazis in a concealed storage attic, The Diary of Anne Frank captures the claustrophobic realities of their daily existence–their fear, their hope, their laughter, their grief.
Go here for the rest of this insight.
________________________________________________
Broadway Palm opens Season 29 with 'A Night on Broadway'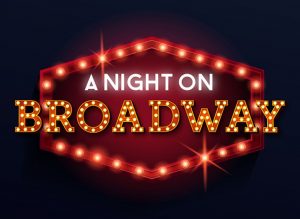 Broadway Palm opens its 29th season on September 9 with A Night On Broadway playing through October 2, 2021. This original concert style musical revue will feature the best of Broadway, combining favorites from the past along with the most recent musical hit sensations.
The bright lights of Broadway will shine on the Broadway Palm stage with this all-new musical revue that showcases some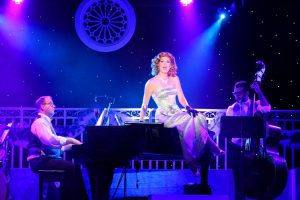 of the greatest Broadway songs of all time. The talented cast will sing their way through decades of Broadway favorites from shows such as Les Misérables, Phantom of the Opera, CATS, Oklahoma, Wicked, 42nd Street and more! You'll treasure the nostalgia of over a century of entertainment and magnificent music.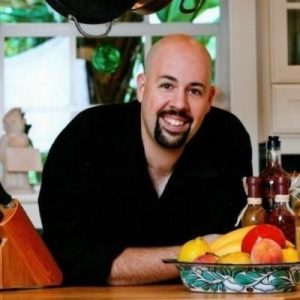 Directing A Night On Broadway is Victor Legarreta. Legarreta has directed and appeared in numerous Broadway Palm productions. In addition, he created Yesterday's: The 50s and 60s Musical, Groovin': The 60s and 70s Musical, Let's Go To The Movies, Dino and Friends, Til Theft Do Us Part, and No Claus For Alarm, to name a few.
Broadway Palm is offering a Season Opener Special and all tickets are just $55 for dinner and the show. Performances are Wednesday through Sunday evenings with selected matinees. Tickets are now on sale and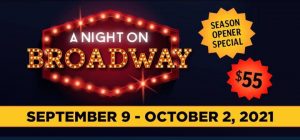 can be reserved by calling (239) 278-4422, by visiting BroadwayPalm.com or by stopping by the box office at 1380 Colonial Boulevard in Fort Myers.
_________________________________________________________
Lab Theater produces Southwest Florida premiere of 'The Color Purple'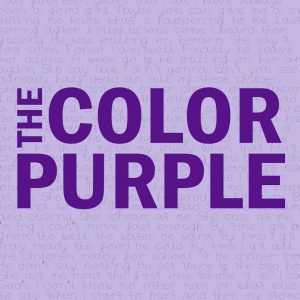 The Laboratory Theater of Florida will present the Southwest Florida premiere of The Color Purple from September 3 through October 2, with half-price preview nights on September 1st and 2nd.
Based on the Pulitzer Prize-winning book by Alice Walker and adapted for the stage as a musical by Marsha Norman, Brenda Russell, Allee Willis, and Stephen Bray, The Color Purple is an inspirational story of strength, hope, and determination. It is the tale of African-American women finding their independence in the first half of the 20th century. The songs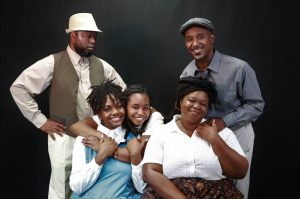 are a powerful fusion of ragtime, jazz, gospel, and blues that will transport the audience to journey alongside Celie and Nettie's heart-touching story of deliverance.
Go here for the rest of this advance.
Go here for play dates, times and ticket information.
___________________________________________________________
'Young Frankenstein' an unforgettably hilarious Transylvanian adventure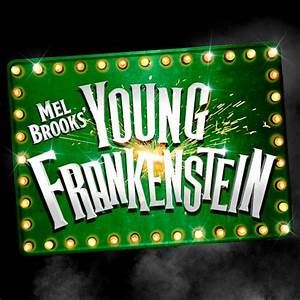 Opening on September 30 at New Phoenix Theatre is Young Frankenstein, the musical in which Mel Brooks' madcap comedy collides with Mary Shelley's classic monster tale.
The mad scientist of legend, Victor Frankenstein, has died and bequeathed everything to his grandson, but young Frederick wants no part of his family's notorious legacy. Still, a castle is a castle and Fred travels to Transylvania to settle granddad's estate.
Go here for the rest of this advance.
Go here for cast members, play dates, times and ticket information.
___________________________________________________________
'Boeing Boeing' takes flight at The Naples Players beginning September 29
Get ready to take a trip to the 1960's, an era when air travel was still a glamorous affair.  Sponsored locally by The Inn on Fifth, Boeing Boeing runs from September 29th to October 24th in Blackburn Hall at The Naples Players. This crowd pleasing comedic farce, directed by Jessica Walck, was written by the French playwright Marc Camoletti and translated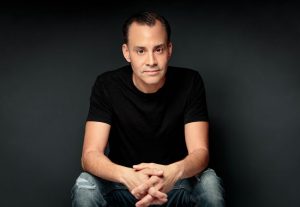 by Beverley Cross & Francis Evans.
Playboy Bernard (Bernardo Santana) lives in Paris with his fiancé, TWA airline stewardess Gloria (Emilie Baartman) – and his fiancé Lufthansa stewardess Gretchen (Sarah DeLeonibus) – and his fiancé Alitalia stewardess Gabriella (Erica Jones). You guessed it – none of the women know about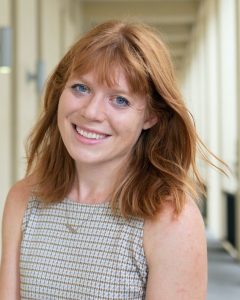 the other two.
Bernard's trusty live-in maid, Berthe (Pamela Austin), is able to keep up the ruse by remembering each woman's food preferences, clothing, and even changes out their photographs. All is going well until Bernard's friend, Robert (Luke Lauchle) comes for a visit.  Due to a faster Boeing jet, all three women arrive at Bernard's apartment on the same day! Will he be able to keep up his scheme. Better yet, will he even survive the day?!
"We couldn't be more excited to give our community an important chance to come together, have a good laugh, and enjoy the amazing artists that SWFL has to offer," remarks CEO/Artistic Director Bryce Alexander.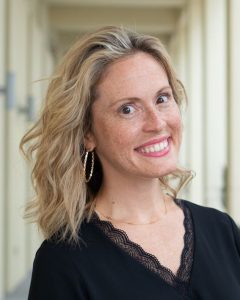 "The arts are open – and these community events are more important now than ever. It's a hilarious show!"
A Red Carpet event open to the public is slated for 6:30-7:30 p.m. on Wednesday, September 29, and features local vendors, food, drinks, and live music from the band Chariot.
Performances are Wednesdays & Thursdays at 7:30 p.m., Fridays & Saturday at 8:00 p.m., and Sunday at 2:00 p.m. from September 29 through October 24. Both general public and season tickets are on sale at the TNP Box Office.  Those interested can visit NaplesPlayers.org anytime or call the TNP Box Office at (239) 263-7990.
_____________________________________________________________
Studio Players opens Season 9 with Harvey Fierstein's prescient 'Torch Song'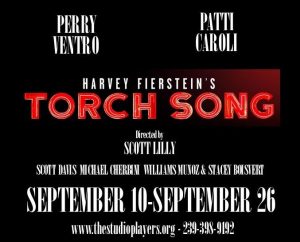 The Studio Players kicks off its Ninth Season on September 10 with the Southwest Florida premiere of the two-act revival of Harvey Fierstein's award-winning 1983 Broadway play Torch Song Trilogy.
Its title abbreviated to Torch Song, the revival follows a torch song-singing, Jewish drag queen by the name of Arnold Beckoff (Perry Ventro). The rest of this advance is here.
Go here for play dates, times and ticket information.
__________________________________
4     ARTISTS
Belan's 'Satyr' is blend of fantasy, symbolism and contemporary Surrealism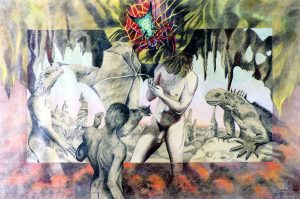 Kyra Belan is one of 72 artists with work on display in the Alliance for the Arts' member exhibition Different Strokes. Her graphite and colored pencil drawing, Satyr, is inspired by two sources: the mythologies of Antiquity and the beauty of Nature. As a result, the beings within the drawing form a blend of fantasy, symbols, and contemporary Surrealism.
The rest of this post is here.
_____________________________________________________________________
Mary Voytek wall hanging draws attention to native plants and vital Florida ecosystem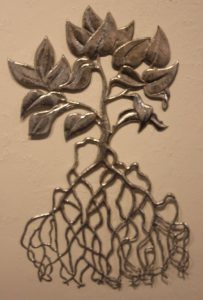 Mary Voytek is one of 72 artists with work on display in the Alliance for the Arts' member exhibition Different Strokes. Her piece, Oh Precious Roots of the Sea, How Thy Nourishes the Life of the Oceans, was chosen by juror Terry Tincher as Best in Show.
Precious Roots is part of a series of four pieces. Each represents one of the four basic elements, and Mary has carefully chosen a different native plant to represent earth, air, water and fire.
"The mangrove tree is a particular favorite of mine and, for me, can represent either earth or water," Mary explains. "Mangroves stabilize the Florida coastline ecosystem and help to prevent erosion. They provide shelter and serve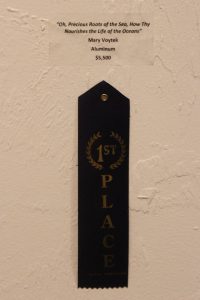 as a protective nursery for the fish and other organisms [such as shellfish, brown pelicans and roseate spoonbills] until they are big enough to enter the larger oceans."
Mangroves figure prominently in local history. The Estero Island Historical Society claims that Estero Island (Fort Myers Beach) was formed by two small mangrove islands coalescing together and Matlacha was nothing but a warren of mangroves until Lee County created an island there from fill dredged up from the bottom of Matlacha Pass in order to construct the approach for the 198-foot single-lane swing bridge that the Champion Bridge Company barged down the Caloosahatchee from Alva in 1926.  Those very same mangroves created such abundant fisheries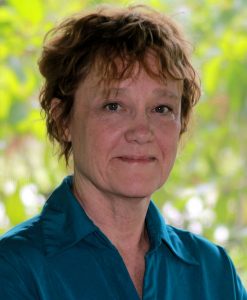 that the squatters who settled Matlacha after the great stock market crash in 1929 could live for months off a single night's catch, which could include as many as 2,000 shrimp in a single hour or as many as three or four dozen snook in double that amount of time.
While there are more than 50 species of mangrove worldwide, there are just three in Southwest Florida – black, red and white. Red mangroves can grow as tall as 75 feet in height. Typically found at the water's edge, their tangled reddish roots, call prop roots, have earned them the title of "walking trees."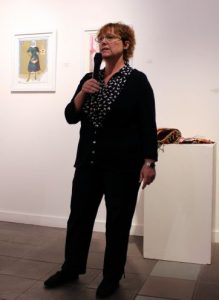 Their seeds look like green beans that are known as monkey whistles, and the Calusa and early Matlacha settlers used the wood from red mangroves both as charcoal for their wood fires and the tannins from the bark for leather work.
Black mangroves are identified by the tubular bristles that protrude from the soil all around the tree's trunk. White mangroves are the shortest of the three local varieties and have no visible aerial roots. There are two glands at the base of their yellow-green elliptical leaves that serve the purpose of releasing salt taken in by the tree's root network. In fact, it's the speckled white salt crystals that form on the leaves that give the trees their name.
"In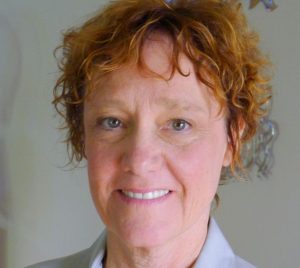 my small way, I hope to bring appreciation to our beautiful native plants and raise awareness of our vital Florida ecosystem," Mary adds.
Mary Voytek is an Associate Professor of Sculpture at Florida Gulf Coast University. She has an MFA from Rhode Island School of Design and a BFA from California College of the Art. She joined the faculty at FGCU in 2004. Prior to coming to FGCU she was a visiting instructor at Brown University and Rhode Island School of Design. Areas of special interest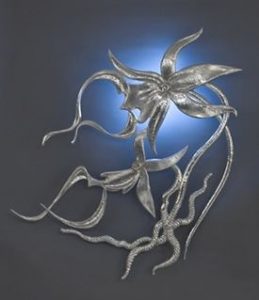 include environmental art, sculpture, and site-specific public art installation.
In addition to doing fabrications for Jim Dine, Mary was closely associated with Robert Rauschenberg for over 25 years.
"Bob had a profound influence on my work, on the ways I see things," Voytek said of the experience. "He was such a great artist and giving person that it was impossible to spend time around him and not be transformed in your visual thinking in some way."
Of course,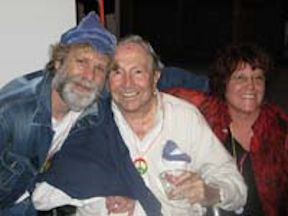 Rauschenberg's legacy not only includes the use of junk in his Combines and latter assemblages, but an experimental approach that stretched the boundaries of art for both present-day and future artists.
Go here for more on Mary's public art and other work.
_____________________________
Carolyn Gora's 'Hanging by a Thread'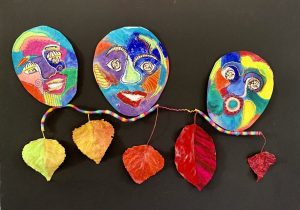 Carolyn Gora is one of 72 artists with work on display in the Alliance for the Arts' member exhibition Different Strokes. Her piece is called Hanging by a Thread, a wall hanging she created during the COVID-19 pandemic.
"The faces are an homage to Karel Appel," shares Gora, making reference to the Dutch painter, sculptor and poet who is credited as a co-founder of the CoBrA movement in 1948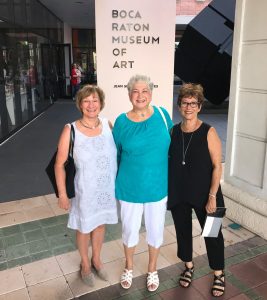 and has works in the permanent collection of MoMA and other museums worldwide.
"The mask-like faces show the surprise of the reality of a shutdown, with the last face wanting to scream out loud."
The colorful wrapped branch started as a whole, but a friend's child broke it, turning it into the thread in the title.
"The leaves represent seasons starting with summer, progressing to fall, and into deadly winter. I wanted to represent how people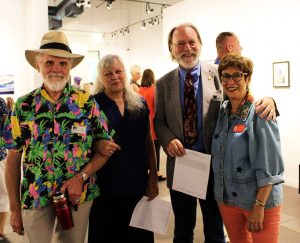 mentally felt during the last year …hanging by a thread."
Carolyn serves as Chair of the City's Public Art Committee. A true Floridian, she was born and raised in St. Petersburg, Florida.  Gora is a graduate of the University of South Florida. With a Bachelors and Masters in Art Education, she served an art instructor for 30 years.  She was honored as a Golden Apple Teacher in 2001. She's a National Board Certified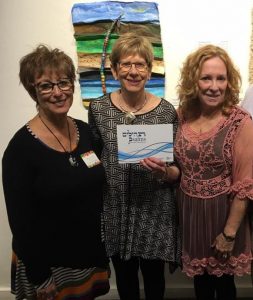 Teacher and was Middle Art Teacher of the Year twice for Lee County and Middle School Art Teacher of the Year for Florida.
A fervent believer in giving back to her community, Carolyn is an energetic advocate for the arts in Lee County.  She has been involved with the Alliance for the Arts since its inception and is currently a board member.  She was co-President of the Lee County Art Education's Association and taught workshops at Florida Art Education Association's conferences and at the National Art Education Association convention.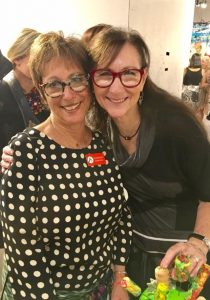 Carolyn has always been drawn to crafts, preferably working small.  She originally created jewelry, which she taught for 5 years at Edison Community College, and then worked in fused glass in the 1990's when it was a new medium. Currently she likes to work with multi mediums, paper, fiber, watercolors to design 3-dimentional creations.
Carolyn's works have been juried into shows at the Cape Coral Art Center, the Alliance for the Arts, RSW "Art in Flight," FAEA Educator Show, Tampa Art Museum, and an Israel-USA Show "Art Beyond Boundaries."  She has juried shows for the Alliance for the Arts, Cape Coral Art Studio, Cape Coral Art League, The Fort Myers Art Association, The Pine Island Art Association and LAEA High School Juried Art Show.
_____________________________________________________________
Acevedo's 'Different Strokes' work evinces naturalistic, primordial sensibility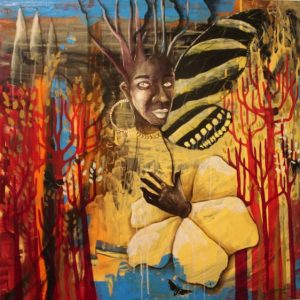 David Acevedo is one of 72 artists with work included in the Alliance for the Arts' member show Different Strokes, on view now through August 28. His painting AJA is a representation of the African goddess of nature.
"I was inspired by these chaotic times [in which] we are living, where nature itself seems to be sending a message that most of us ignore," David explains.
You'll find the rest of this post here.
___________________________________________________
Boren's 'Water View' is clarion call for water quality stewardship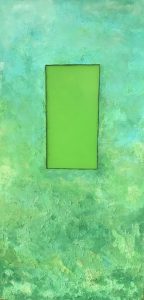 Katherine Boren is one of 72 artists with work on display in the Alliance for the Arts' member exhibition Different Strokes. Her abstract composition is titled Water View. It is a mixed media piece incorporating sand from the Gulf off the shore of Sanibel Island.
At first blush, the painting presents a juxtaposition of greens. The majority of the canvas transitions from soft turquoise to the luscious, mottled emerald green you would see dangling from a parasail high above the tranquil waters off the white sandy beaches of Pensacola, Fort Walton Beach and Destin. The waters west of Sanibel and Captiva were once that color too. And Boren's Water View "celebrates the beauty of the water the way it once was and could be again if we all do our part in caring for our community and planet."
Go here for the rest of this story.
______________________________________________________
Khaysie Tiburcio's 'Child's Play' contains numerous ironic elements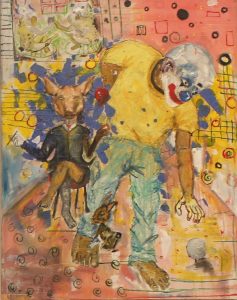 Khaysie Tiburcio is one of 72 artists with work on display in the Alliance for the Arts' member exhibition Different Strokes. Her composition is titled Child's Play.
"Child's Play highlights our imagination," Khaysie shares. "I included a few ironic elements that include the rabbit with the human foot for 'good luck,' and the goat and sheep playing patty cake to emphasize the playful behavior  in the piece."
Tiburcio reports that the painting process for Child's Play proved to be as fun as it was rewarding. "I was able to experiment with different mediums to add textures and patterns."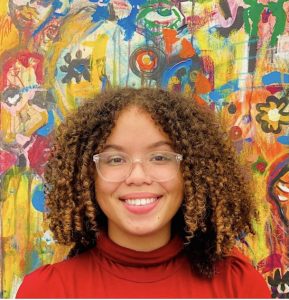 Khaysie Tiburcio is one of five artists juried into this year's Alliance for the Arts Art Lives Here Billboard Campaign. Her work for that initiative is a metaphorical piece titled Art Within Their Souls, which underscores how art becomes a part of the artist and not simply an expression of the artist's thoughts and emotions. Go here for more on Khaysie's billboard artwork.
You can view Child's Play and the other 71 works of art included in Different Strokes in the Alliance's main gallery now through August 28.
________________________________________________________________
'18 Occasions' really is a 'Different Stroke' for mixed media artist Roy Rodriguez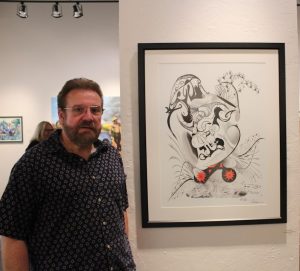 Roy Rodriguez is one of 72 artists with work on display in the Alliance for the Arts' member exhibition Different Strokes. "This one really is a Different Stroke for me," says Roy. It is a composite of 18 photographs combined and printed on canvas.
"One day I put some powder on a puff and noticed this incredible design made by the powder," Roy divulges of his inspiration and process for the unconventional artwork. "I was so taken that I rushed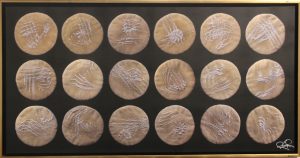 to photograph it."
The next day, an image reminiscent of waves crashing over rocks appeared when he powdered the puff.
Go here for the rest of this post.
_________________________________________________________________
Susi Wingenroth's 'Palm Queen' part of Alliance's member show 'Different Strokes'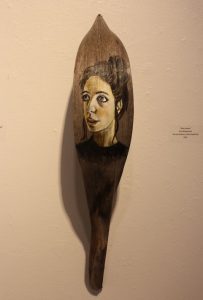 Susi Wingenroth is one of 72 artists with work included in the Alliance for the Arts' member show Different Strokes, on view now through August 28. Titled Palm Queen, her piece is a woman's portrait painted on a frond from a queen palm. If Wingenroth's name seems familiar, it's because she is also one of five artists juried into this year's Alliance for the Arts Art Lives Here Billboard Campaign. Her Art Lives Here work is titled Frame of Reference. Wingenroth is a Lee County School District arts educator. Prior to her current post, Susi taught art at Canterbury School from May of 2006 through August of 2016 and Renaissance School from August of 2001 through June of 2016. She has her B.A. Fine and Studio Arts from the University of Maryland College Park.
_________________________________________
Sheldon Fine Art featuring work of Leslie Berenson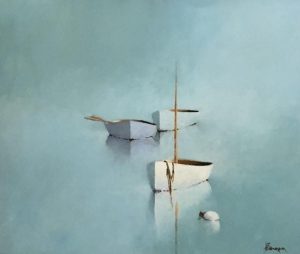 Sheldon Fine Art on Naples Fifth Ave. So. is featuring the art of Leslie Berenson. An accomplished Leslie's work has been compared to the impressionistic style of some of the old masters imbued with a touch of fantasy.
These days Leslie paints from her two studios, one of which looks out onto the islands surrounding Boston Harbor and the other which features a clear view of South Florida's beautiful waters. Leslie's work has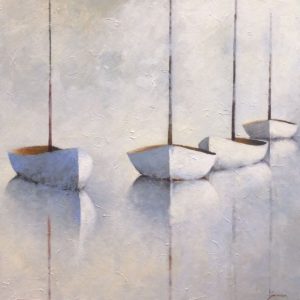 been featured in numerous art shows and exhibits from New England to Florida, where she has won many prestigious awards and received great acclaim for her work. Much of Leslie's work today is currently displayed in the homes and offices of many prominent and well respected art collectors and families.
After successfully graduating from the Art Institute Boston, Leslie went to work not as a visual artist, but in the fashion industry. During the ensuring 20 years, she rose to the role of Creative Director. In that position,
Leslie had the opportunity to work and direct photo shoots in some of the most beautiful places on earth. She draws much of her inspiration from her experiences traveling from Sedona to Hawaii, from the Caribbean to Florida.
Sheldon Fine Art is located at 460 5th Ave S in Naples. For more information, please visit sheldonfineartnaples.com or telephone 239-649-6255.
_______________________________________________
5     ART SHOWS, EXHIBITIONS & ARTS ORGANIZATIONS
'Different Strokes' at Alliance through August 28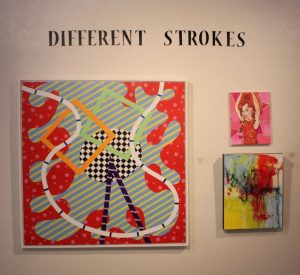 On view in the main gallery at the Alliance for the Arts through August 28 is Different Strokes. The exhibition recognizes the unique styles and widely diverse approaches to making art of the Alliance's member artists. The artists participating in this two-month-long 72-piece show were challenged to exhibit pieces that didn't quite fit into other calls to artists over the past year.
Each day the Alliance strives to support and foster all styles and mediums – ranging from traditional 2 and 3-dimensional mediums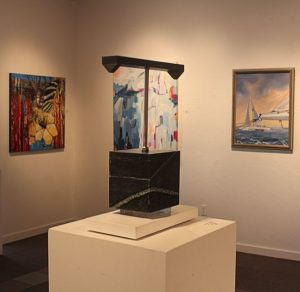 (like painting, drawing, printmaking, sculpture, ceramics, fiber and mixed media) to emerging and contemporary trends (such as digital, installation, performance and experiential based works). This diversity of genre, media and motif is on full display in Different Strokes.
Gallery hours are 9:00 a.m. until 5:00 p.m. Monday through Friday and Saturdays from 9:00 a.m. until 1:00 p.m. during their weekly farmer's market. Admission is free, although donations are gratefully accepted.
_______________________________________________________
'Dia de los Muertos' returns to Alliance in October by popular demand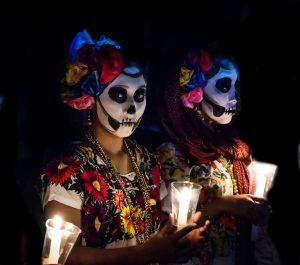 By popular demand, Dia de los Muertos or Day of the Dead is returning to the Alliance for the Arts.
Contrary to what the title might suggest, Day of the Dead is a celebration of both life and death – a time to remember and commemorate the lives of family and friends who have passed from this world into the next realm. The holiday springs from the observation that death is a natural and inevitable part of the human experience – the end point on a continuum that begins with birth, progresses through childhood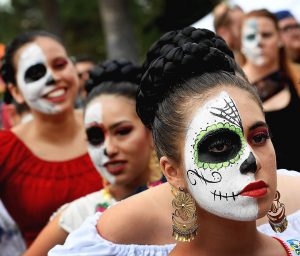 and culminates with the process of becoming a contributing member of the community. On Dia de los Muertos, the dead take their place among the living as part of the community, awakened from their eternal sleep to share celebrations with their loved ones. And believing that the dead would be insulted by mourning or sadness, Dia de los Muertos celebrates the lives of the deceased (children on Day 1 and adults on Day 2) with food, drink, parties, and activities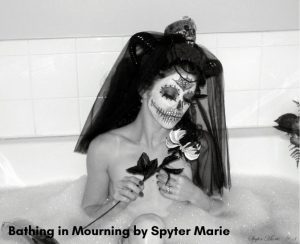 the dead enjoyed in life.
During Dia de los Muertos, families decorate altars, or ofrendas, with candles, photographs, toys, food, and bright colors to honor their loved ones and lead their visiting spirits home. The most familiar symbols of Dia de los Muertos are calacas and calaveras (skeletons and skulls), which appear everywhere during the holiday – in candied sweets, as parade masks and as dolls. But rather than somber or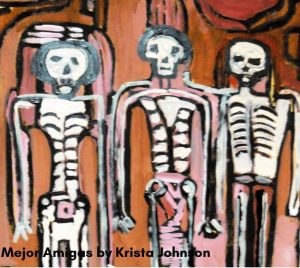 macabre, calacas and calaveras are almost always portrayed in a positive, uplifting manner, frequently dressed in fancy clothes and entertaining situations.
In fact, calaverita de azucar, or sugar skulls, are a prominent symbol in the Dia de los Muertos tradition. These brightly decorated sugar skulls are placed on the altars of the deceased, especially children, as a whimsical reminder of precious life. The monarch butterfly is also commonly associated with Dia de los Muertos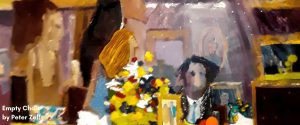 as they are thought to bring with them the spirits of deceased loved ones during their migration to Mexico. Another common symbol includes the use of cempasuchil, a brightly colored Mexican marigold, whose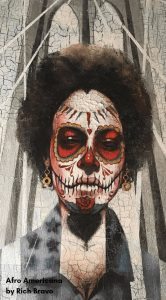 smell is believed to attract spirits to visit their families during Dia de los Muertos.
This, then, is the context for the art that exhibitors bring to the Alliance for the Arts to display in its Dia de los Muertos exhibition. As the family and community play integral roles in this cultural celebration, the congregation of local art to honor the deceased maintains the power of community in the Dia de los Muertos tradition. Each artist explores their own interpretation of this rich holiday, and brings to light not only the honor associated with death in Mexican culture, but remind us of the vivacity and significance of the lives of our loved ones who have passed.
The show exhibits October 1-30, 2021, and opens with a 5:00-7:00 p.m. in-person reception in the main gallery. Awards will be given of $250 for Best in Show, $125 for 2nd Place and $75 for 3rd Place. The deadline for submissions is Friday, September 17.
______________________________________________
Alliance 'Arts on Tap' fundrasier set for November 12 & 13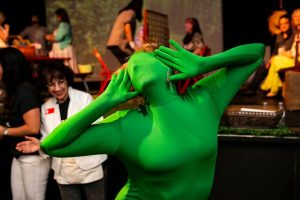 The annual Alliance for the Arts fundraiser, Arts On Tap, returns November 12 & 13 with an exciting mash-up of Southwest Florida's burgeoning craft beer and vibrant arts scenes and a performance by two-time Grammy-nominated hip hop group the Nappy Roots.
On Friday, November 12, guests will mingle, play, sip and savor as local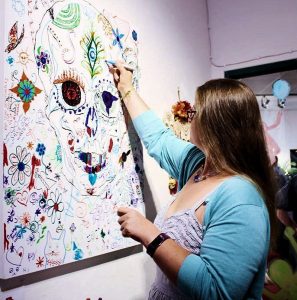 craft brewers pour award-winning, rare and brand new artisan brews, play twisted pub games, rub elbows with craft brewers and Grammy-nominated hip hop group the Nappy Roots, bid on silent auction items and enjoy live music. Participating crafters include Bone Hook Brewing, Coastal Dayz Brewery, Crazy Dingo Brewing,  Eight Foot Brewing, Fort Myers Brewing, Hopsized Brewing, LaBelle Brewing, Millennial Brewing Company, Palm City Brewing, Point Ybel Brewing and Riptide Brewing. Restaurant partners include The American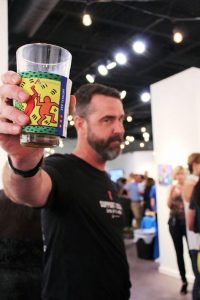 Grilled Cheese Kitchen and The Standard.
The celebration continues on Saturday, November 13 with a night of food trucks, beer, art, VIP lounge experiences and a once-in-a-lifetime performance by the Nappy Roots.
Tickets go on sale in September. Sponsorships and visibility opportunities are available at ArtInLee.org/OnTap or by contacting Jessica Wisdom at Jessica@ArtInLee.org or calling 239-939-2787.
Arts On Tap is a fundraising event for the Alliance for the Arts, a nonprofit visual and performing arts center located in the heart of Fort Myers. Since 1975, the Alliance has been transforming lives and improving community through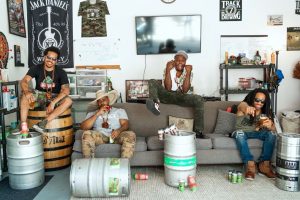 the arts. Event proceeds support a creative hub that spurs self-expression, imagination and individuality. The event is sponsored by GMA Architects, Nice Guys Pizza, Sanibel Captiva Community Bank and Priority Business Solutions.
For more information, call 239-939-2787 or visit ArtInLee.org/OnTap.
_________________________________________________
DAAS' August show featuring whimsical art of Lorrie Bennett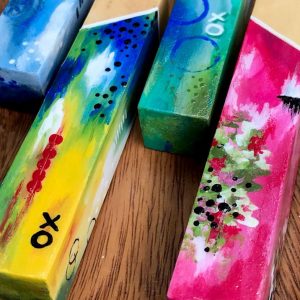 DAAS CO-OP Art Gallery's August show features the artwork of whimsical artist/illustrator Lorrie Bennett.
Bennett is a self-taught, contemporary and expressive mixed-media artist and illustrator. Lorrie knew from an early age that she was an artist. Even though her earlier career was not originally a creative field, artistic endeavors always found their way into her life. And then after 20+ years as a single mother working as a Graphic Designer/Marketing Manager, she decided it was time to spend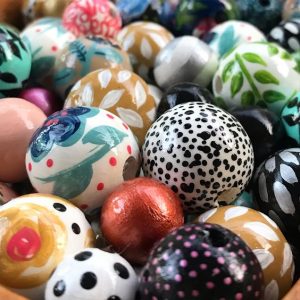 her life as a full-time artist and currently works out of her studio at her home.
For Lorrie, creating has been a lifelong journey of experimentation and exploration. She is bound by no medium and paints an assemblage of layers of materials that include acrylics, watercolors, inks, pastels, charcoal, monoprints, photo transfers, fabrics and vintage ephemeral papers such as wallpapers, book pages, maps and sewing patterns (some over a century old). Lorrie also often incorporates mark-making patterns that come from textured items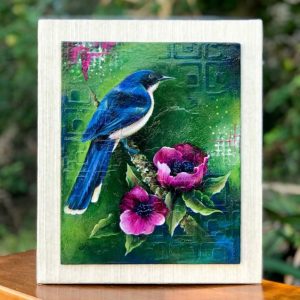 such as rolled up cardboard, bubble wrap, bottle caps and even Styrofoam.
"The excitement is the process of combining paints, drawing, mark-making, and collaging while choosing what to add, to cover up and what to leave untouched," Lorrie effuses.
Inspired by the John Muir quote "And into the forest I go, to lose my mind and find my soul," Lorrie's current series weaves figurative and nature scenes together – as well as smaller botanical works.
Nature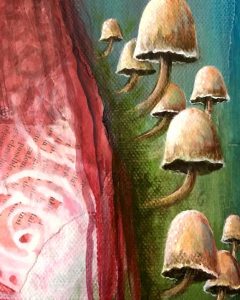 has always been a huge inspiration for Lorrie and all things nature have often found its way onto her canvas over the years.
Her figurative paintings express bold strength and beauty while a gentle kindness emerges – "something I believe every woman carries inside."
Each painting begins with a collaboration of materials and photography that once combined create a new story of life energy and soul.
Lorrie has been blessed to have her artwork reside in homes, businesses, and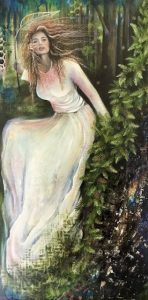 numerous publications including two adult coloring books, Inkspirations: Fruit of the Spirit and Inkspirations: Fruit of the Spirit for Moms. She has illustrated several children's books and is currently working with Applewood Books on a children's counting book named Dreaming of Fort Myers, available later this year on Amazon and stores throughout the U.S. Her art was also chosen for the cover and inside pages of The Beauty of Zentangle, which recognized and presented 137 tangle artists worldwide. In 2018, Lorrie received the Sidney & Berne Davis Art Center's Choice Award for Exhibition: X juried show, for her mixed-media painting The Story of Chromosome X.
The opening reception is scheduled for 6:00-10:00 p.m. on Friday, August 6, 2021 in conjunction with Fort Myers Art Walk. The exhibition will be on display through August 28, 2021.
DAAS CO-OP is located at 1815 Fowler Street, in the Butterfly Estates complex in Fort Myers, FL. The gallery's temporary business hours are Wednesday to Sunday, from 10am to 3pm. More information about the venue and/or how to become a member can be found at daascoop.com or by calling 239-590-8645.
___________________________________________
DAAS' September show features work of David Martin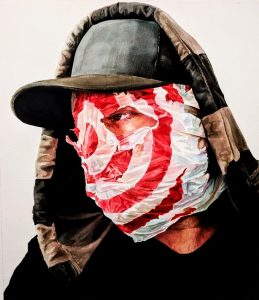 DAAS CO-OP Art Gallery is showcasing the artwork of art educator David Martin during the month of September. Using watercolor and colored pencils, David creates hyper-realistic work, in hopes to open a dialogue about issues in the LGBTQ+ community.
David's inspiration comes from a place of struggle as a gay male, navigating a heteronormative world. With his work, Martin intends to express the difficulties of the bias against the LGBTQ+ community, as created by men and women and even its own members.  For the artist, it is important to help break down barriers through visual narratives.
Born in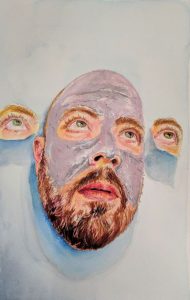 Hicksville, Ohio and currently residing in Naples, Florida, Martin attended the Kendall College of Art and Design in Grand Rapids Michigan where he received his BFA in Art Education.
The opening reception is scheduled for Friday, September 3, 2021, from 6:00 to 9:30 p.m. in conjunction with the monthly Fort Myers Art Walk event. All Southwest Florida art collectors, supporters and enthusiasts are encouraged to join DAAS for the opening reception and to meet the artist.
The exhibition will be on display through September 26, 2021.
DAAS CO-OP is located at 1815 Fowler Street, in the Butterfly Estates complex in Fort Myers, FL. The gallery's temporary business hours are Wednesday to Sunday, from 10am to 3pm. More information about the venue and/or how to become a member can be found at daascoop.com or by calling 239-590-8645.
_______________________________
6    FILM
United Film & Television Artists hosting evening of screenings at Alliance on August 23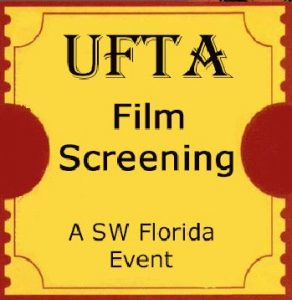 On Monday, August 23, the United Film and Television Artists (UFTA) will host an evening of short film screenings at the Alliance for the Arts, with an emphasis on locally produced films.
UFTA is a not-for-profit incorporated trade association that provides information, support, assistance, and education to artists and other production crafts personnel associated with the creation and production of film, television, video, broadcast, recording, and theater products in the State of Florida. Members share experiences, industry knowledge, and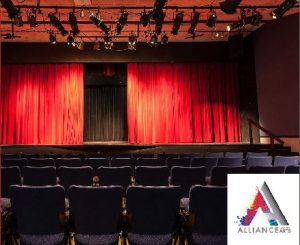 tips on a broad range of topics, including acting in film & television, theater production, radio, hair & make-up, modeling, photography, getting an agent, and much more.
UFTA filmmakers and actors were in evidence and high demand during the Bonita International Film Festival, the Fort Myers Film Festival and FMFF's Thank God for Indie Mondays (TGIM) with such short films as Isaac Osin's 22 Every Day and Jeff Frey's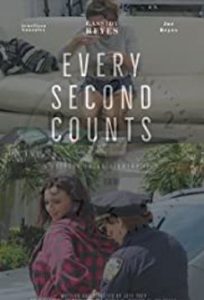 Every Second Counts (starring Cassidy Reyes) and Deborah Smith Ford's Shooting (directed by Dr. Ernesto Lasso de la Vega, Mario K. Maturo and Joe Reyes and starring Mike Dinko, Becky Brown, Maryann Connolly, Cindy Hile, Kristin Mercedes Bence).
For hard-core cineastes and casual film enthusiasts, UFTA's screenings represent a great opportunity to meet local filmmakers and the actors who appear in them. Informal, casual and convivial, they present neophyte and emerging filmmakers, screenwriters and cinematographers, UFTA screenings not only afford ample networking opportunities, but the chance to showcase and receive feedback on new or developing projects.
UFTA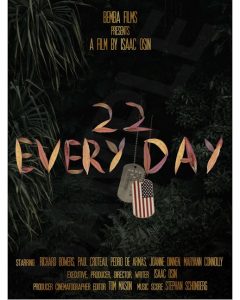 screens films on the 4th Monday of every month. UFTA is now on  FilmFreeway, so submitting to UFTA is just a click away at https://filmfreeway.com/UFTAFilmScreening. UFTA shows films monthly, so submit anytime. There is no fee to submit. For more information, or to submit a film to screen, please contact UFTA@ UFTA.US or visit the event on Facebook: https://www.facebook.com/events/191939192970014.
Doors for the August 23 screenings will open at 6:00 p.m. with the films beginning at 7:00 p.m. (although late arrivals are welcome).