Actors, artists, directors, filmmakers and events in the news June 22-30, 2022
Grouped under headings that include art openings, film, outdoor art fairs and festivals and theater are advances, announcements and articles about the actors, artists, filmmakers and events making news in Southwest Florida this week:
Lucas Campero plays Mike Costa in 'A Chorus Line'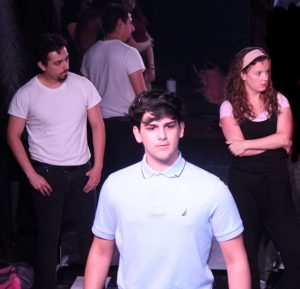 Lucas Campero plays the part of Mike Costa for Fort Myers Theatre in A Chorus Line. Zach, the director who is casting a brand new Broadway musical, begins with Mike, who replies, "Don't you wanna start at the end?" But once he gets untracked, he reveals that he's the youngest of 12 siblings and he reveals in his solo number "I Can Do That" that he took his sister, Rosalie's, place when she stopped going to dance lessons. You can read the rest of this Spotlight here.
____________________________________________
Theater community loses talented actress Erin Coleman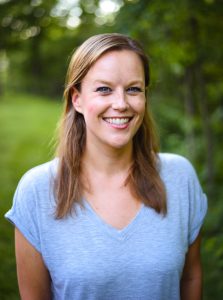 Erin Coleman died at 8:43 p.m. on June 16th from injuries she sustained when a southbound driver on I-75 lost control of his pickup truck, crossed the median and struck her head on. She had just left rehearsal at Fort Myers Theatre, which included a workshop by Michael Blevins, the longtime Broadway veteran who played the part of Mark Anthony in the 1985 film adaptation of A Chorus Line starring Michael Douglas. The loss to our local theater community is immeasurable. It wasn't just that Erin was a true talent.
Please go here to read this tribute.
Sydney DiBiase plays Val Clark in 'A Chorus Line'
Luke Francis plays Larry in 'A Chorus Line'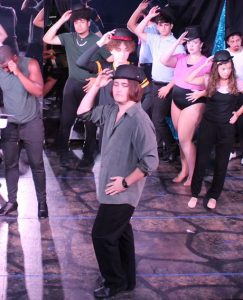 Luke Francis play Larry in A Chorus Line. Larry is Zach's dance captain and assistant, and it's apparent from the context that he's worked with Zach before and has history with several of the dancers. He joins the other dancers during The Montage, but when Paul injures his knee, Larry helps take him to the hospital and is not seen again until the finale. Francis is currently enrolled at FSW, where he participates in the FSW Blackbox Theatre. A Chorus Line represents Luke's Fort Myers Theatre debut.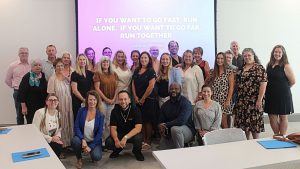 On Wednesday, the Alliance for the Arts and dozens of local arts organizations launched the Arts & Economic Prosperity survey. It's part of a nationwide study by Americans for the Arts of the contribution made by arts organizations to their local economies. This is the sixth such study and involves 387 participating communities in all 50 states and the District
of Columbia. In Lee County, the Alliance for the Arts is spearheading the effort to collect the data needed for the study. Within the Alliance, Jennifer Falk functions as the Arts & Economic Prosperity 6 (AEP6) Project Coordinator. Go here to hear why you should participate in the study if you are asked to complete a survey.
_________________________________
DAAS hosts black-and-white show in July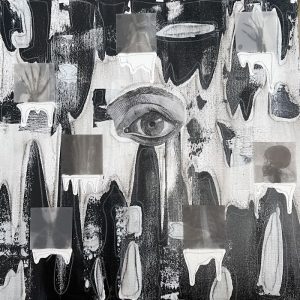 During the month of July, DAAS CO-OP Art Gallery & Gifts is exhibiting Black and White, an open call show consisting of work in multiple mediums by Southwest Florida artists.
The magic of the exhibition inheres in its cohesiveness. Regardless of the themes or subjects, mediums and dimensions, the pieces' monochromatic scheme collectively transform the gallery into a unified space. The exhibition has been curated by member artist and DAAS co-owner Xavier Brignoni, who is also participating in the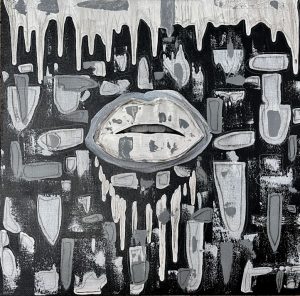 exhibition.
"When the artwork is well finished and balanced, it is easy to display," Brignoni observes. "When there are multiple strong pieces together, from various artists, it is important to find a connection and display them in a way that it makes sense for the viewer – even if these pieces were never meant to be next to each other."
The opening reception is scheduled for Friday, July 1, 2022, from 6:00 to 9:30 p.m. in conjunction with the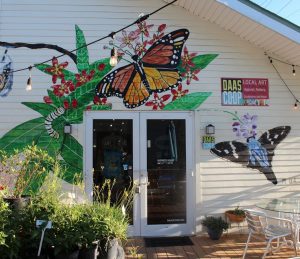 monthly Fort Myers Art Walk event. The exhibition will be on display through July 31, 2022.
DAAS CO-OP Art Gallery & Gifts is located at 1815 Fowler Street in the Butterfly Estates complex in Fort Myers, FL. The gallery's business hours are Wednesday to Sunday from 10:00 a.m. to 3:00 p.m. More information about the venue and/or how to become a member can be found at daascoop.com or by calling 239-590-8645.
____________________________
'Wizard of Oz' at Broadway Palm July 1 through August 13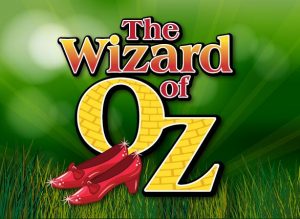 The Wizard of Oz opens at Broadway Palm Dinner Theater on July 1.
Fly over the rainbow with Dorothy as she rides a twister into The Merry Old Land of Oz and learns that no matter how far our journeys take us, there's no place like home. Along her journey, you'll meet the Scarecrow, the Tin Man, the Cowardly Lion and a witch or two. You'll hear the songs from the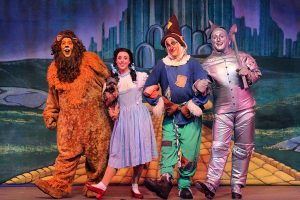 delightful score you know and love such as "Follow the Yellow Brick Road," "Somewhere Over the Rainbow" and "We're Off to See the Wizard."
Shows run through August 13, with performances on Wednesdays through Sundays, including matinee, twilight and evening shows. Please call the box office at 239-278-4422 for days, times and tickets.
________________________________________________________
'Newsies JR. on stage at Center for the Performing Arts Bonita July 1-3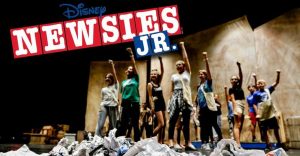 Disney's Newsies JR. is playing at the Center for Performing Arts in Bonita Springs from Friday, July 1 through Sunday, July 3. Designed for middle school-aged performers, this inspiring 60-minute musical is based on the 1992 Disney film Newsies and the 2012 Broadway production of the same
name.
You'll be doing flips for the rousing tale of Jack Kelly, a charismatic newsboy and leader of a band of young Manhattan newsies. When publishing titan Joe Pulitzer raises distribution prices at the newsies' expense, Jack rallies young workers from across the city to strike against the unfair conditions and fight for what's right. Featuring a Tony Award-winning score by Alan Menken and Jack Feldman and book by Tony Award-winner Harvey Fierstein, Newsies JR. includes rousing songs like "Carrying the Banner," "Seize the Day" and "King of New York." Newsies JR. is packed with non-stop thrills and a timeless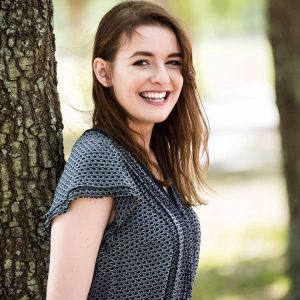 message perfect for the whole family and every audience.
The CFABS cast includes 28 students led by Director Kody C Jones, Choreographer Megan Jimenez Leonard, Assistant Choreographer Sophia Gurule and Music Director Joseph Brauer. Danica Murray provides the stage management.
Tickets are $17-$23. For reservations or information please visit artcenterbonita.org or call 239-495-8989. A 20 percent discount is available through June 27 by entering the promo code NEWTOWN at checkout.
___________________________________________
__________________________________________________________________
Cast of 'Chorus Line' receives insights from 'Chorus Line' film actor Michael Blevins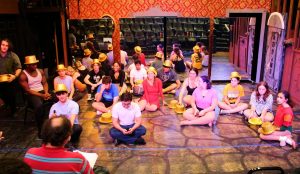 A Chorus Line opens at Fort Myers Theatre on June 18 for ten performances ending June 26. Under the direction of Michelle Kuntze, the cast is now in rehearsal and this past Saturday and Sunday, they had the rare privilege of receiving instruction from Broadway veteran Michael Blevins, who portrayed Marc Anthony in the 1985 Richard Attenborough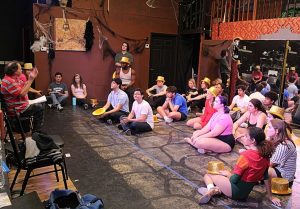 film that starred Michael Douglas.
If anyone in the cast was nervous about performing in front of Broadway royalty, they didn't show it as they ran through their lines, songs and dance numbers as Blevins watched intently from a seat in the second row.
You can enjoy the rest of this story here.
____________________________________________
'A Chorus Line' goes forward after death of lead actress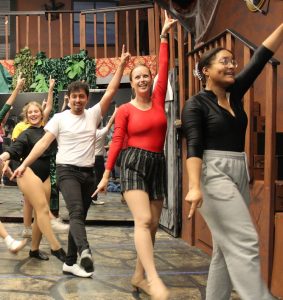 Fort Myers Theatre is creating 'one singular sensation' with their production of the multi-Emmy-winning Broadway show A Chorus Line, and introducing a new generation of performers and audiences to the ground-breaking show. The company is forging ahead, even after the show lost its star, actress Erin Coleman, in a fatal car accident that occurred just a week before opening night. Go here to listen to insights shared with WGCU just hours before the crash that took her life.
'Something Rotten' on stage in Blackburn Hall at The Naples Players through July 24